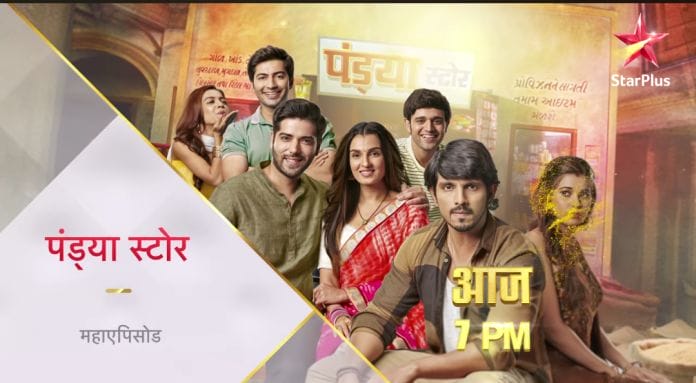 Pandya Store 21st December 2022 Written Update on TellyExpress.com
The episode starts with Rishita saying to Raavi that one of them must have gone to the register office, as everyone in their family is emotional fools. In the register office, Dev is reading the document. Raavi laughs at this command. Rishita hopes that the Pandyas sort out everything without any problems. Suman gives Dev the magnifying glass to read it. Shweta grows anxious that Dev will read about giving Pandya store ownership to her. In order to distract them by saying that Chiku's temperature is high, as she forgot to give him the medicine.
Dhara gets concerned about Chiku and scolds Shweta for being careless. The lawyer says that only 15 mins is left to complete the procedure. Shweta urges Gautam to get the signs of the Pandyas. Dhara says that they can sign the agreement later as Chiku's is the most important. Shweta refuses to come to the register office again. She says that it's only written that they're giving her money with their consent. She asks them to sign it without wasting time by reading it. Suman refuses to see Shweta's face again and decides to sign the document. Shweta says that Suman is the only smart person in the family. The Pandyas sign the document.
Dhara asks Shweta to remove Chiku's socks as his body's temperature is high. Shweta stops Dhara and says that she will do it as she's Chiku's mom. Shweta removes Chiku's socks. The onion falls out of the socks. The Pandyas are shocked to see it. Shweta lies and blames the aunt for taking onions everywhere. She distracts everyone by saying that she has to sign the document now. Shweta gives Chiku to the aunt and signs the document. Shweta and the lawyer exchange a nod. Meanwhile, Shweta's mom learns about Shweta taking 25 lakh from the Pandyas to start her new life and tells this to Shweta's dad, but he refuses to believe her. So they decide to go and check. Here. Pandyas give the money to Shweta.
Raavi says to Rishita that she got Shiva's message and he said that they have finished the registration and they are returning. Rishita is happy to hear this and they turn off the lights to surprise Dhara when she returns. Pandyas reach Pandya's house. They are about to enter the house, but stops seeing Shweta's parents arriving with Chiku.
Shweta's mom says that Shweta left Chiku and a letter in front of their house. Dhara reads the letter. In the letter, Shweta says that she's leaving everything to start a new life and mentions that she got 25 lakh from Pandyas for that. Chiku's mom says that after reading the letter, they decide to give Chiku to them as they can't give Chiku the love they can give him. Shweta's mom apologizes to Suman on behalf of Shweta. Shweta's parents take leave. Pandyas are happy.
Dhara wonders why it's dark inside the house. She thinks that maybe Raavi and Rishita aren't happy with this decision. Dhara knocks at the door, calling out to Raavi and Rishita. Dhara is surprised when Raavi and Rishita welcome them by playing drums. Suman does Chiku's aarti. Suman welcomes Dhara inside. Dhara and Gautam enter the house with Chiku.
Pandyas celebrate Chiku's return while Yadon Ki Baaraat plays in the BG. Shiva gives Chiku to Suman. The latter says that Chiku has a fever and asks Dhara to get the thermometer. Krish goes to get it. Dhara says that she didn't have courage to tell this by seeing their excitement. Rishita asks then the party will be cancelled. Dhara asks if they have planned a party. Krish says yes. As Chiku's temperature is high, Dhara asks them to cancel the party. Dhara and Gautam take Chiku to the hospital.
After seeing the doctor, Dhara and Gautam return home. They see Shiva and Dev on a call asking the guests to come to the Pandya store instead of Pandya's mansion. After seeing this, Dhara feels guilty for wanting her own child when she had Pandya brothers who are already her sons. Gautam feels guilty for doubting his brothers. The Pandya brothers share a group hug while others happily look at them. Shiva says that no matter what, they will love him. He says I love you. The Pandya brothers share a group hug.
The episode ends.
Precap: Pandyas are shocked to see Dhara at the Pandya store. Shweta removes Pandya Store name board and fixes her new board with her name. Dhara feels guilty and says that she wouldn't have wanted to bring Chiku back home. Rishita says that Dhara would still have done the same and asks Dhara where the agreement paper to keep Chiku with her is.
Click to read