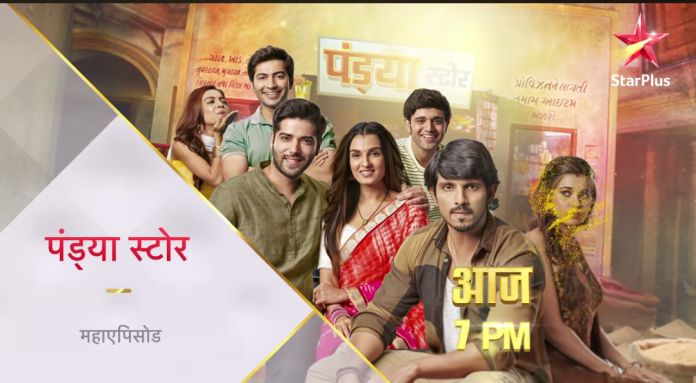 Pandya Store 22nd June 2022 Written Update on TellyExpress.com
The episode starts with Anzal and his men catching Shiva. Other side Rakhi says to Surbhi that they will do her engagement with Shiva once he will return. Surbhi asks why he run away. Rakhi says that he isn't well so forget the route. Just then Anzal and his men bring an unconscious Shiva back home. They tied him up to a chair. Rakhi says to Surbhi to get ready for the engagement.
Surbhi gets happy. She asks if be agreed for the engagement and asks if he can meet him. Rakhi says that she can't meet him before the wedding. She says that he didn't agree for the engagement, but he will accept the engagement and the marriage soon. Shiva overhears this and thinks of escaping from here anyhow. She shouts for help.
Anzal is looking after the wedding arrangements and asks the men to do fast. The priest arrives. Shiva pretends to be unconscious. Anzal's men get him ready for the wedding and leaves. Rakhi gets Surbhi ready for the wedding. Shiva manages to pick the knife and cuts the rope. Surbhi is waiting for Shiva on the mandap. The priest asks to bring the groom. Anzal and Rakhi are shocked to not find Shiva in the room.
Anzal asks where Shiva has gone. Rakhi says to Anzal to speak slowly as no one should get to know this. She says that Shiva's leg is broken, so he can't go far. She instructs Anzal to go with his men and catch him. Meanwhile Shiva reaches the main road. He sees a vehicle driver saying that he is going to Somnaath. He goes to him and seeks his help to reach Somnaath.
The morning Pandyas are gathered in front of Pandya Store for its inauguration. The guests praise Raavi for giving the compensation money for the shop's renovation and appreciates Pandyas family unity during the hard time. Suman says that this is her family's strength. She says that they're first Pandyas and this is their identity. Gautam gives scissors to Suman to inaugurate the shop. Suman says that Shiva will inaugurate the shop which stuns all.
Meanwhile Shiva reaches Somnaath. Here Suman hands over the scissors to Raavi. She says that Raavi gave new start for the shop, she's Shiva's alter ego, so she should inaugurate the shop. Raavi is about to say no. Gautam convinces Raavi to cut the ribbon. There Shiva is walking on the road with great difficulty. He spots Krish going on the bike with their family photo. Here Raavi cuts the ribbon while all applauds.
There Shiva calls out Krish and goes after him. Krish fails to hear Shiva. A bike hits Shiva and he falls down. Here Raavi does the aarti. Gautam and Dev open the store. Gautam misses Shiva. There passerbys help Shiva to get up. He tells a passerby to take him to MG road. He agrees and take a him in his bike.
Shiva reaches near his shop and sees it's open. Dhara and Raavi sense Shiva's presence. Dhara comes out of the shop. Shiva gets happy on seeing her and moves towards the shop. He hears two men's talk. One man says that all the compensation money for Shiva's loss was given to Gautam to renovate the shop, Shiva did good for his family after his death. Another man says that some Jageethish returned home the day his family got compensation, they spent all the money and police arrested them for fraudulent on knowing this. Shiva says that his family will go jail if he retuns home. He hides himself on seeing Dhara.
The episode ends.
Precap: Police comes to the Pandyas. The inspector says that someone informed them that Shiva was seen alive. He says to the Pandyas to be ready to go to the jail if they have deceived them for compensation. Raavi says to the family that Shiva is alive, she can feels him, he is fine.
Click to read