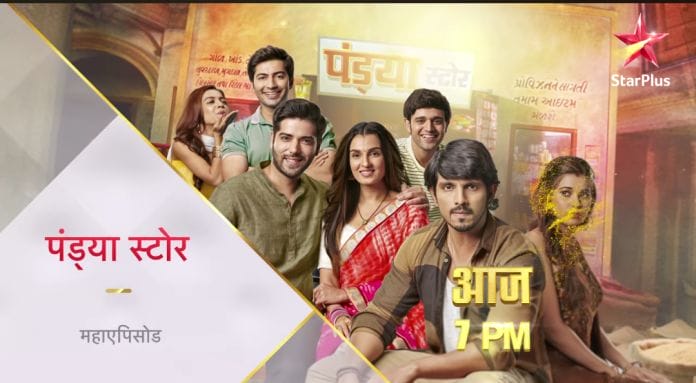 Pandya Store 22nd November 2022 Written Update on TellyExpress.com
The episode starts with Shiva deciding to fight the dangerous boxer. He gets ready to fight, remembering Dhara and Gautam's words. On the other hand, Shweta's mother asks Dhara why Suman expelled her and Raavi from home. Dhara says that it's their family matter, so she refuses to tell them. Shweta's father accuses Dhara of trying to loot Chiku's money.
Dhra says that she is never interested in money and assures him that they will use her and Gautam's money for raising Chiku's, so his money will be safe. She says that she brought Chiku along with her as he would cry and fall sick missing her. She asks Shweta's parents to make Shweta Chiku's custodian, if they don't trust her. She adds that her love for Chiku won't be reduced. Dhara further says that she's lucky enough to have Gautam who supports her in every step. Shweta's mom asks if Gautam also left the house. Dhara denies it. She says that he has to stay in the house to handle everything. She hopes that Gautam will make the family understand the right and wrong. She assures her to take good care of Xhiki as he is also her family now.
Shweta's mom assures her that she has complete trust in Dhara. Shweta's dad walks away. A photo album falls on the floor. Dhara picks it up. Dhara is shocked to see the photo of Nithin with Shweta in that album. She recalls Nithin telling her that Raavi is pregnant. Dhara asks Shweta's mom who he is and is shocked to learn that he is Shweta's old friend. Shweta's mom asks Dhara why she's asking, if she knows her. Dhara lies to her and takes her leave.
Shiva remembers Gautam's words. He tries to fight the boxer, but gets punched. On the other hand, Dhara is walking on the road recalling the recent incidents and Shweta's words. She connects the dots and understands that Shweta is behind Raavi's pregnant confusion. Dhara is about to enter the house. Rishita spots her and calls out to Dhara. She asks Dhara where she's going.
Dhara says that this is Gautam's friend's house and they're staying there. Rishita complains to Dhara about leaving her alone in that house. Dhara convinces Rishita and takes her inside. Here, Shiva remembers the recent happening and he lets himself get punched by the boxer. There, Raavi asks Rishita about her visit to the hospital to find the truth. Rishita says that everything was weird in the hospital. She says that the nurse at the reception couldn't recognize the doctor's sign on Raavi's report. She met doctor Nithin who treated her, but he said that it wasn't his sign.
Rishita further says that she watched the hospital's CCTV footage and learned that doctor Desai, who operated Raavi and she went to see him, but an accident happened to him. Rishita says that the doctor, Nithin, was suspicious as he seemed anxious while talking to her. Dhara says that it's because he told them that Raavi is pregnant and the most important thing is that he is Shweta's old friend. Rishita and Raavi are shocked to hear this.
Shweta gets tea for Suman. The latter drinks the tea and criticizes it. Shweta thinks in mind of separating the Pandya brothers now. On the other hand, Shiva recalls Raavi's words while he is getting punched by the boxer. He faints after getting badly injured. Raavi asks Dhara how she knows that Nithin is Shweta's friend. Dhara says that she will tell them later. She says that they have to first catch Shweta red-handed and make her confess the truth. Dhara says that Shweta has trapped them till now. Hereafter they will trap her.
The episode ends.
Precap: Dhara tells Gautam, Krish and Dev that Shweta is responsible for the confusion in the family, which shocks them. Krish says that Shweta has to leave the house if it's true. The brothers join hands with Dhara. Rishita and Dhara are in the hospital for catching Nithin. They ask a nurse about where Nithin is. They see Nithin. Nithin is shocked to see Dhara and Rishita.
Click to read