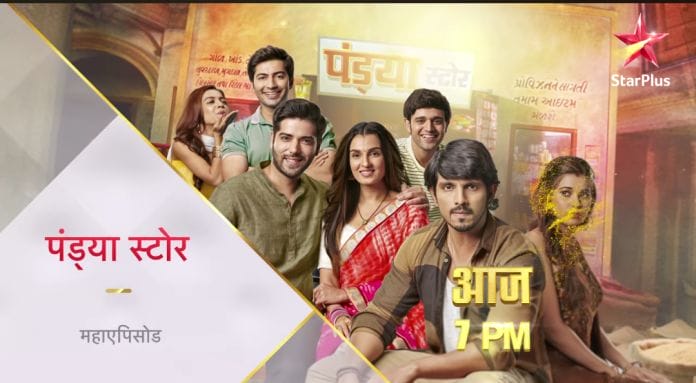 Pandya Store 23rd January 2023 Written Update on TellyExpress.com
The episode starts with Gautam warning Rishita that he won't tolerate her if she mistreats Chiku. Dev also scolds Rishita. Shiva can't believe that Chiku has grown up. Raavi asks him not to get tension and takes him inside the house. Gautam notices Krish. Krish silently walks inside the house. Rishita and Shiva recall their happy moments in the house seven years ago.
Shiva wonders how fast Chiku grew up. Shesh hugs Dev and asks where they are and who they are. Dev introduces Shiva and Krish as his uncles and Raavi as his aunt. Shiva asks Shesh to come to him and asks if he is Dev's son, to which Shesh says that he is also Rishita's son and she always scolds him. Shiva laughs. He says that he acts like him. He hugs Shesh. Shiva calls Mithu to introduce him to Shesh, but Mithu refuses to come as he is scared of Shesh. Rishita mocks Raavi, stating that Raavi made Mithu a coward, while Raavi taunts Rishita for failing to teach Shesh manners. Rishita is about to argue with Raavi. But Dev stops her. Gautam makes a move towards Dev. But Dev ignores him and goes to his room taking his luggage.
Shiva is surprised that he has grown a beard. He says that he feels like meeting him after years. He hugs Gautam. He understands that Gautam is drunk with the alcohol smell and complaints about drinking in the day. Gautam says that his support system went far from him, so he took support of wrong things. He hugs him. Shiva says that he is living in a room in the same house only. He can call him whenever he wants. Raavi asks Shiva to get fresh as it's time for his medicine. Shiva complains to Gautam that Raavi feeds him bitter medicine every day. Krish and Gautam are confused after hearing this. Raavi takes Shiva from there. Gautam makes a move towards Krish.
Krish asks Gautam to which hospital Suman is admitted. Gautam says city hospital. Krish says loudly that his taxi is waiting outside and they can all go in that taxi to see Suman. They all go outside. Rishita asks Raavi how long she will stay there. Raavi says that she has only come to see Suman, else she would never have returned to this house. Krish agrees with Raavi and says that he has for closure. They all get into the car. Shiva asks where they are all going, leaving him. Raavi asks the Pandyas not to say anything in front of Shiva, as he doesn't remember anything. She asks Shiva to sit in the car too. Krish and Gautam get onto the autoricshaw to reach the hospital. Chiku is trying to call Dhara to tell her about Pandyas' arrival.
In the hospital, Dhara prays to God for Suman's recovery. The doctor tells Dhara that Suman is fine now. Dhara becomes happy and thanks God. Just then, the Pandyas reach the hospital with the children. Dhara is surprised to see them and becomes emotional. She makes a step towards them and stops herself. She realizes that they have come after knowing Suman isn't well and they will return if they learn that she is fine now. She wonders what to do.
Dhara runs to Suman's room. Suman says to Dhara that she's fine and they can go home. Dhara says to Suman that her sons and daughters-in-law have returned after knowing that she is combating death. Suman becomes happy to hear this. Dhara says that they will return if they know she's well. She asks Suman to pretend to be dead. Rishita and Raavi discuss. Rishita asks Raavi not to become too emotional for Suman. She says that her wounds have become fresh after seeing Chiku. She says that Chiku would have been the same age as Chiku if she was with her. Raavi tries to wipe her tears. Rishita stops her.
Suman agrees to Dhara's request. Just then, Dev, Shiva and Rishita storm into the room. Dhara is happy to see them. They ignore Dhara and go to Suman. Rishita and Raavi also go to Suman, taking Shesh and Mithu along with them, ignoring Dhara. Suman pretends to gain consciousness and says to the Pandya brothers that they have returned late as she's going to die. Dev assures her that she will be fine.
The episode ends.
Precap: Rishita and Raavi argue with Dhara. Raavi asks Dhara to sell Pandya Store and Pandya Nivas and give them their share. Dhara is shocked to hear this.
Click to read