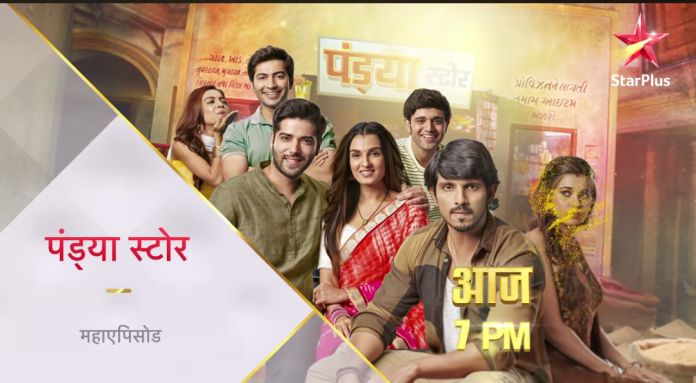 Pandya Store 23rd June 2022 Written Update on TellyExpress.com
The episode starts with Shiva covering his face and turning other side on seeing Dhara coming his side. Dhara sense something and stops and look on for a while. She goes back to the store. Shiva thinks that he is being useful to his family after his death, so it's good for them if he remains death. He decides to Raavi once before leaving.
Gautam asks Raavi to sit in the cash counter as they got the shop back. All requests her. Shiva sees this hiding. Raavi says that only the store owner has the right to sit in the cash counter. She says that she can't hurt Shiva's feelings by sitting on this. She says that once Shiva made him sit here and now she will do it. Raavi makes Gautam sit on cash counter.
Shiva gets emotional on seeing his family. He says that he can't return to Raavi till he arranges the compensation amount to return to the government. He doesn't humiliation for his family. So he decides to stay away till everything gets fixed. Shiva hallucines that Prafulla spotted her and she threatened to call police to get him and his family arrested. He realizes that a drunkard identified him in real.
The latter says to him that he isn't Shiva, he is Ram. The drunkard refuses to believe him. Shiva tricks him and escapes from him. He hides himself and thinks that he has to vanish like ghost. He decides to hide himself in Prafulla's house.
Gautam sees that Janardan is vacating his shop and asks about the same to Dev. The latter says that because it ran in loss after they left. Gautam gets sad. Dev asks why he is upset. Gautam misses Shiva and express his grief.
Dev, Rishita and Krish hug Gautam. Suman says that Shiva lives in all of them, so he can never go away from them. Rishita asks Dhara if she didn't go home. Dhara says that wanted to get vegetables. She asks Gautam for money. The drunkard comes to the store and says that Shiva is alive and he saw him shocking the family. Prafulla comes there and hears this. Raavi goes out and calls out Shiva. Raavi asks the drunkard where he saw Shiva. He says that he saw him near the tempo.
Krish runs to check and doesn't find him. Krisn asks the drunkard if he was Shiva, he would have come to the shop why he didn't come. Drunkard says that he saw Shiva only, he will come back. Raavi says that he isn't lying Shtid alive. She says to Dhara to go and find Shiva. Dhara calms her down. Krish and Gautam maje the drunkard leave. Gautam says to Suman to not believe the drunkard's words.
In the night Shiva sneaks inside his house. Dhara retuns home from the market. She recalls the drunkard words and cries. She asks where Shiva is gone. Shiva is putting his clothes in the bag. Dhara hears a noise and goes to check. Shiva hears footsteps and hides inside the cupboard.
Dhara comes to Shiva's room and says that this house is filled with his presence. She finds Shiva's cupboard open. She thinks that Raavi left it open. She closes it and leaves. Shiva tried to open the cupboard and realizes that Dhara locked it. He wonders how to get out it.
The episode ends.
Precap: Police comes to the Pandys and says that people lie for compensation money, they got news that Shiva is seen alive. He warns them to arrest if they have deceived the government. Raavi says that Shiva is alive, she can feel him, he is fine. Suman looks on.
Click to read