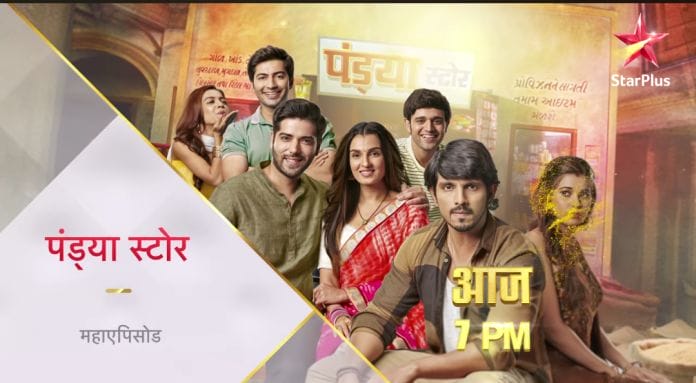 Pandya Store 23rd November 2022 Written Update on TellyExpress.com
The episode starts with Dhara deciding to trap Shweta. Raavi says that if Shweta created confusion in the hospital, then she must have swapped Arnab and Shiva's shirts to break her and Shiva's relationship, as she went with her to the market and knows which shirt is cheaper and which one is costlier. Rishita reminds Raavi that she always took her side, but in the end, she ruined her relationship. Raavi asks why Shweta tried to break her and Shiva's relationship and not Shweta and Dev's as Rishita is behind them. Rishita says that her and Dev's relationship isn't weak and Dev will never doubt her.
On the other hand, a badly injured Shiva is getting mocked. Shiva says that the first time he enjoyed getting beaten. He says that he doesn't feel his inside due to the outside pain. A doctor checks him and gives him medicine for his body pain. Shiva asks if the pain in his heart will also go with this medicine. The doctor says that it seems a girl left him. He says that this medicine can't do anything.
Raavi wants to ask Shweta why she did so. Rishita says to Raavi that Shweta is cunning and will manipulate her by telling another story. She says that they should give her the taste of her own medicine. Rishita says that she will make her life hell till Dhara and Raavi return home. Dhara asks what she's going to do. Rishita says that she will make Shweta do all the chores.
Shweta is doing the chores. Krish is watching her. Shweta slips. Krish holds her. Krish receives Gautam's call. He goes to the shop after asking Shweta take care of chores and prepare dinner. Shweta decides not to cook. There, Raavi refuses to have food. Dhara convinces Raavi and feeds food to her so that she can have strength to fight with Shweta.
Here, Rishita finds Raavi happily dancing, playing music. She thinks that Shweta is enjoying after sending Dhara and Raavi out. Rishita turns off the music and asks why she seems happy. She asks if she isn't responsible for Raavi's report swapping. Shweta crocodile tears and acts. She says that she read on the internet and learned it's one way to relive the tension and praying. She says that Dhara and Raavi will soon return home. Rishita says that she trusts her and adds that they will definitely return home. She leaves.
Suman is waiting for Shiva and scolds Krish, who asks her to have dinner for not worrying about Shiva, who hasn't returned home. She taunts Gautam for supporting Raavi as Dhara is at her side. Elsewhere, an injured Shiva is saying that no one in his family cares about him, so his brothers didn't even message him to know how he is. Here, Shweta brought the pizza she ordered for dinner. Rishita mocks, saying that history is repeating. Rishita reminds them how they created a scene when she made pizza in the beginning, when she came to this house. Suman refused to eat her pizza.
Dev says that Rishita should have helped Shweta to make dinner. Rishita argues with Dev. Suman scolds Rishita for fighting with her husband, who isn't well. Rishita says that Dev and everyone in the family are wrong for not taking a stand for Raavi against Suman. Suman says that Raavi wronged Shiva, so hereafter Shweta and Rishita should handle the house. Rishita refuses to do any chores. She announces that she's on strike. Suman declares that Shweta will do everything. Shweta tries to convince Rishita. The latter refuses to listen to her. Rishita smirks and mocks Shweta to order a burger for the next day's lunch.
Suman prohibits outside food and asks Shweta to cook. Krish tries to contact Shiva. Gautam prohibits Krish from calling Shiva. Gautam goes aside to call someone. Suman thinks he is calling Shiva. Gautam calls Dhara and asks if Shiva has come or called her. Dhara says no. Dhara asks Gautam to meet her as she wants to talk to him about something important. She says that whatever happens in the family is someone's ploy and she knows who is behind it.
The episode ends.
Precap: Dhara tells Gautam, Krish and Dev that Shweta is responsible for the confusion in the family, which shocks them. Krish says that Shweta has to leave the house if it's true. The brothers join hands with Dhara. Rishita and Dhara are in the hospital for catching Nithin. They ask a nurse about where Nithin is. They see Nithin. Nithin is shocked to see Dhara and Rishita.
Click to read