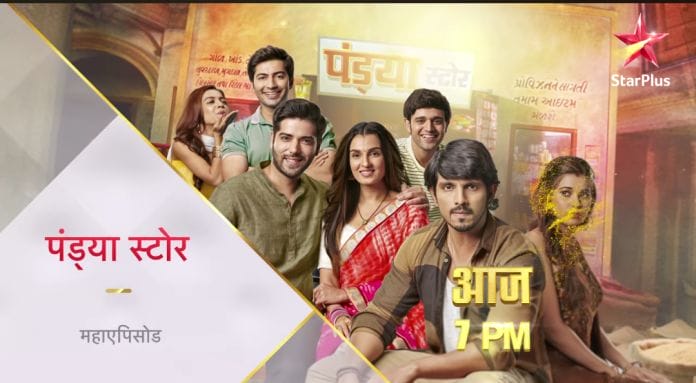 Pandya Store 24th September 2022 Written Update on TellyExpress.com
The episode starts with Patels getting ready to leave. Suman stops them. She asks Dhara to take Chiku. Dhara happily takes Chiku from Shweta's mom. Krish smiles. Dhara jokes that Suman agreed for her to be with Chiku. Suman asks Dhara to stop pulling Maha saaz's leg. Dhara smiles. Later Suman, Dev and Gautam discuss about the wedding preparations. Rishita arrives there. She tells Rishita not to anything just boost her mood. Krish apologize to Suman for misbehaving with her. Suman says that they will support him as he took the decision. She asks Krish to keep Shweta happy and trying himself to be happy.
At the dinner time, Dhara wonders where Shweta is. Rishita mocks that Shweta would run away getting scared of marriage. Dhara scolds Rishita. Krish says that he will upstairs. Dhara says that Shweta isn't upstairs, her phone is also switched off. Rishita says that Shweta isn't trustworthy. Suman asks to call Shweta's mom. Just then Shweta comes from outside. Dhara asks Shweta where she has gone.
Shweta says that Navratri is starting from the next day, so she has gone to get materials to install Kalash. Rishita taunts Shweta about being responsible before wedding. Shweta returns the remaining money Dhara. Pandyas are impressed with Shweta. Suman asks to main her integrity. Shweta thinks that she needs to win the family's trust for her future plans.
Shweta is lamenting. Just then Krish arrives there. He asks if Shweta is ready for the wedding. Shweta says that it doesn't matter in an arranged marriage. Krish express his fear about the wedding. Shweta angrily reacts. Krish asks if she's not happy with this wedding. Shweta denies. She says that they can wait, if he is not ready for the wedding. Krish becomes happy. He says that he was in guilt thinking whether he has done a mistake by talking to her parents about the wedding without talking to her. Shweta assures him that she is ready, he needn't to feel guilty. Krish has been called. Krish thanks Shweta and leaves. Shweta is irritated that Krish is becoming clinging.
She plans of running away to Dubai to escape and does research on her phone to survive there. Just then she recrives Forum's call in a new number. Forum says that she has been searched by the police, so she is going to Dubai to her sister. She threatens expose Shweta if she gets caught by the police before landing in Dubai. She reminds that Shweta promised to bear all her expenses. Shweta says that she is also planning to leave for Dubai. She asks Forum to make arrangements for her stay too. She assures to give Forum double money.
Shweta then says that she has to marry Krish else her parents will evict her from their property. She further says that after her wedding, they will transfer the property to Chiku and will make her his custodian. She says that after that she will do what she wants. Forum asks what about Krish. Shweta says that he will lodge a case of domestic violence against Krish, so he never thought about marriage in his whole life. Forum asks why she doesn't convince her parents instead of ruining Krish's life. Shweta says that they won't listen to her, this marriage is become a complusion for her. Rishita hears this. She asks Shweta what compulsion. She asks Shweta why she wants to marry Krish.
Shweta says that she has already gave the reason in front of everyone. She asks Rishita to stop questioning her as she is soon going to get the same status as Rishita in the house. Rishita says that she will question her till she had doubt on her. She snatches Shweta's phone and checks it. She asks who is going to Dubai, for whom she searches for jobs and house. Shweta says that she clicked by mistakenly while searching for their honeymoon destination. Just then Shweta's phone rings. Shweta becomes nervous and hopes that it's not Forum's call.
Shiva and Dev tease Krish about hiding from his love for Shweta. Dev feels proud that Krish is going to handle Chiku's responsibility. Krish states that Dhara had to handle their responsibility alone after her wedding, but he has his family with him. Shiva assures Krish that the family will be always with him.
Shweta shouts at Rishita for always questioning her. She asks Rishita to leave as she is feeling sleepy. Rishita says that she can't believe that the morning she did drama against the marriage and now she straightaway plans for honeymoon. She says that it's weird. Rishita leaves. Shweta receives Forum's call. She scolds Forum for calling her again and again. She assures to arrange money for her to settle in Dubai. She wonders how to arrange money. She thinks of using the money that her dad will give for the wedding arrangements.
Gautam try to romance Dhara. He lifts Dhara in his arms. Just then Dev arrives there. He says sorry and us about to go back. Gautam says that he was just checking Dhara's weight Dev pulls Gautam's leg. He asks Gautam to romance after closing the door. Dhara teases Gautam and laughs. Gautam smiles looking at Dhara. Meanwhile Rishita wonders who has called Shweta. She recalls the number. She dials that number from her phone.
Forum receives the call. She receives it thinking that Shweta is calling her from her another number. She hears Dhara calling out to Rishita and hangs the call getting scared. Forum wonders how Rishita got her number. Forun remives the sim. Here Rishita gets annoyed and scolds Dhara for disturbing her when she was on call. She asks Dhara to leave. Dhara is shocked with Rishita's behavior and leaves. Rishita is certain that the number is Forums.
The episode ends.
Precap: Dhara asks Rishita to prove Shweta isn't the right girl. Rishita decides to find out Forum to prove her words.
The episode starts with Krish stopping Shweta and asking if she really wants to marry her, if she won't regret her decision in the future. Shweta replies she won't. So, Krish declares that they don't need anyone's permission as they are adults. He says that they will get married in the temple with the blessings of her parents. Everyone is shocked by Krish's decision. Shweta hopes that Suman stops Krish. Suman calls out to Krish. She says that she can never permit him to marry Shweta. She threatens Krish to throw him out of the house and cut all ties with him if he marries Shweta.
Krish says that Suman has three other sons and daughters-in-law to look after him, but Shweta is handling a fatherless child alone, so he wants to support her. He adds that he will return after marrying Shweta to take her blessing and will stay there. He reminds Suman that she used to hate Rishita, but now she's her favorite. He says that Shweta will also make a place in her heart and she will love her. He asks Suman to give Shweta a chance. Suman declares that she doesn't have any relation with Krish. She beats him with her stick. The Pandyas try to stop Suman.
The latter drops the stick, getting tired. Suman says that Krish is breaking her heart with his decision. She asks him to get out of the house along with Shweta. Krish says to Shweta that Suman agreed. He says to Shweta not to be scared of Suman's violence, this is her way to bless them. Krish begins to leave, holding Shweta's hand. Shweta leaves Krish's hand. She refuses to marry Krish against Suman's wishes. Dhara says to Suman that Shweta respects her words. She says that Krish's choice is correct and requests her to agree.
Click to read