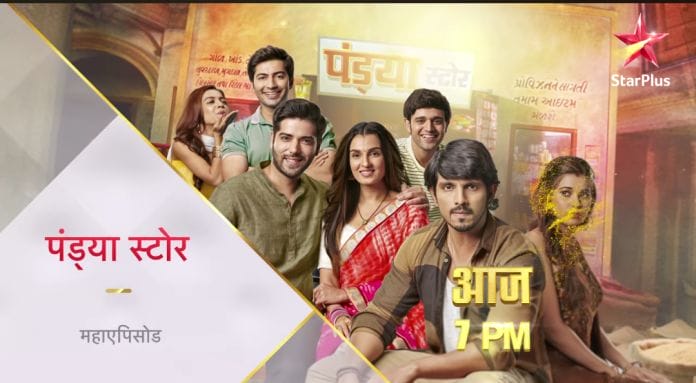 Pandya Store 25th January 2023 Written Update on TellyExpress.com
The episode starts with Dev and Krish enquiring the doctor about Suman wanting to return home. Meanwhile, Chiku,Shesh and Mithu turn off the main switch box. The lights go off. Dhara smiles. The doctor wonders what happened to the lights. Dev asks the doctor about Suman. The doctor says to Dev and Krish that Suman is doing right. Dhara says to the doctor that they're discharging Suman and taking her home. He nods ok and leaves. Dhara blesses whoever is responsible for the power cut as, because of them, her family is united. Xev sees Dhara smiling and says that she's smiling when Suman is unwell. Dhara says that he won't understand as they're going to fulfill Suman's last wish.
Meanwhile, Rishita and Raavi go to find Shesh and Mithu, asking Gautam to look after Shiva and Suman. Chiku, Mithu fall and Shesh is hanging holding the main switch box. They all arrive there hearing Shesh's screaming sound. Shesh falls and Chku and Mithu hold him. Shesh blames Chiku and Mithu, while Mithu blames Chiku. Dhara scolds Chiku. Rishita and Raavi ask Dhara to keep Chiku away from Shesh and Mithu. Raavi asks Rishita to ask Shesh to stop bullying other kids. Dhara apologizes to Rishita. They leave, taking their respective children.
Pandyas send Suman in the ambulance with Gautam. Pandyas sit in the taxi and asks Dhara and Chiku to come with them in the car as there is space. Dhara thinks that she has to reach home and make preparations. So she leaves in an autoricshaw. Shiva asks why Dhara isn't coming with them. Rishita taunts Dhara. Raavi asks Shiva,, that they can't force Dhara, who doesn't want, to come with them. Shiva scolds Raavi. He says that they all seem to have changed.
On the way, Dhara phones different people and orders groceries and snacks. Chiku apologizes to Dhara. Dhara scolds him and asks him not to do it again.On the other hand, Rishita asks Shesh to apologize to Mithu, but Shesh refuses and blames Chiku. Raavi says that Dhara ruined their life first and her son Chiku is running their son's life now. Shiva scolds Raavi. Suman urges Gautam to take him to the temple as her sons have finally returned home. As Suman gets adamant, Gautam agrees.
Pandyas reach home. Raavi asks Shiva to have his medicine. Shiva refuses. Raavi says that she will give his medicine to Mithu then. Mithu says that the medicine is bitter and asks Shiva to have it. Shiva agrees and complains that Raavi is taking advantage his love for Mithu. Rishita and Dev get ready to leave. But Dhara asks them to wait and wants to serve them tea and snacks. But Rishita says that they have come only to see Suman. Dev wonders why the ambulance hasn't reached home yet.
There, Suman and Gautam are shown praying to God in the temple. A lady helps Suman while doing Puja. Here, two men deliver the almirah. Rishita asks Dhara what it is. Dhara says that their family is becoming bigger. She says that she doesn't know that they have their sons. Rishita says to Dhara not to think that they're going to stay forever. Dhara says that till they're in the house… Raavi arrives and asks if they should dance to her tune till they're there. Dhara says that they're her family till they're in the house. Rishita says that they are only part of this house, only not her family. Raavi says to Dhara not to try to water the death relationship. Rishita says that Suman is the last link which connects them to this house. They don't care about anybody after she leaves.
Chiku and Mithu go to Mithu and call him to play with marbles. He refuses, getting scared. Shiva, who is sleeping, wakes up and asks who they are. Chiku, Shesh and Mithu tell their names. They took Shiva with them to play with marbles. Meanwhile, Raavi says to Dhara to give her share after selling Pandya Store and Pandya Nivas if Suman dies. Dhara is shocked to hear this.
The episode ends.
Precap: Pandyas ask Dhara to give their share after selling Pandya Store and Pandya Nivas. Raavi stops Shiva from playing with the marbles with the children. Dhara asks Raavi what happened to Shiva and why she is feeding Shiva a lot of medicine. Raavi blames Dhara for whatever happened to Shiva. Raavi prevents Dhara from going near Shiva.
Click to read