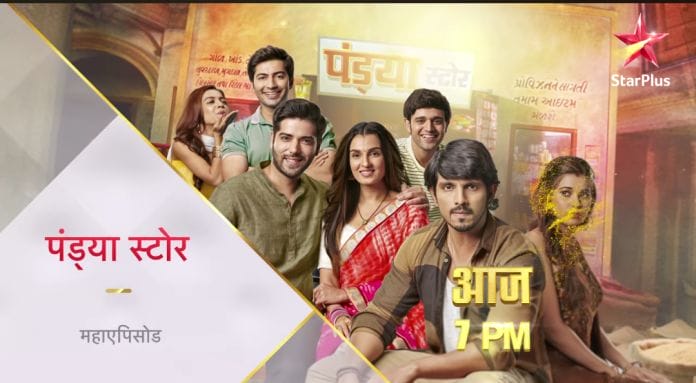 Pandya Store 25th May 2022 Written Update on TellyExpress.com
The episode starts with Gautam handing the house papers to Janardan as per the condition. Janardan smiles. Rishita phones Janardan and says that they boarded the flight and says to send the driver to the airport. Janardan says that he appointed a new driver. He wishes a safe journey and hangs the call. Janardan gives the locker key to Gautam. Janardan welcome Pandyas to his house and says that they all his servants. He warns Gautam to not let the plants to get dried. He gives Gautam uniform.
Shiva asks what's the need for it when they have come wearing clothes according to their work. Janardan says that servants wears uniform in rich people's house. He gives the uniform with their names plate to all. He says about the party he is going to host evening and says to Dhara to care of food and hospitality. Gautam thinks that he is hosting party to humiliate them, but he is going to get humiliated. Janardan says to Shiva to pick up Rishita from the airport that evening.
Shiva says that her husband should also come with her, he should also pick up him. Janardan says that he only concerned about Rishita. He says that he doesn't know how they will react on seeing them as servants, they have to handle it. Gautam reminds Janardan that this is his responsibility and plays the audio recording of their conversation. Janardan says that he is kidding, he will handle. Gautam says that they work hear for money and they don't care who lives in this house or not. Family agrees with Gautam. They leave.
Pandyas are working in the kitchen. Dhara is making the food. Dhara says that Janardan wants to humiliate them in the party. Gautam says that Janardan will get humiliated. He says to Shiva to cover his face while going to pick up Dev and Rishita from the airport as the climax should happen in the party not before. Gautam tears up his shirt. He says that this is the shirt given by Janardan and does drama. They laugh. Other hand Kamini says to Janardan that he wants to humiliate Pandyas in the party, but it shouldn't be they get humiliated in front of Dev and Rishita. Janardan says that he will keep an eye on them.
Kanta says to Suman that Janardan is hosting a party and called big personality of Somnaath to humiliate her children in front of them. Suman says that her children will brun down his empire before that. She says to not worry as Dhara promised her. At the Seths Kamini says to Dhara to give juice to the guest. Dhara obliges. Dhara says that they have served drinks, now they have to concentrate on food and asks if everything is ready. Raavi replies yes.
Janardan introduces his new servants to his guests. He introduces Dhara as his cook and adds that she prepared today's food. He then introduces Raavi as his house's cleaner. He says that she is Shiva's wife and adds that Shiva is his driver and has gone to pick up his daughter and son in law. Janardan then introduces Gautam.
He says that he is Pandya Store's owner, he is very honest man, but he is working as his gardener. They need money, so they're working at his house. Janardan says to Gautam to greet his guests. Gautam obliges. Janardan notices that Gautam shirt is torn and asks how it got torn. Gautam says that it was torn when he gave it. He says that he wants to humiliate him in front of the guest by wearing torn up shirt. He says to Gautam to get Kalanchoe flowers.
Gautam asks Dhara how does Kalanchoe flowers look. Dhara replies that they will obviously look like Kalanchoe flowers. Gautam says to concentrate on her work else master can slap her getting angry. Dhara says that Dev is coming, then let see who will get slapped. Dhara hears that two guests saying that Pandyas are in very tough situation that they have to work in their relative's house. Janardan smiles hearing this.
Dev and Rishita wonder where the driver is. Shiva comes to them wearing a mask. Dev says Shiva. The latter says that he isn't Shiva, but Shankar, Janardan sent him to pick them up. Rishita asks if he joined in their absence as she never saw him before. Shiva says that it has been two days he joined. In the party Janardan scolds Gautam for bringing wrong flowers.
A guest suggests Gautam working in any other places. Gautam says that he has to work his whole life in Pandya store when it will be opened. He doesn't want to lose the chance to work at Janardan's house. He distributes the flowers to the guests. Gautam is eager to see Janardan's behavior when Dev and Rishita will come.
The episode ends.
Precap: Janardan makes Gautam clean the spilled juice on the floor. Dev and Rishita get shocked on seeing this.
Click to read