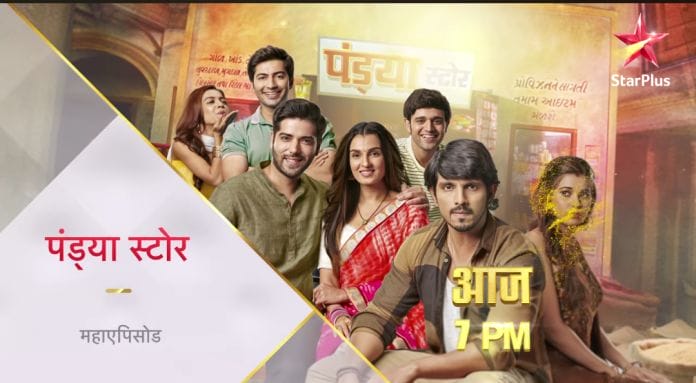 Pandya Store 26th January 2023 Written Update on TellyExpress.com
The episode starts with Dhara asking the Pandyas if they have come to Suman's death. Rishita asks Dhara to stop her emotional drama. She says that they are praying for Suman's recovery, but their relationship can't be like before. Dhara asks Dev and Krish if they don't want to say anything. Dev says that they have moved on with their lives. He says that him and Rishita lost their baby in this house and returning there would make their wound fresh. He says that him and Rishita don't deserve this. Krish says that he is already dead to her, so there is no point in returning there. A man delivers pani poori.
Raavi says to Dhara, ordering their favorite food can't make them bond like before. Dhara says that they have moved on, not her. She asks if they will leave immediately or will wait for Suman's death. Dev gets angry and says that they don't want Suman to die, but they just want their share. Dhara says that Suman has to die for that and they all want the same. She says that they have to stay in this house till the disaster. A man delivers Samosa. Dhara says to Krish to either have the samosa now or she will pack and give it while he leaves. Krish says that he has only come for closure. Dhara says to them not to show their anger at food. Rishita says to Dhara not to have the misunderstanding to win their hearts by doing all this.
Dhara says that they threw her out of their hearts, but not her. Rishita says that they feel suffocated to stay in the same place where she is. Raavi says that she has to manage Mithu's school and Shiva's treatment expenses, so she is asking for her share. Rishita says that she and Dev lost their jobs and Ahmedabad's cost of living is high, so they want their share even if Suman recovers. Krish says that he doesn't have any financial problems, but his brothers, especially Dev, don't care about his return, so he also wants his share. Dhara, in her mind, takes the oath to unite the Pandyas again. On the other hand, Shiva is playing with Chiku, Shesh and Mithu.
Dhara agrees to sell the house and store and asks Dev and Krish to find a buyer. Dhara says that Suman is still alive and asks what they can do to fast the procedure. She asks if they should give her poison. Rishita asks Dhara if she wants to prove them heartless. She blames Dhara for their family's separation. Dhara and Raavi say that they wait for Suman's recovery to explain to her their financial problem and get their share when she is alive, so that they can leave. Dhara taunts them by saying that they pray for SSuman's recovery. Rishita says that they also care about Suman. Dhara taunts them that they didn't even call Suman once to find out how she was. Dev admits that they didn't call her, as if they had called, she would have asked them to return. But they didn't want to return. Dhara says to Krish that he left forever just because she rebuked him. She rejected her years of love just because she scolded him. Krish walks away. Dhara laments that an incident broke all relationships.
Raavi finds Shiva playing with the children and asks him to go inside as he just had medicine. Dhara asks Raavi what happened to Shiva that day, why she is giving him a lot of medicine. Raavi blames Dhara for Shiva's condition. She prevents Dhara from going to Shiva. Dhara says that no one can stop a mother from hugging her son. Dhara goes to Shiva and hugs him. Dhara becomes emotional when Shiva calls her mom and promises to never leave her. Raavi says to Dhara that she's Shiva's wife and she won't let Shiva stay there. She tries to forcibly take Shiva from there. Shiva angrily reacts. Mithu hugs Dhara getting scared. Dhara asks Mithu not to be scared and goes to get snacks for them. Shesh asks how they will play as Shiva as the marbles. Shiva gives them the marbles. Dev says that Shesh eats only fast food. Dhara says that she ordered Pizza for children. She leaves. The children go to Suman's room to play.
Dev and Rishita go to their room and become emotional recalling their past moment with Chiku there. Rishita says to Dev that their past moments with Chiku in this house hurt her, so they should leave as soon as Suman recovers. Dhara hears this and thinks that she won't let Suman recovers as they will leave if she recovers. She thinks of keep uniting her family at any coast.
The episode ends.
Precap: Krish and his fiance arrange for blood donation camp and krish will announce that they have arranged for free buses from Mumbai to Somnath for that purpose. Shweta will be shown with Chiku in Mumbai. She will hear about two men talking about Krish's arrangements and will ask them to send the video of krish.
Click to read