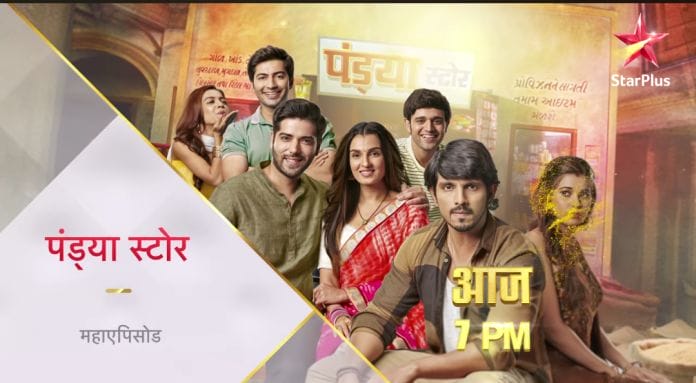 Pandya Store 26th May 2022 Written Update on TellyExpress.com
The episode starts with Dev and Rishita being on the way in the car. Dev says to Rishita that he wants to meet Suman. As Rishita also wants the same, she says to the driver to take them to Pandyas Nivas first. Shiva says that Janardan told him to bring them to the seths. Dev says him to do what they have told.
Shiva thinks that he can't sorry as Dhara told that they have to take them home for permanently, not for temporary. Other hand in the party Janardan says to Gautam to arrange the guests footwear in the shoe cupboard. Gautam obliges. Dhara feels bad on seeing this. Janardan then says to Dhara to serve the tea and then Raavi to clean the table. They oblige
In the car Rishita and Dev fall sleep. Janardan intentionally drops the juice on the floor and says to clean it. Gautam hears the car horn sound and agrees. Dev and Rishita scold the driver for bringing them to the Seths instead of taking to the Pandyas. They decide to go there after getting fresh up. Gautam cleans the juice spilled on the floor. Dev and Rishita comes in and gets shocked on seeing this.
Krish says that Dev and Rishita have come. Gautam thinks that Janardan gave him this in correct time. Gautam puts up an act. He holds Janardan's leg and begs him to not remove from the job. Dev makes Gautam stand up. Dev and Rishita question Janardan what is happening, why Gautam is in staff's uniform. Dev asks Gautam to answer and asks why his uniform to torn up. Gautam says that Janardan gavs him work, he is the gardner. Janardan told him to come in the the uniform.
Dev says to Gautam to change his clothes, he doesn't need to do this work. Dhara and Raavi come taking juice and snacks for Rishita and Dev. Rishita and Dev look on shocked. Dhara says them to eat something as they must have tired due the long travel. Dev and Rishita throw the snacks and juice. Raavi and Dhara clean it. Dev stops them and says they won't do this work. He asks where the staffs of the house. Gautam says that Janardan removed all the staffs to appoint them.
Dev notices Shiva in driver uniform and asks how he agreed to work here and asks why he didn't stop Gautam and Dhara. Gautam says that they need money, so they're working. Dev says that he will give them money. Gautam says that no one was ready to give them job, but Janardan gave. He says that their dad taught as that there's no any small or big work. Dev says that he remembers their dad's all teaching, but their mom doesn't know that they're working here. Gautam says that she's aware.
Dev refuses to believe and decides to talk to Suman to know how she allowed them to do this. Gautam lies that Suman was fed up with all the problems and has gone for a trip and doesn't know when she will return. Gautam says that whether Dev like it or not he will continue to work here. Rishita shouts at Janardan. Dhara says that Janardan isn't at fault. Rishita says that he is, but Dhara is also at fault. She says that they can't make them do work and nor let others insult them. She asks why they chose her house to work.
Dhara says that no other family would appoint them whole family and also if they work here, Rishita will be in front of their eyes and they can take care of Rishita as well. Dhara adds that they also need money. Dev tries to speak, but Dhara stops him by giving his child's swear. Dhara requests Dev to not stop them from working here.
Dev says that they don't care how they would feel seeing them working here. Dev says that they won't listen to them and walks away followed by Rishita. Gautam says to all get back on the work. Shiva whispers to Gautam that Janardan is falling in their trap. Gautam says that on seeing Dev sad that he is certain that they can take them back home.
Dhara feeds Suman and says that Rishita angrier than Dev on seeing them working. She says that their destiny is to near and says Suman to keep practicing with the ball. Suman holds Dhara's hair. Dhara gets happy and calls out the family and tells them the same. Family gets happy that Suman's health is improving.
The next day Kamini says to Janardan that Pandyas put up an act to take Dev and Rishita back home. Janardan agrees. He says that they have shouldn't let that happen. Kalyaani says that she did a mistake. She asked them to eat the leftovers. Other hand Dhara and Raavi take the leftovers food from the fridge to eat.
The episode ends.
Precap: Kamini asks Dhara to iron the clothes. Kamini places her hand on the iron box intentionally and shouts. Dev and Rishita come there. Kamini accuses Dhara of intentionally burning her hand with the iron box.
Click to read