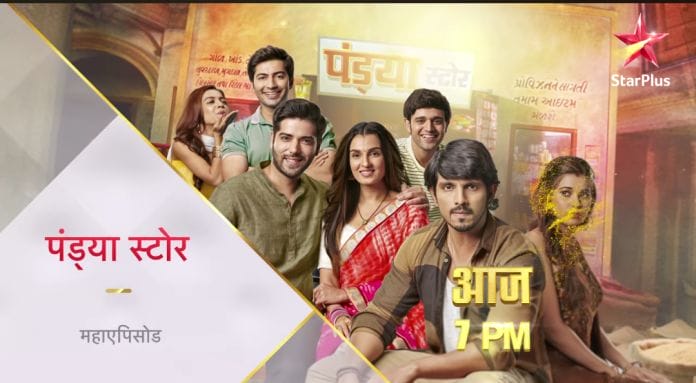 Pandya Store 26th October 2022 Written Update on TellyExpress.com
The episode starts with Raavi cooking and telling Arnab over the phone that she will reach the office in 15 mins. Shweta says to Raavi that she will do the work and asks Raavi to go to her work as she has a meeting. Shweta wants to call Dhara and Rishita, who are after the babies, to help Raavi. The latter refuses and says that her family comes first for her. Shweta says that Raavi cares about everyone in the family. They should also care about her and help her. She says to Raavi that she will finish cooking and sends Raavi.
Dhara asks Krish if he is happy since he and Shweta didn't get time to understand each other before their wedding. Krish recalls Shweta's words. He lies that he is happy. He says that they will slowly understand each other. Dhara asks Krish to take Shweta to the cinema. Krish refuses by giving the excuse of getting teased by his brothers and Suman. Raavi sees Krish and Dhara laughing and playing with Chiku. She says that Shweta was right that no one cares about her in this family. She says how others would respect her work if her husband didn't respect it.
Shiva asks Suman's permission to repair the leakage on the terrace. Suman agrees, but asks him to keep the accounts. Shiva says that Gautam will talk to her regarding the expenditure. Dev is about to leave for work. Rishita stops Dev and asks if he will support her in exposing Shweta.
Dev agrees to help her, but asks her to handle it carefully. He says that it's a sensitive matter since Shweta is now Pandya's daughter-in-law. Rishita kisses Dev's cheek and says" I love you". Raavi sees Rishita and Dev romancing. She says that Rishita has time to romance, but not to help her. Shweta serves Suman's breakfast. She pours lemon juice in breakfast. She says that selfish Raavi prepared this breakfast, she is just serving it. She smiles.
Rishita asks Dhara to take care of Chutki as she has an important presentation to do. Dhara agrees. Raavi sees this. Shweta wishes luck to Raavi for her meeting. Raavi loudly thanks Shweta by calling her sweetheart. Dhara and Rishita hear this. Dhara asks Raavi to go carefully. Raavi leaves. Rishita is surprised that Raavi called Shweta sweetheart while she didn't say a proper bye to them.
Shweta takes breakfast to Suman. Suman asks where Shiva's breakfast is. Shweta says that Raavi only gave Suman's breakfast to her. She says that Raavi has a breakfast meeting with her boss Arnab. So she left, asking her to hand breakfast to Suman. Shiva angrily leaves. Suman asks Shweta to take back the breakfast. Shweta insists Suman have the breakfast. Suman eats a bite and says that Raavi added a lot of lemon juice to breakfast. Sumam says that this is the first time Raavi made an error in the rush to go to the office. She decides to talk with Raavi to make this her last error. Shweta smirks that she successfully created the first misunderstanding between Suman and Raavi.
Rishita goes to the kitchen. She hears a phone ringing sound. She becomes happy after finding Shweta's phone in the kitchen. She takes Deven's phone number and messages him. She says that she has the jewellery and asks him to come to the backyard at 10 pm to collect it. Elsewhere, Deven receives the message. He becomes elated reading the message. He messages Shweta agreeing to come. He says I love you.
Rishita gives a smile of victory after receiving Deven's message. She decides to message him again to make sure that he comes. She sends a romantic message. Deven gets suspicious and asks if she calls him to give him poison. Rishita gets worried that Deven won't come. She changes her tone in the message. She asks him to come if he wants or go to hell. Deven is scared that Shweta will change her mind. He agrees to come. Rishita is about to delete the messages. Shweta arrives there. Rishita hugs Shweta, which surprises the latter.
Rishita deletes the message and keeps Shweta's phone back in its place. Rishita says to Shweta that she will get the habit of doing the chores. She leaves, taking milk for Chiku and Chutki. Dhara notices that Rishita is in a good mood and asks what happened. Rishita thinks of not telling Dhara her plan else she will fail it like last time. She gives an excuse. Suman sees Dhara and Rishita laughing. She goes to them and complains about Raavi leaving for the office without preparing Shiva's breakfast. He left without having breakfast. She then complains about Raavi adding a lot of lemon juice to her breakfast. Dhara defends Raavi.
Suman scolds Dhara. Suman asks Dhara why she let Shweta do kitchen work without performing her first rasoi ritual. She scolds Dhara for the same. Shweta pretends to support Dhara. Rishita thinks of doing a special drama in Shweta's first rasoi. Rishita says that they can still do the ritual as Shweta didn't prepare the breakfast. Suman taunts Rishita and asks Rishita and Dhara to help Shweta. Dhara and Rishita agree. Rishita smiles, thinking that Shweta will be thrown out of the house as a gift for her first rasoi.
In Pandya's store, Shiva reacts angrily when Dev asks him not to carry the sacks. He says that lifting sacks reminds him how much hard work they did to get there. At Pandya's house, Rishita wonders if she deleted all the messages from Shweta's phone and becomes tensed. Meanwhile, Shweta finds her phone in the kitchen and grows anxious, wondering if Rishita used it.
The episode ends.
Precap: Rishita says to Dev that Deven is Shweta's ex-husband and Chiku's father. Shweta is shocked to see Deven. He asks her to give him the jewellery. Pandyas are shocked to see the video of this on the projector screen.
Click to read