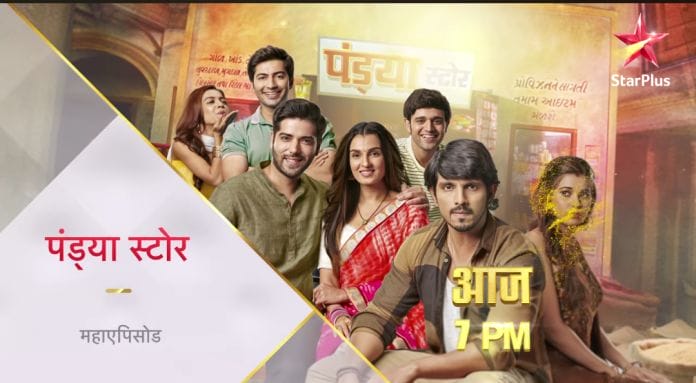 Pandya Store 27th June 2022 Written Update on TellyExpress.com
The episode starts with Shiva saving Dhara from getting hit by the tempo. Dhara gets emotional seeing Shiva alive and hugs him crying. Dhara says that Raavi was right that he is alive. She asks Shiva why he didn't return home and asks where he was all these days. Shiva tells what happened. A FB shows. Shiva makes an old man sit on his seat. The old man sees the anklet Shiva has. He wants to take a photo of it to buy similar anklets for his daughter. Shiva takes the photo of it to send him later on. He receives Raavi's call. So he hands the anklet to the old man and movies to bus' front side to get signal. The bus meets with an accident and he falls in the river. Shiva is shown saved by a family FB ends. Shiva says that the family tried to get him married forcibly to their daughter, but he managed to escape. Dhara says that their family will get happy knowing that he is alive. She wants to call Gautam, but Shiva stops her. Dhara asks why. Shiva reminds her police's words. Dhara understands why Shiva came in disguise in bangle seller. She asks if he was in the cupboard last night. Shiva nods yes. Dhara asks why he didn't show up to her or Raavi. Shiva says that he doesn't want them to go to jail. He says that whole Somnaath would know if Raavi got to know.
Dhara says that Shiva didn't see Raavi's pain and says that she can't see her anymore in that state. Shiva requests Dhara to hide it for some more time. Dhara says that it's not easy as it's about ten lakhs. Shiva says that he is also worried. Dhara says to hide himself in her and Gautam's room. Shiva refuses and says that he will hide Prafulla's house after it's his in law's house. He says that he will manage to sell their land for money. He asks Dhara to not worry and take care of herself and Raavi. Dhara says that the only ways to take care of Raavi is telling the truth. Shiva refuses. Dhara says that Raavi has the rights to know, so she will tell her. She leaves. Shiva feels bad that he can't meet his family.
Dhara comes back home and calls out all. Family is surprised seeing Dhara brought lot of sweets. They ask her why she brought sweet. Dhara is unable to tell them that Shiva is alive. She feeds all sweet. Family looks confused with Dhara's behavior. Gautam takes Dhara apart. He reminds her that all are still sad with to Shiva. Rishita says that Dhara got a shock due to Shiva's death. Suman removee the evil eye from Dhara. Suman asks what is all this. Dhara lies that she visited temple to pray for all of them and the sweet is prasaad. Shiva would also want that they move on in their file.
Shiva misses his family and cries looking at his family photo. He says that he has to sell the land to repay the compensation and fir that he should go out. He says that this time he should go be more careful. Dev receives some papers in courier and announces to the family that Shiva sold their land for thirty lakhs shocking all. Dhara says that it's a lie, Shiva can't do this without telling them. Rishita says that Shiva isn't alive to prove this. Dhara wonders whether she should bring Shiva out to prove the allegations false. Gautam says that Shiva can't do this, the man is taking advantage of Shiva's death. Suman says that they will get the money if it's in their destiny. She says to not talk about it hereafter. Raavi runs to her room. Dhara thinks that Raavi will get mad if she doesn't make her meet Shiva.
Shiva comes to the land in disguise. He reads a board stating that the land is sold to Jeevanlal. Police arrives and says to Jeevanlal that they got a complaint that this land isn't his. Shiva sees this hiding. Jeevanlal says that this is his land and he bought it from Shiva for thirty lakhs the day when he met with the accident. He says that he sent a copy to Pandyas too. He shows the proof for the same. Shiva realises that Jeevanlal made false papers. He decides to live from here for now.
Dhara comes to Raavi. The latter says that Shiva can't do this without telling them. Dhara says that she knows that Shiva can't do this. Dhara says that she can't hide Shiva's truth from Raavi anymore. She asks Raavi to get ready to go for dinner which confuses Raavi. Shiva gets furious recalling Jeevanlal's words. He vows to get the land back.
The episode ends.
Precap: Raavi asks Shiva how she will go out now and asks to think for a way. Prafulla comes in. Raavi and Shiva run to hide. Prafulla gets shocked seeing Shiva and shouts Shiva.
Click to read