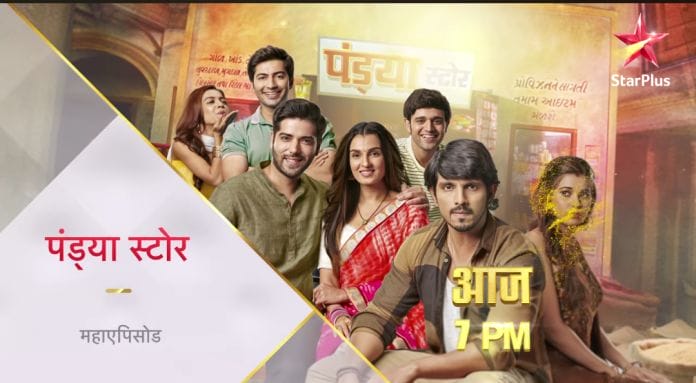 Pandya Store 27th October 2022 Written Update on TellyExpress.com
The episode starts with Dhara phoning Dev and saying that Shiva left the house without having breakfast. She scolds Shiva for venting out his anger at the food. Dev assures Dhara that he will talk to Shiva. Dev notices Krish working in the store. He calls out to Krish and advises Krish to focus on his studies as he is in his final year.
Krish recalls Shweta insulting Krish about being financially dependent on his brothers. Krish says that he got married, so he can't depend on his brothers financially. Dev asks Krish to get food. Krish orders food online and asks Dev not to irritate him. Just then, Gautam arrives. He asks Krish why he is being irritated. Shiva says that this is the side effect of marriage. Gautam says that his life got better after marrying Dhara.
Gautam asks Shiva if he has reconciled with Raavi. Dev tells about Shiva feeling insecure. He says that he becomes angry seeing Arnab and tells how he fought with Raavi in front of Arnab, which angers Shiva. Dev thinks of a plan to reunite Shiva and Raavi. Shiva reminds him that his resort plan went wrong and asks him not to think of any plan. He leaves. Gautam says that he will make a plan. Dev asks Gautam to think fast before Raavi leaves the house. Krish becomes anxious hearing this and asks his brothers not to talk about it. His brothers ask Krish why. Krish is scared of spilling the truth. He leaves, making an excuse.
Later, Dev finds Rishita tensed and asks her about the same. Rishita says that Deven, who attended Shweta and Krish's engagement as Shweta's brother, is actually Shweta's ex-husband and Chiku's father. Dev is shocked to hear this. Rishita says that Shweta attempted to rob Suman and exchange the jewellery with Deven's help. Dev refuses to believe Rishita. Rishita says that she confirmed what she was saying. She says that she messaged Deven Shweta's phone, asking him to come home to collect the jewellery. Dev becomes angry that Shweta is having an affair with her ex-husband and is betraying Krish and them. Rishita calms him down and denies it. She says that she's only trying to rob teaming up with Deven.
She doesn't know why, but she will find out soon. She tells about her plan to expose Shweta. She says that she placed cameras everywhere in the backyard. She will show their live footage to the family when Deven comes to talk to Shweta. She says that she has to send Shweta to the backyard somehow. Deven will get angry when he sees Shweta not having the jewellery and they will fight. She will show it live. Dev says that her plan depends only on expectations and the plan will flop if anything goes wrong.
Pandya brothers and Dhara are cutting vegetables to help Shweta to make kofta. Rishita fixes the projector in the hall on the pretext of wanting to see her favorite show on the big screen. Dhara distributes the gifts to the Pandyas brothers and asks them to give them to Shweta as it's first rasoi ritual. Rishita thinks that she will give her gift at 10 p. m when Shweta gets exposed. Gautam gives a pair of earrings and asks to gift them to Raavi.
Shweta smirks, thinking that a big drama will happen on her first rasoi and waits for Raavi's arrival for that. Raavi is on her way to home. Shweta phones Raavi and asks her to reach home soon as it's her first rasoi ritual. Raavi says that no one informed her about this. Shweta says that Shiva is angry with her as she left for the office without giving him his breakfast and Suman is also mad at her since she added a lot of lemon juice to her breakfast and she said that Raavi is careless.
As Suman is complaining about Raavi adding too much lemon juice to her breakfast, Raavi comes back home. She apologizes to Suman. She then complains about Dhara not informing her about Shweta's first rasoi. Suman taunts that even if Raavi gets informed, she will reach home late by giving the excuse of having work in the office. Shiva starts to fight with Raavi over the same. Shweta enjoys their fight. Suman criticizes Raavi for not being able to balance between her job and the family. She asks Raavi to leave her job if she can't give the family first priority.
Shweta goes to Raavi and pretends to console her. Dhara intervenes and says that Raavi isn't alone at fault and admits that she can't help her. She apologizes to Raavi. Raavi complains that Dhara was busy talking with Krish while Rishita was romancing with Dev. Rishita asks Raavi not to cast an evil eye on her relationship. Raavi gets angry and leaves. Shweta thinks of increasing the fight between Raavi and the family.
The episode ends.
Precap: Pandyas watch the live video of Deven meeting Shweta. Suman throws Shweta out of the house.
Click to read