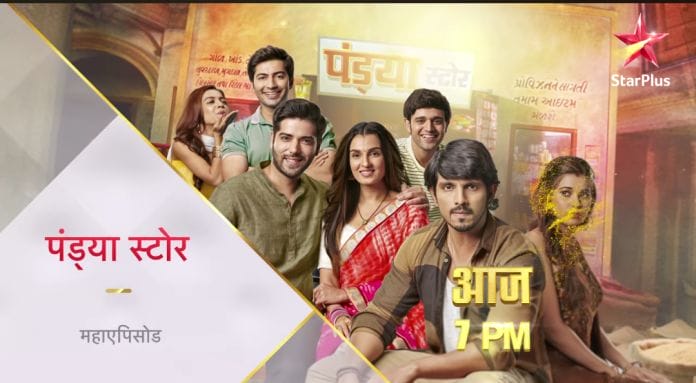 Pandya Store 28th October 2022 Written Update on TellyExpress.com
The episode starts with Shiva and Raavi fighting. Shweta hears their fight, hiding and smiles. Shweta says that Raavi has to face more insults that she will think only she's her wellwisher. Shweta goes to Suman and says that everyone helped in a different way for her rasoi except Raavi. So, she says that Raavi can light diya in the kitchen as a part of her contribution. Suman agrees and instructs the same to Raavi.
Raavi places the lighted Diya in the kitchen, recalling Shiva's words. After Raavi leaves from there, Shweta sets fire to a vessel and puts her dress on the diya. It catches fire. Shweta shouts for help. The Pandyas rush to the kitchen and try to put off the fire. Suman blames Raavi for the fire accident. Krish defends Raavi. In the kitchen, everyone is busy extinguishing the fire. Rishita uses this opportunity and grabs Shweta's phone. She messages Deven asking him to come to the kitchen at 10pm.
After a lot of effort, the Pandyas douse the fire. Suman asks Shweta if she's fine and asks her to change her clothes. Meanwhile, Rishita goes to the kitchen. She sends the Pandya brothers out by saying that she will clean the kitchen. After they leave, she fixes a hidden camera as her plan B. Dhara arrives there and asks Rishita if she can clean the kitchen soon. Rishita says that it's going to 10pm and asks Dhara to call Shweta as they have to have dinner. She's starving.
Shweta comes after changing her clothes. Rishita urges Shweta to bring food from the kitchen. Shweta goes to the kitchen. Shweta is shocked to find Deven there. In the hall, Rishita says to the Pandyas that they can watch the show till Shweta brings the food. She plays the projector. Shweta and Deven's live video plays on the screen. Pandyas are shocked to see this. Rishita smiles. Shweta asks Deven what he is doing here. Deven says that Shweta called him and asks to give him the jewellery.
Krish thinks that Shweta didn't tell him about this. Dhara thinks that Shweta promised her not to meet Deven hereafter, so she agreed for her to stay in that house. Rishita asks why Shweta is doing robbery along with her brother like Deven. She says that she told them that something was wrong about Shweta. Raavi says that Rishita made this plan to trap Shweta. Rishita admits that she did it as she was tired of telling them the truth, but they're not ready to believe her. Raavi says that it's not necessary to trap someone to tell the truth.
Rishita says that she did a sin by telling the truth while she finds Shweta did right by lying to them. She says that Shweta manipulated her. Rishita asks Shweta to stop the video if she thinks that she's doing wrong. Raavi says that this is wrong and is about to turn off the projector. Suman stops Raavi and asks her not to interfere. Suman says that she wants to see it. Deven tells about trying to rob Suman's money, which was ruined by Rishita, and then the jewellery exchange was flopped by Dhara.
He mentions that he is Chiku's father. Pandyas are stunned to discover Shweta's truth. Suman asks Raavi if she's aware of Shweta's truth. Raavi denies. Dev calls the police to arrest Shweta and Deven. Dhara goes to Shweta and Deven. Seeing Dhara, Shweta starts to act innocent. Rishita says to Suman she's acting on seeing Dhara. Dhara places her hand on Deven's shoulder and turns him towards her.
The episode ends.
Precap: Suman slaps Shweta and throws her out of the house. She asks Krish to see a lawyer and to divorce Shweta.
Click to read