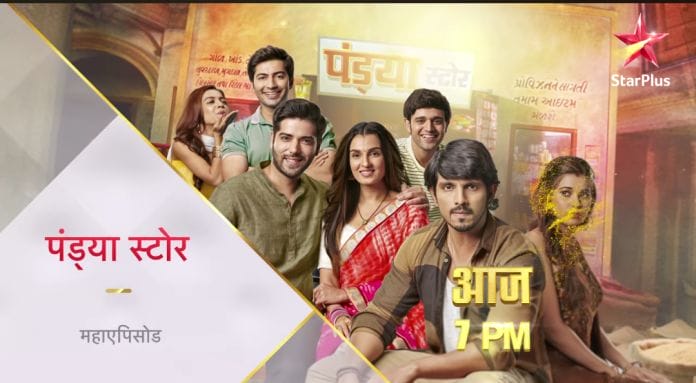 Pandya Store 2nd June 2022 Written Update on TellyExpress.com
The episode starts with Janardan thanking Dhara. Kamini asks Janardan if he is thanking Dhara, who tried to kill Rishita's child again. She says that Dhara did it. She gave her thread to remove evil eyes from Rishita, but she tied it here. She says that Rishita was right that Dhara is jealous of her child, but thanks to God that she's safe. Dev shouts what rubbish she's talking.
Dhara says that she won't give any justification as today it's test for Rishita's trust on her. She asks Rishita to think from her heart and say if she can do it. Rishita asks Kamini if she saw Dhara tying the thread and asks if she saw why she didn't stop her. She asks Kamini for proof. Kamini says that it's not enough she is saying,
Dhara did this. Kalyani says that Kamini is lying, in reality she did it. She says that she tried to stop her lot, but she was stubborn. She also wants that Rishita stay with them in their house, but she can't risk Rishita and her child's life for that. Kamini says to the Pandyas to leave the house as she's removing them from the job right away.
Dhara says her necklace. Kamini says that she's worried about her necklace even in this time. Dhara says that because it's her mom's necklace. Rishita asks how it's possible, her necklace got stolen. Dhara says that she gave her this necklace to expose the truth. Dhara stops Rishita from removing the necklace. Kamini taunts Dhara that first necklace got stolen then it came to her by itself.
Gautam and Shiva bring the two men Kamini hired to steal the necklace. They say to Kamini that she told it's an easy job to steal the necklace, but they caught them. Dhara says that she had already doubted that Kamini is behind the stolen necklace, but Kamini gave her proof last day. She says that she saw the necklace in her hand last day. She doesn't know what to do, they can blame her again. She took the necklace from her cupboard after she left.
The remaining truth Kalyani told, so she doesn't want to say anything further. Kamini asks Dhara for proof and asks how she can accuse her without proof. Kalyani says that she saw Kamini giving the thread to Dhara and she also saw her tying it while going in. She thought to talk to her after coming but before that all this happened. She tried to stop Kamini many times, but she didn't listen to her.
Rishita says to Dev that she doesn't want to stay at her dad's house anymore. Pandyas get happy on hearing this. Janardan tries to stop Rishita. He says that he isn't involved in Kamini's plan, he didn't know anything. He requests her to stay back for his sake. Rishita says to Kamini that she thought that she will be safe in her parents house and they love her, but she was wrong.
She says that she came her due to a misunderstanding, they increased it instead of trying to sort it out. She further says that they don't know to keep relationship, She says that she's cutting her all ties with them. Janardan asks what's their mistake in this. Rishita hugs Dhara.
Janardan requests Dev to make Rishita understand. Dev shouts enough. He says that he started to respect them, but they don't deserve this. He warns Janardan and Kamini to not come between his child and family. Janardan requests Dev to believe that he isn't involved in this and requests him to make Rishita understand. He pleads with Rishita to stay back. Kalyani also requests Rishita the same. Rishita holds Dhara's hand and asks if they can go home. Dhara says to let go.
Pandyas begin to walk holding hands. Janardan stop them and requests them to accept their hard earned money for working till that day in his house. Shiva takes the check and used it to remove evil eyes from Rishita and returns to Janardan to get sweets and distribute it among the poors saying that Pandya family united once again. Dev and Shiva hold hands and smile looking at each other. Pandyas leave.
Pandyas return home. Dhara says to Dev and Rishita to wait at the doorstep and goes to get aarti plate. Suman understands that Dev and Rishita are back on seeing this and gets elated. Dhara does aarti and welcomes back Dev and Rishita home.
Dev and Rishita are shocked on seeing Suman bedridden. They run to her. Suman takes the ball with her hand. She recalls Dhara's words and hits the stones making them fall. Pandyas clap for her. Dhara holds Suman's hand and says that she fulfilled the promise given to her.
The episode ends.
Precap: Gautam saves Krksh from getting hurt. Gautam says that they have to renovate the shoop soon. Dev reminds him that they still have shortage of money.
Click to read