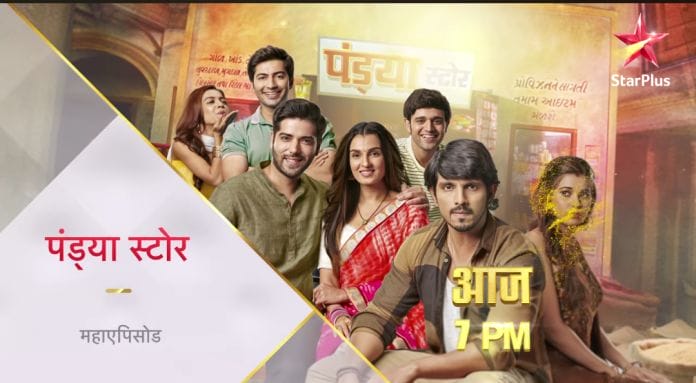 Pandya Store 2nd November 2022 Written Update on TellyExpress.com
The episode starts with Shweta trying to convince Dhara to use Chiku's money to celebrate Chiku's first Diwali grandly. She wanted to make her parents believe that Dhara misused Chiku's money. But Dhara refuses to use Chiku's money. She says that happiness won't be doubled because of spending a lot of money. Krish arrives there and hears this. He agrees with Dhara. But Shweta stays adamant. She says that Dhara hesitates as she thinks that her parents will take it wrong. She phones her mom. She starts to cry.
Dhara asks why she is crying suddenly. Shweta says that she's missing her mom and the way they celebrate Diwali at their house. She complains that the Pandyas don't have to celebrate Diwali grandly and she doesn't want to Chiku compromise as it's her and his first Diwali. Shweta's mom asks Shweta to celebrate Diwali in a simple way. Shweta's dad opposes this. Shweta's mom hangs the call. Shweta is happy her dad melted easily.
Rishita confronts Shweta about complaining about her in-laws to her parents. Shweta says that it's not like that. She calls her mom again. There Shweta's dad asks Shweta's mom why Shweta can't spend some money from the fund they gave them. Just then, Shweta phones her mom again. She says that she heard that dad said to use Chiku's money to celebrate Diwali. She asks her to do the same. She puts the call on the speaker. Dhara says that she doesn't think it's right to spend Chiku's to celebrate Diwali.
Shweta's mom asks Dhara to do as she feels right. But Shweta's dad requests Dhara to withdraw Chiku's money. Dhara agrees to withdraw the money, but requests Shweta's dad to trust her decision on the usage of Chiku's fund hereafter. Shweta's dad agrees. Dhara says that she will get 25,000 money for Chiku. He agrees. Shweta thinks of putting Dhara in trouble with that money. Dhara warns Shweta not to do this again. Krish says that Shweta can't always get what she wants by doing emotional blackmail and calling her parents. Shweta says that she did it for Chiku. Dhara says that but her way is wrong. Shweta apologizes and asks where they're going shopping to make a list.
Dev and Gautam ask Raavi to take a few days' holiday from her work after Diwali to go on a family trip to Goa. Shiva wants to see how Raavi declines Gautam's request. Shweta also hears this. Raavi says that she can't take leave as she has to go to Mumbai with Arnab for some important work and she has to convince Suman to do the same. Shiva thinks that Raavi won't agree to go with Arnab's matters to her. Shiva asks Gautam and Dev to leave if Raavi doesn't want to come. Raavi asks Shiva not to talk nonsense without knowing the whole matter. Shiva argues with Raavi and leaves. Raavi says to Gautam that if they both go, the family trip will be spoiled. She asks him to take Shiva on the trip.
Shweta is cleaning the terrace. She drops a box and the marbles scatter on the floor. Dhara sees this and asks her to collect the marbles and keep them safe as they're Shiva's and he will get angry if he knows this. Later, Dhara gives 25,000 to Shweta for Chiku's shopping. Raavi says that she also wants to go shopping as it's her first Diwali after starting to earn money. She says that she wanted to invite Arnab to celebrate Diwali with them as his parents are in US, but she's scared of Shiva's reaction. Dhara assures Raavi that everything will be fine.
Raavi says that they always fought and she is scared that their relationship ends because of their fight. She says that she has a good bond with Arnab and praises Arnab. Shweta records this. Raavi wants to take tablets to postpone her period. But Dhara asks her not to take such tablets before becoming a mom. Raavi agrees. Dhara gives Raavi money.
Raavi buys shirts for the Pandyas men. She also buys a shirt to gift to Arnab. Shweta advises Raavi to hide from Shiva that she bought a shirt for Arnab. She thinks of using this to create a rift between Shiva and Raavi. Shweta lies to Raavi that she wants to do Chiku's Diwali shopping with her mom and leaves. Shweta goes to a travel agency and books two flight tickets for Shiva and Raavi's names using Chiku's money. She asks to send these tickets to her house as it's a Diwali gift to someone.
The episode ends.
Precap: Shiva sees that Raavi hides something on seeing him. Shiva checks it after Raavi leaves and finds a note on which is written Arnab name. Shweta sees this hiding and smirks. Shweta says to Dhara that she supported Gautam's idea to celebrate Diwali in a simple way to send Raavi and Shiva to Goa. Rishita hears this and argues with Dhara. Shweta smirks.
Click to read