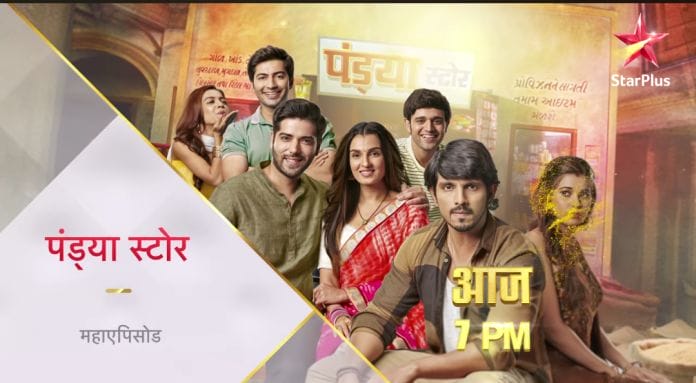 Pandya Store 30th October 2022 Written Update on TellyExpress.com
The episode starts with Shweta being chased by a few men. At Pandya's house, Dhara gains consciousness. Gautam asks Dhara why she didn't tell him earlier about Deven and went to face him in the backyard alone. Dhara says that she wasn't scared as she knew that he would be by her side. Gautam says that he was worried about her and asks what if anything happened to her. Dhara says that nothing can happen to her when he is with him. There Shweta is surrounded by a group of men. They tease her. Shweta gets scared. She shouts for help. A few girls get there. The men run away. The girls ask where her house is. Shweta says that it's nearby. She will manage. She thanks them.
Here, Dhara sees Gautam sleeping. She goes to the hall. She sits on the swing and recalls the recent incidents. She cries. She feels sad for Krish. There, Shweta cries, recalling how she used to live in the streets and eat thrown food. Here, Rishita is unable to sleep. She remembers Dhara wanting to give Shweta a second chance after being manipulated by Shweta. She worries that Dhara will bring Shweta back. She goes to talk to Dhara. She finds Dhara crying and lamenting,sitting on the swing. Dhara is scared of Krish's reaction if he learns that she let him wed Shweta despite knowing the truth. Rishita goes to Dhara and asks if she's thinking of bringing Shweta back. There, Shweta picks up a stone and hits her head to injure herself. She says that it's not easy to get rid of. She's coming.
Here, Dhara is shocked when Rishita says that Suman kicked Shweta out of the house. Dhara realises that it was Rishita's plan to expose Shweta and asks sarcastically if she has got peace now. Rishita says that no one was believing her, so she messaged Deven from Shweta's phone and asked him to meet her. Dhara asks Rishita why she can't give Shweta a chance. Rishita says that Shweta could again try to run away with the jewellery. She is acting to be a good daughter-in-law. She doesn't deserve a chance. Dhara says that she hates Rishita. Dhara asks Rishita if she ever thought about how she would live if Shweta took Chiku along with her. She angrily walks away.
Rishita goes after Dhara. Shweta sneaks into Pandya's house through the window. She goes to Krish's room. Krish asks Shweta why she has come here. He asks her to get out before Suman sees her. Shweta says that she was attacked by a few goons, so she returned her as she's safe there. Krish refuses to listen to her and asks her to leave before being noticed by anyone. Shweta says that she will leave. Meanwhile, on the terrace, Rishita and Dhara argue. Here, Shweta asks Krish to get Chiku from Dhara, which shocks Krish. Krish asks why she wants to take Krish when she was ready to go to Dubai, abandoning him.
Shweta claims her rights to Chiku and says that Krish wants to keep Chiku for his property. She asks Krish to talk to Krish and get Chiku. Krish is scared of Dhara's reaction if Shweta takes Chiku from her. Shweta thinks of crocodile tears to manipulate Krish and Dhara. There, Dhara accuses Rishita of being selfish. She says that Rishita didn't think about how she could give Chiku to Shweta when she would come to take him back.
Here, Shweta puts up an emotional and manipulates Krish. She asks him to let her stay at the Pandya house if he doesn't want her to take Chiku from there. Krish says that only Dhara can convince Suman to accept her back. He adds that he is giving her space in his room for Dhara and Chiku, but not in his heart.
The episode ends.
Precap: Shweta manipulates Raavi not to share with Shiva anything related to Arnab to avoid any fights. Shweta creates a misunderstanding between Dhara and Rishita. Shweta supports Gautam's suggestion to celebrate Diwali simply. She suggests spending that money on sending Shiva and Raavi to Goa. Rishita is shocked to hear this and argues with Dhara.
Click to read