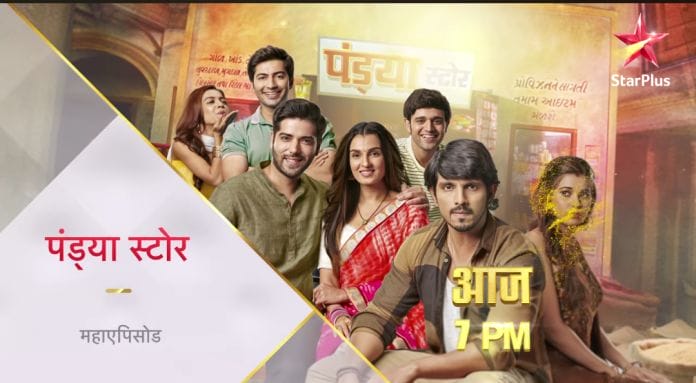 Pandya Store 3rd December 2022 Written Update on TellyExpress.com
The episode starts with Shiva asking Shweta how she dared to break his and Raavi's relationship. A furious Shiva tries to attack Shweta, but Krish and Dev stop him. Dhara sees this and thinks that this is the right time to call Raavi. Shweta's mom faints. Gautam removes his fake mustache and beard. Suman is shocked to realize the inspector is
Gautam and asks him when he joined the police. Gautam says that he disguised as a cop to extort the truth from Shweta. Shweta is stunned to hear this. Shweta's dad says that his wife's body is getting cold and she is a high BP patient and Pandyas will be responsible if anything happens to her. Gautam assures him that nothing will happen to her. He says that he will call the doctor. Shweta gives the water to her dad. He throws it away and blames Shweta for her mom's condition.
Raavi consoles Chutki, who is crying. Just then, Dhara arrives there. She becomes emotional and cries. Raavi asks Dhara what happened. Dhara asks Raavi to return home as Shweta confessed that she changed her report and she wasn't pregnant. She says that her name got cleaned. Raavi says that she is always clean and refuses to return to the Pandya house where the people, who wanted to impose a stain on her name, live. Dhara asks Raavi not to start a new drama now. She says that she wants to see Shweta getting arrested. She requests Raavi to come and takes her along with her.
The Doctor checks Shweta's mom and says that she's fine now and asks not to give her stress. Shiva laughs mockingly and taunts that her daughter witch ruined their lives. Shweta's mom confronts Shweta and rebukes her. She says that Shweta will get punished for her mistakes.
Shiva asks Krish to call the police else he will handle this in his own way. Gautama asks Shiva not to take the law in his hands. A scared Shweta holds Krish's hand. Krish shouts at Shweta and asks her to stay away from him. Dhara and Raavi watch this through the window, standing outside of the house. Shweta's mom apologizes to the Pandyas. Shiva shouts to stop it. He refuses to forgive Shweta, who ruined his life for the money, which means nothing to them. Raavi asks how a woman can do this to another woman.
Pandyas, Shweta and her parents look at Dhara and Raavi. Rishita says that Shweta's friend, Nithin, got arrested by the police. Suman is happy to see Dhara alive and realizes that the Pandyas already knew this. She asks why they didn't tell her. Shweta is stunned to realize that it was all a drama. Shweta's mom falls on Dhara's feet and apologizes to Dhara for Dhara and Raavi being thrown out of the house because of Shweta's. She says that it's good Dhara is childless as it's better to be childless than to have a child like Shweta.
She says that she was going to sign the custodian paper as she doubted Dhara, being influenced by Shweta. She says that, thankfully, the truth came in front of her and she didn't make that mistake. She asks Dhara to raise Chiku and not to let even Shweta's shadow fall on him. She asks Dhara to tell Chiku that Shweta died if he asks about his biological mom after growing up. Suman asks Dhara and Raavi to come inside the house.
Shweta runs upstairs and jumps from the balcony to commit suicide. She is hanging, holding the balcony. Krisg tries to pull her up. But she refuses to come up. The balcony wall starts to crack. Suman asks Krish to let her fall and die. Rishita says to Suman that they will go jail in that case. Dhara asks the Pandyas to get the bedsheet to catch Shweta if she falls down. Pandyas oblige. Rishita asks Shiva to hold the bedsheet. Suman says to Shweta's mom that her family is trying to save Shweta despite her misdeeds. Shweta refuses to jump down despite everyone's urging her to jump, as she's scared that Pandyas will remove the blanket and she will fall on the ground. Shweta falls down, shocking everyone.
The episode ends.
Precap: Shweta breaks the phone and prevebts Shiva from calling the police. Shweta says that Krish married her so that Krish gets a child. Krish admits it and says that he didn't think he did anything wrong. Dhara is shocked to hear this.
The episode starts with Rishita asking Dhara to leave through the window as Suman and Shiva enter the house along with Shweta's parents from the main door. Shweta's parents are shocked to find Shweta unconscious and try to wake her up. Suman is astonished to see lot of blood on the floor. Suman says to say that this is a lie. Dev says that this is the truth. Gautam who is disguised as a cop, lies that Dhara's body sent for postpartum. Shiva recognizes Gautam. The latter warns him not to speak and drags him out to make him understand. Dev and Krish stop Gautam and says that they will make Shiva understand. They take Shiva out. On the other hand, Raavi decides to call to Pandyas to know what's happening there, but she drops the idea as her call can spoil their plan. She prays to God for their plan's success.
Dev and Krish tell Shiva their plan to fake Dhara's murder to make Shweta confess the truth. Shiva scolds them for accusing Shweta falsely to prove Dhara and Raavi right. He angrily goes inside. Shweta gains consciousness. Shweta's father asks Shweta if she really killed Dhara. Shweta denies it. Suman slaps Shweta for killing Dhara. Shiva moves ahead to tell the truth. But Dev begs Shiva to wait a while then the truth will come out. Gautam says to Shweta to be ready to go to jail. He shows the handcuffs. Shweta is scared when Gautam puts her the handcuffs and forcibly drags her. Gautam says that Shweta will get hanged. Shweta shouts that she didn't do anything. Rishita says that Dhara's soul will get peace when her murderer will get punished. Rishita vows that they will get Shweta hanged. Shweta's mom begs to Gautam to leave Shweta and says that she must have done it mistakenly. Suman says that Shweta must have the intention to kill Dhara so she killed her. She asks Gautam to hang Shweta.
Click to read: