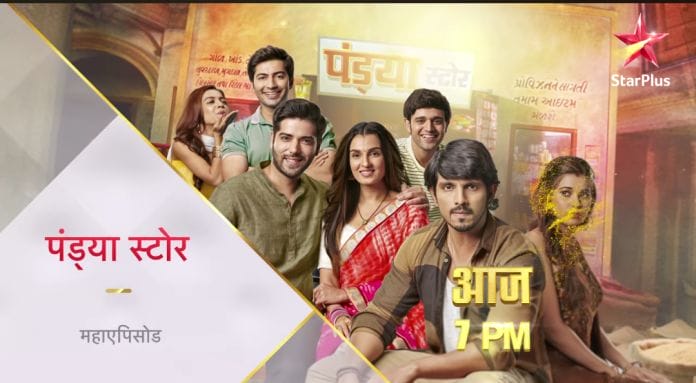 Pandya Store 4th December 2022 Written Update on TellyExpress.com
The episode starts with Shweta falling down and the Pandyas catching her in the blanket. Krish says to Shweta to never forget that She was saved because of Dhara. Shiva is determined to get Shweta arrested and phones the police. Shweta snatches the phone and breaks it. She takes the police stick and threatens to hit them if the Pandyas approach her. Shweta blames her mom for her life's every problem. Shweta says that if she had made her understand with love when she had talked to her about Deven, she would have been in this situation now. Shweta says that she rejected him without meeting him, so she eloped with him and as its consequences they disowned him. She says that her parents were spending time with their friends in the party instead of teaching a child good values. She says that they only talked to her about business deals instead of family values. She says that she can't believe a family like Pandyas can exist.
Shweta further says that her mom punished her for her mistake by getting her married to cheap guy like Krish whom she can never love. She says that this is her mom's biggest mistake. She says that her mom agreed without asking her opinion when Krish brought the alliance to her. She says that they aren't compatible at all as their status, opinion, values match. She says that she feels disgusting about Krish. Krish asks Shweta then why she returned to Pandyas' house after being thrown out by his mom. Krish says because her parents threw her out of the house and she had nowhere to go, so Pandyas house was her only option. Shweta admits it.
Shewta accuses her mother of forcing her to marry Krish by promising to give her Chiku's custody. She says that she's not alone to be compelled to marry Krish She asks Krish to say that he was also compelled to marry her to make sure that Dhara has a child. Shiva loses his cool and warns her not to talk about Dhara. He tries to hit her. Shweta warns hik to hit with the police stick. She says that she knows that she did wrong, but they all are forced her to do it, so they have to listen to her. Shweta reminds to Krish that he told her that she married her so that Chiku stay with Dhara. Krish admits it which shocks Dhara. Krish says that they all know that Shweta doesn't love despite being her mom. He says that he doesn't think that he did anything wrong as Chiku deserves love.
Dhara cries and says that Krish did the biggest foolishness for her. She says to Raavi that Krish grown up that he sacrificed his life for her. Dhara says that he asked Krish about by placing his hand on her head and asks Krish why he didn't tell her the truth. Shweta accuses Dhara of being selfish. She says that got her married to Krish as if she left, she would lose Chiku and his money. She says that Dhara is greedy so she didn't refuse Chiku's custody. Raavi asks Shweta what she did to her, why she spoiled her name in front of the family. Shweta says that she has collateral damage along with Raavi. She says that they're facing the consequences of Dhara's mistake. She accuses Raavi of deciding to hide about her pregnancy and visiting the hospital.
Raavi admits it and says that she did it so that Shiva didn't get hurt. Shweta says that Dhara forced her to do so. She heard Dhara saying this to her. Shweta then says that Dhara admitted her in the hospital after finding her unconscious in the street and took Chiku along to home. She then got her married to her brother-in-law and pressurized her to move ahead their relationship. She says that Dhara only loves Chiku and doesn't care about anyone. She blames the Pandyas for her actions. She says that she can't leave this till something big happens, so she ruined Raavi and Shiva's relationship. She accuses Dhara of accepting her back in the house because of Chiku and his money despite Suman throwing her out of the house.
Gautam shouts asking Shweta to stop. But Shweta refuses. Shweta refuses to stop. She says that Dhara loves Chiku and his money so much Dhara will accept her to stay in this house if she cries and asks forgiveness. Dhara admits that it's all her fault so her whole family is suffering because of her goodness. Shweta says that even in this situation she's holding Chiku in her arms, not Chutki because she knows that Chiku is equal to money.
The episode ends.
Precap: Raavi says to Shweta that she left Pandya house and Chiku. She says that her love lost as Shweta wanted. Shiva cries placing his head on Dhara's lap. He says that he doesn't deserve Raavi's love. Dhara thinks of finding a solution to fix their relationship.
Click to read