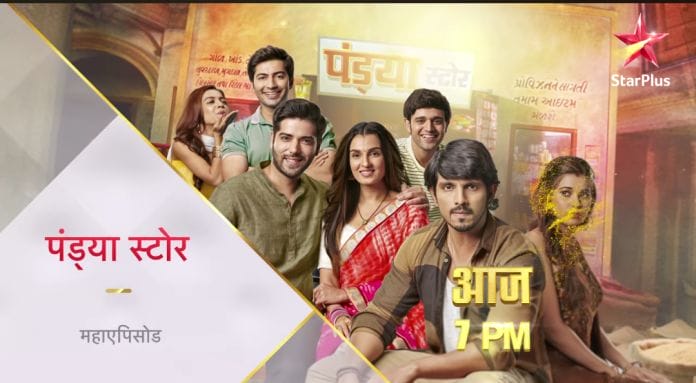 Pandya Store 4th February 2022 Written Update on TellyExpress.com
The episode starts with Raavi saying that she will keep writing on the house wall until Shiva belives her love. Raavi leaves. Dhara smiles and lies to Suman that whatever Raavi wrote in the wall can't be wiped off with water. The people laugh. Suman makes them leave and laments. Raavi is making pakode for Shiva. Suman arrives there and asks Raavi why she's wasting her house ration. Suman eats one pakode. She remembers her oath then stops. Suman says that Shiva won't eat these pakode as it's made by Raavi. Raavi eats one pakode and says that her pakode are tastier than Dhara's pakode.
At the shop, Gautam and Dev get ready to go back home. Shiva refuses to come and says that he will stay in the shop until Raavi stays in their house. Dev says thar Shiva is doing drama since morning and threatens to slap him. Shiva gets ready to fight with Dev. Gautam asks what he will do if he slaps him. Shiva asks him to go ahead, but he will stay in the shop. He adds that he also needs to make a list of the rations. Gautam and Dev leave getting upset with Shiva. Suman says to Raavi that she has to leave this house sooner or later. Raavi says with determination that her love for Shiva will win.
Prafulla is unable to sleep due to mosquitoes. She wonders whether Shiva and Raavi got divorced or not. Raavi is worried that Shiva doesn't return home and tries to contact him. Dev sees Raavi and asks her to sleep as Shiva stayed back in the shop for some work. Raavi asks if he really has work or it's due to her. Dev becomes silent and walks away. Shiva is in the shop. Raavi arrives there taking Pakode for him. Shiva gets surprised on seeing Raavi and asks what she's doing here. He asks if she has come to trouble him here too.
Raavi says that she will stay where Shiva will be and declare to the world her love for him. She goes out the shop shouting. Shiva closes her mouth. Raavi removes his hand and continue to shout saying that Shiva is shameless, he is resting in the shop, but he made her leave it. Janardan and his man see this sitting in the car. Janardan instructs his man to go inside the shop and mix the medicine in the remaining stocks. The man obeys and goes to the shop.
Shiva asks Raavi to leave him. Raavi asks Shiva to come back home. Shiva refuses. Janardan man mix the medicine in all the remaining stocks. Raavi asks Shiva to eat the pakode. She requests him to eat one, she doesn't mix poison in it. Shiva throws it. Shiva asks Raavi to leave. Raavi says that she loves him. Shiva says that he hates her. Shiva says that Raavi got divorce and asks to not force him as there willl be only compromise and not love in a forced relationship. Shiva drags closer him and says that they can't win against the relationship made by the fate, she confidently says that she will win and will lose. Shiva asks her leave.
Raavi says that she isn't the same who will cry going home, but instead she will rest and wait for him. Janardan man phones him and informs the work is done. Raavi leaves. Shiva goes inside the shop. On seeing Shiva Janardan man escapes through the backdoor. Shiva goes to check hearing some noise and finds the backdoor opened. Shiva closes it. Later Shiva is sleeping in the shop. He dreams of Raavi kissing him and wakes up startled. He laments saying that Raavi troubles him even in his sleep.
Dhara is in the temple and prays for Shiva and Raavi. Prafulla comes to her and says that it's no use of pray for them as they got divorced. Dhara asks in which news channel she saw this news has come as she doesn't know in spite of staying with Shiva and Raavi. Prafulla says that Raavi signed the papers for one sided divorce. Dhara asks if Prafulla got Raavi's sign as she knows lot about this.
The episode ends.
Precap: Rishita gets a new car. Suman wishes to go for a drive on the car and asks Dev to drive it. Pandyas' car meets with an accident.
Click to read: