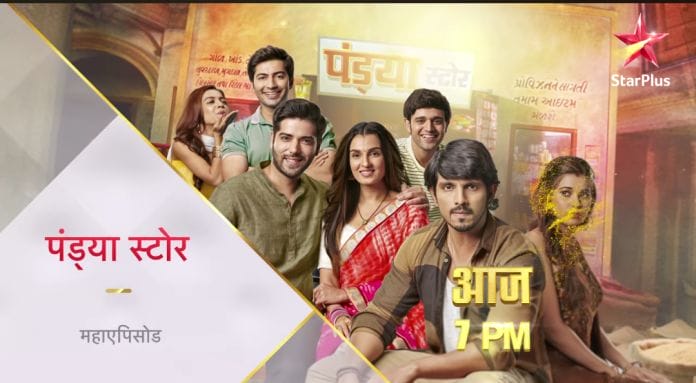 Pandya Store 4th November 2022 Written Update on TellyExpress.com
The episode starts with Suman scolding Gautam and Dhara for wanting to send Shiva and Raavi to Goa and agreeing to get the got jewellery for Rishita. She asks them to leave. Dhara leaves. Gautam massages Suman's feet and says that Dhara doesn't know about Shiva and Raavi's Goa plan as it was his and Dev's plan. Suman refuses to believe him and says that he is lying to cover his wife. Gautam assures her not and tries to convince her about sending Shiva and Raavi to Goa by saying it's to clear their differences. But Suman doesn't agree and asks him to leave. Gautam leaves.
Shweta is arranging the sweets in the box. She remembers how she spent her last Diwali on the road starving. She becomes emotional. She refuses to be found in the same situation again and is determined to get money. Krish finds her crying and asks what happened. Shweta says that she recalled her previous Diwali that she spent on the street after being abandoned by Deven. She ate the sweets that were thrown and crushed by someone's foot. Krish assures Shweta that won't happen again. He takes the Diya and leaves.
The Pandyas ladies are coloring the Rangoli. Dhara signs to Suman that Rishita is upset. Krish is trying to fix the lights, looking at Shweta. He imagines Shweta helping him and sharing an eye lock. Shiva brings Krish out his imagination. He understands that he fell for Shweta. Some men get boxes inside. Suman asks what this is. Dev angrily says that Gautam doesn't have any other option than spend money after the fight happened in the off. He scolds Rishita for being adamant about wanting only the jewellery.
Suman and Dhara talk through gestures. Dhara calls out to Rishita and shows her a jewellery box. She opens it. There are bangles for chutki. Rishita smiles at seeing the bangles, while Shweta is shocked. Gautam says to Dev that Rishita got convinced. He takes the brothers outside to decorate the house. Gautam says to Krish that he can talk to them and share if he is any problem. Krish assures him that there's not any problem. Shiva says that he is keeping a close watch on him.
Inside, Rishita hugs Dhara, becoming emotional and thanks her. Rishita says that she doesn't want this, which confuses everyone. She says that Dhara fulfilled her desire, so that's enough for her. She doesn't want this. But Dhara asks her to keep them. Shweta thinks that Dhara solved only issue, but still another issue isn't solved. She looks at Raavi. Dhara and Shweta go to decorate the temple in the house.
Rishita asks Suman to make Chutki wear the bangles after the puja. Suman scolds Rishita for always wanting to leave the house in any fights. Rishita becomes sad. Suman sees this and says fine that she will make them wear chutki. Suman asks Rishita to promise never to talk about leaving the house. Rishita agrees. She hugs Suman and says," I love you". Suman says Raavi to ask her boss for the Diwali bonus.
Shweta says to Dhara that they should send Shiva and Raavi to Goa. Dhara says to Shweta not to talk about that topic. But Shweta insists and says that their relationship could break if they don't act soon, which shocks Dhara. Meanwhile, Rishita and Dev get ready for the Diwali puja. Dev gets a gift for Rishita. But the latter only wants Goa tickets as a gift. Here, Dhara says that Shiva and Raavi's relationship will never break, as Shiva will never give up on Raavi. She says that they sent them on a Goa trip later with the money from their Pandya store.
Shweta says that it could be too late and tries to convince Dhara to use Chiku's fund to buy Goa tickets. But Dhara firmly refuses. Dev convinces Rishita and asks her to open the gift. Rishita opens it and finds a shirt on which Goa and Dev-Rishita-Chutki photos are printed. Rishita complains that he is provoking her. Dev denies and says that he promises her to take her to Goa. Here, Shweta says that she's talking about loaning money. She manipulates Dhara to use Chiku's funds to get the tickets. Dhara says that this loaning idea isn't bad.
Krish hears this and denies it. He says that they will send Shiva and Raavi to use their store's money. He adds that Shiva and Raavi won't agree to it. Shweta says that it's not necessary to tell them the source of money. Dhara agrees to Shweta's idea and asks her to book tickets for Shiva and Raavi. Shweta smirks and thinks that she will alert her parents when the transaction is made, so that they know how Chiku's money is wasted.
The episode ends.
Precap: Pandyas and Shweta's parents are gathered to celebrate Diwali. A courier boy delivers Shiva and Raavi's Goa tickets. Dhara says that she bought these tickets with Chiku's money. Shweta's dad says that Chiku's money should be spent only on Chiku. Pandyas look shocked.
Click to read