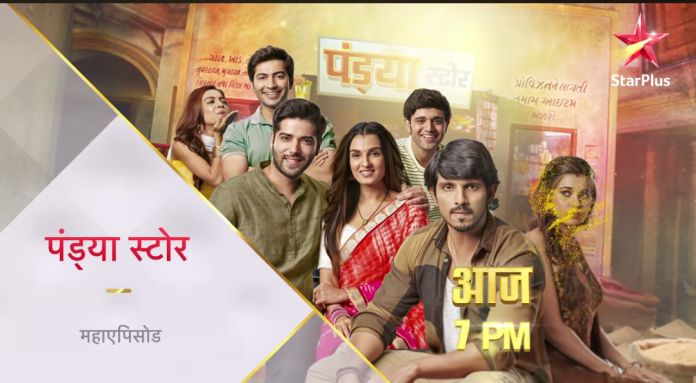 Pandya Store 6th August 2022 Written Update on TellyExpress.com
The episode starts with Shiva finding Raavi speaking to someone on the call. He asks her who was in the call. Raavi lies that she was talking with her friend. She leaves the place thinking to tell Shiva the truth after her shoot. Shiva understands that Raavi lied to him and wonders why she lied. He feels that something is fishy.
The morning Dhara sees that there is no vegetables in the house. She says that Raavi forgot her responsibility due her social media obsession. She goes to find Raavi. She asks Dev if he saw Raavi. He nods no. She sees that Suman and Krish didn't have breakfast and gets glad that at least Gautam had it. Dev laughs and says that he didn't have any option. Rishita comes and says that Raavi started to shoot her video outside of the house. Raavi left home after that Krish and Suman also went out.
Dev and Dhara say that they didn't notice this. Rishita taunts Dhara about her complete focus being on Chikku. Dev asks Dhara why she's worried. Dhara says that there's no vegetables in the house to make lunch. Rishita says that Raavi became careless and forgot her duties. Dev says to Rishita to let go and get vegetables. Rishita refuses. Dev convinces her and leave taking her. Dhara wonders where Suman has gone.
Suman and Krish came to the police station. Suman tells the inspector about the reason they are having the baby at home so that they don't face any police case in the future. The inspector says that Gautam already registered a missing complain and looking for the baby's mother. The inspector says to let go home and made the sketch of the girl asking Dhara to find her. Krish calls Shiva to tell that they're in the police station.
Raavi meets Rohit and a boy and get the clothes from the for her shoot. Shiva sees them and wonders what Raavi is doing with the guy and why she is accepting his gift. Shiva gets Krish's call again and again. He received it and hangs it saying network is weak. He goes after Raavi and the guy. In the market Dev is buying vegetables while Rishita is sitting in the auto. Krish calls Dev. The latter disconnects the call.
Shiva is finding Raavi. He sees her talking with a guy. He wonders that Raavi already changed her clothes. Prafulla's relatives spot Raavi with the guy and thinks that the guy is her husband. Shiva gets angry hearing this. He clarifies to them that he is Raavi's husband. They have difficulty to believe this.
In the Pandya house, Dhara receives Krish's call. Krish says to Dhara that Suman came to the police station and told everything about Chikku. Police may come and take Chikku. Dhara gets determined to not let Chikku go to the orphanage.
In the market some people starts fighting. Dev realises that Rishita is missing and looks for her. Rishita comes out of the kid's clothes shop getting dresses for her baby. She panics seeing chaos there. She shouts Dev. She goes to find Dev.
Shiva sees Raavi going in bike with the guy and gets determined to find why Raavi is going with him in the bike. Rishits sees Shiva and calls out his name. Shiva rushes to Shiva. Rishita says that she is having labor pain and asks Shiva to take her to the hospital. Shiva says that it might be acidity problem again and asks to give two minutes to see Raavi.
Rishita demands to takes her to the hospital. Shiva takes Rishita in an auto. Dev is looking for Rishita. He sees Shiva taking Rishita in the auto. He realizes that Rishita got her labor pain. She calls out Shiva, but he didn't hear him. He takes a bicycle and goes after the auto. Raavi is in the bank after completing her shoot. Raavi sees Dev going in the bicycle and wonders where he is going like this. She receives her cheque and goes to find what matter is.
At the Pandya house Suman brings police and looks for Dhara. They don't find Dhara and the baby in the house. Gautam comes back home and stunned to see police. Suman says to that she brought police to have important to talk to Dhara, but Dhara and the baby are missing. Gautam gets worried. Just then Gautam receives Dhara's message. He reads that she is going to Ahmedabad with the baby to find his baby and won't return till she finds his mother shocking all.
The episode ends.
Precap: Raavi happily tells Shiva that she got 1, 5 lakh for her bank shoot. Shiva shouts at Raavi and asks who is the guy with whom she was roaming around the Somnaath on the bike. Raavi looks on shocked.
The episode starts with Shiva supporting Raavi. He says that Raavi is doing good and she gets money for making video. Rishita says that Raavi convinced Shiva by giving him money. She asks how he can do with them for some money. Dhara says that Raavi exposed their whole house in video. She asks what they get robbed. Raavi says that nowadays all upload such videos and moreover she gets money for that. Suman asks how much she got. Rishita says that they have to check Raavi's room. Raavi takes 25,000 from the draw. Family gets shocked that Raavi earned this much money from her video. Suman doubts that it's her money.
Raavi assures that it was the money earned through her video. she also shows some gifts she got through video collaboration. Suman gets glad seeing the gifts. Gautam says that Raavi isn't doing wrong, social media influencer are demand in the market. Gautam and Krish feel proud of Raavi. Rishita taunts Suman that her anger calmed down when Raavi gave her money. Suman appreciates Raavi for earning money through her videos. Rishita says that Raavi gave her the money as she get caught else Shiva and Raavi will enjoy the money alone.
Shiva defends Raavi and says that she wanted to tell them. Dev asks what their problem with Raavi's work, she's doing something different so, they should support her. Rishita says that she has problem, Raavi shouldn't make any of her video. Dhara agrees with Rishita. She says that Raavi can make her own video, but not other family members or house videos. Krish says that Raavi can make videos with him outside, he also wants to increase his followers. Suman says that Raavi can make videos in her room which surprises all.
Click to read