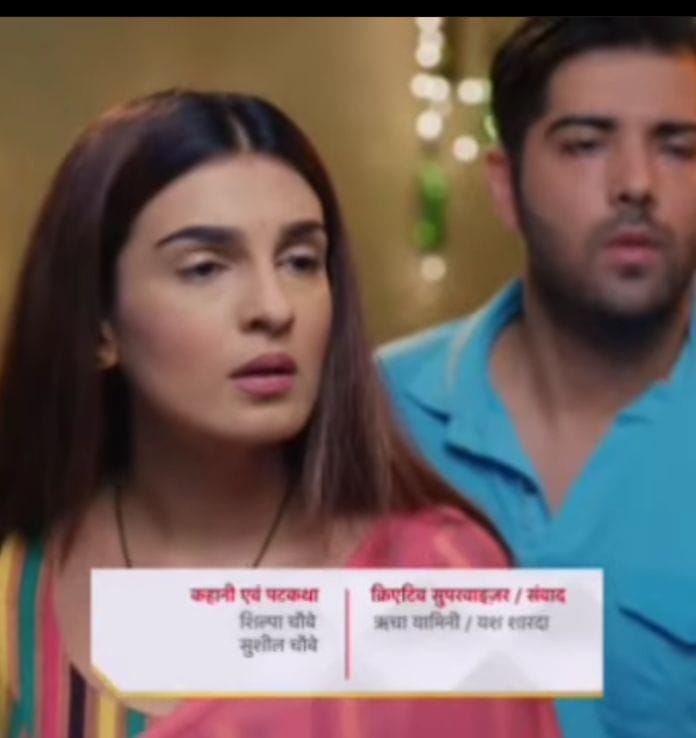 Pandya Store 6th February 2022 Written Update on TellyExpress.com
The episode starts with Shiva and Gautam sending the customers back saying they don't have stock of the rations. Shiva says to Gautam that they will lose customers and the business if they continue to send them back. Dhara says to Raavi that love can't be win forcibly and asks to give some time to Shiva. Raavi laments that Rishita and Dhara's advices are just opposite and wonders whose advice to follow. Raavi says to Dhara that she can't wait to win Shiva and decides to force him.
Dhara blames Shiva and Raavi for their marriage not working. She says that they don't trust each other. Shiva thinks that Raavi intentionally signed the divorce paper. Raavi blames Shiva for not trusting her. Dhara says that Raavi should put efforts to earn his trust. Raavi reminds Dhara that she forced them to get married and leaves. Dhara looks.
Rishita comes to the office worrying that she will get scolded for coming office late. She gets welcomed with staffs applauds. Her boss Sagar congratulates Rishita saying that their sales increased because of Rishita's idea and offers her to drive their office car. Rishita refuses to accept it. Sagar insists saying that she earned it with her hard work. He asks if she will support his company to reach the next levels. Rishita agrees and happily accepts the car key. Sagar leaves, but he stops and admires Rishita smiling.
Raavi meets a priest in the temple and asks him to give her any solution to get married without the groom. She says that Prafulla won't let stay in peace until she gets married to Shiva again. The priest says that this isn't possible, he doesn't know any way for this. Krish comes back home singing filmy song. Dhara confronts Krish. She asks why Kirti came to meet him. Krish says that she has come to take notes.
Dhara refuses to believe it. She says that they were hugging like lovers and demands to know the truth. Rishita comes back home driving her office car. The neighborhood woman on seeing the car. Raavi is in a book shop and buys a book to woo boys. Krish says to Dhara that he is saying truth. He never hid any secrets from her. Rishita arrives there and asks what secret they are talking about and insist them to share with her. Dhara says nothing.
Just then Rishita receives a call and goes apart to talk. Raavi comes back home and bumps into Dhara. Raavi drops the bag which contains the book she bought. Dhara asks what's is the bag. Raavi lies that college notes. Rishita says that she has surprise for them and shows the car key. Suman misunderstands that Rishita bought a new house.
Suman taunts Rishita saying that she's breaking the house. Rishita clarifies that it's a car key. Dhara and Raavi congratulate her. Suman asks why her boss gave her car. Rishita says that she works hard and her boss gave her car getting happy with her work. Suman says that she got promoted and congratulatea her.
Gautam Shiva and Dev come back home. Shiva gets angry on seeing a car parked outside the house. He demands to know whose car it's, so he decides to stay there and finds it. Gautam and Dev go in. Rishita, Suman and others are happily discussing about Rishita's success. Dhara asks Gautam and Dev why they look upset. Dev says that their remaining stocks are ruined which shocks the family. Suman asks how it had happened.
Gautam decides to hide the truth to avoid any further problem. Dhara asks where Shiva is. Gautam says that he has come and is sitting outside. Gautam says that he also troubles him. Shiva gets into a fight with a mini truck driver who tried to park the mini truck near their house. He makes him leave. The driver says that he is acting mad after he is divorce and drives off. Shiva asks whose car is. He gets a stick to destroy it.
Dhara arrives in time and stops Shiva. Dhara scolds Shiva for doing rowdyism. She says that this is Rishita's car and asks him to come in, but Shiva refuses saying that he won't come until Raavi stays in the house. Dhara gets angry and leaves asking him to stay outside.
Suman refuses to drink the tea made by Raavi and taunts her. Krish says that he will take it. Dev says to the family that they are getting only bad news nowadays. Rishita says that she has a good news, but the situation is bad to announce it. Dev asks her what good news. Suman reveals that Rishita's boss gave her car. Shiva throws the tea cup and breaks it. Raavi collects the pieces of broken cup. Shiva stops her saying that she can get hurt and then will complain against him in the court for omestic violence. Dev advises Rishita to be careful and asks to create any new trouble.
Rishita says that she knows he will taunt her. She says that she wanted to take them for a drive in the car to eat ice cream, but her happiness isn't more important. Dhara says that they will celebrate Rishita's success then they think solution about their problem.
Suman taunts them for thinking about celebrating Rishita's success when their shop is in trouble. Suman refuses to join their celebration. Dhara says that Rishita won't be able to understand their sorrow if they don't understand her happiness. She requests Suman to agree for Rishita's sake.
Krish comes to Shiva and says thar this car is given to Rishita by her boss. They are going for a drive in it to have a ice cream. Shiva says that thankfully Dhara stopped him else he would have destroyed the car. Pandyas puja of the car. Suman tells her neighborhood women that they're going in their new car to have ice cream. The women mocks them saying that they're going in car when there's no stock in their shop and they're losing customers. Suman gives them a befitting reply and sends them away.
Rishita sits on the driver seat. Suman demands Dev to drive the car as she trusts only Dev can drive it safely else she isn't coming. Rishita agrees without any option. Dhara asks Rishita to sit next to Dev. Suman, Gautam and Dhara sit on the back side. Krish, Shiva and Raavi arw are left. Raavi says that they will join in the second and sends them. Raavi gives Krish money and asks him to leave so that she can spend have an alone moment with Shiva.
Raavi goes inside the house. Shiva gets a call. He says to the caller that the money is ready and he will take the rations if it's available. Shiva says that all dealers are saying that they don't have rations and doubts that Janardan is behind this. In the car, Suman praises Dev's driving skills. Raavi screams Shiva. Shiva goes to check and gets worried on not finding her. Suddenly he gets drenched in the fake rain. Raavi comes there wearing saree and dances on the song tip tip barsa paani for Shiva. Shiva looks on stunned. Raavi hugs Shiva.
Shiva also hugs her. He realises it and pushes her away. He scolds Raavi saying that she's dancing when their family is in problem. She asks what she is up to with this drama and where she has hidden the cameras. Raavi says that she hasn't hidden any camera. She only hid her feelings which he can't see. She says that she cares about their family's problem. Their problem is also as bigger as their family problems and it should be sorted out as well. Other side in the car family enjoys the car trip playing the song love you zindagi. Suddenly Rishita coughs. Dev looks at Rishita leaving the road. The car losses balance and hits a tree.
The episode ends.
Precap: Gautam says that the customers aren't coming to their shop as it's spreaded in the whole market that their rations are spoiled. Dhara says to Gautam to not worry, she will get back the customers.
Click to read