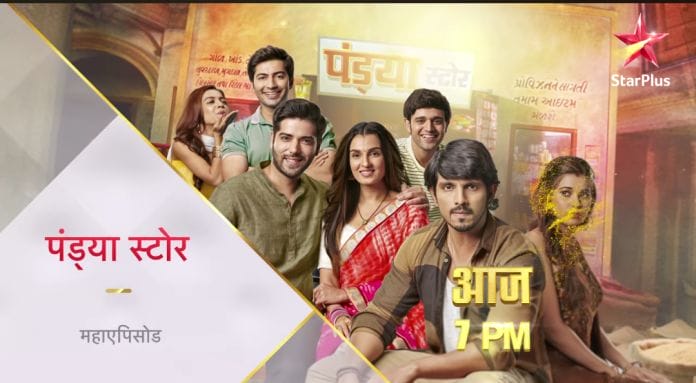 Pandya Store 6th November 2022 Written Update on TellyExpress.com
The episode starts with Suman scolding Dhara for using Chiku's money to get Shiva and Raavi's Goa tickets and for Shweta's parents humiliating them because of that. Gautam says to Suman to talk about this the next day, as that day is Diwali. Dhara apologizes to Suman. On the other hand, Shweta's dad asks Shweta's mom if she still thinks that she did right by making Dhara Chiku's custodian. He says that she used Chiku's fund on her family within a few weeks after becoming his custodian. Shweta's mom says that the matter is something else. She has full trust in Dhara's integrity.
Shweta is lighting the diya outside of the house while Raavi and Shiva light the diya on the terrace. Arnab arrives at Pandya's house. Ravi sees this from the terrace. She's scared that Shiva will create a scene if he sees Arnab. She rushes downstairs to send Arnab back. Shweta sees this hiding. Raavi wishes Arnab a happy Diwali. Arnab says that he thought of celebrating with Raavi and her family instead of sitting alone in the house. Raavi says that he could have called her before coming and lies that they're going out to their relative's house in a while. Arnab gives Raavi the presents that he bought for the Pandyas.
Raavi thinks of giving Arnab the present she got for him. Shiva notices Raavi and Arnab from the terrace and becomes angry. Raavi goes inside to get the present. Raavi comes back with the gift and gives it to Arnab. Shiva sees this and says that Raavi exchanges gifts with Arnab outside the house so that no one sees them. Arnab thanks Raavi for the gift and asks what is inside. Raavi says that a shirt, but it's not costly. She hopes that he will like it.
Arnab says that a gift's value isn't in its price, but in the emotions of the person who gifted it. He says that it's very special and he will wear it while they go to Mumbai. Shiva says that Raavi doesn't want to go with him to Goa as she's going to Mumbai with Arnab. He is furious about this. Shweta notices Shiva watching Raavi and Arnab talking from the terrace and becomes happy. Shiva says that Raavi spoiled his diwali. He drops the diya and leaves.
Raavi gives the Pandyas the presents she got for them on the occasion of Diwali. She asks where Shiva is. Just then, Shiva comes downstairs. Raavi thinks of telling Shiva about Arnab's visit later, while Shiva hopes that Raavi will tell that Arnab came and met Raavi outside the house in front of the family and proves him wrong. Raavi gives him the shirt and says that it will suit his personality. Shweta thinks that it will definitely suit Shiva's worth. She waits for Shiva to open the shirt and create a scene. The rest of the family goes to have dinner. Raavi says to Shiva that she thought that he wouldn't accept her gift, but he proved her wrong. Shiva and Raavi wish a happy Diwali to each other.
Raavi says that during Lakshmi puja she prayed to God that their differences should be cleared. Raavi asks Shiva to wear the shirt now as she bought it with love. Raavi joins the rest of the family. Shiva opens the gifts. He becomes angry at seeing the price tag. He misunderstands Raavi. He says that Raavi proved what his value is in front of her eyes by giving him the less costly shirt. Shiva burns the corner of the box. He places it there and leaves. Shweta sees this and smirks. She thinks that it's time for the blast. She makes the excuse of going to the washroom. She burns the shirt so that it gets burned fully and Raavi doesn't see it's price tag. Shweta goes back and has dinner with the family. Krish finds that Shweta was nervous while going and now she's calm. He grows suspicious.
The Pandyas sense that something is burning. Shweta says that the smoke is coming from the hall. The Pandyas rush to the hall and are shocked to see the shirt burning. They douse the fire by pouring water. Dhara thanks Shweta for noticing the fire. Shweta asks how this shirt landed there. Shweta says that she saw Shiva standing there with the Shirt Raavi gifted him. Raavi asks how Shiva can burn this shirt. Suman blames Raavi and asks what she said to him. Raavi says that she just said that she wanted them to reconcile. Shweta says that she saw Shiva seeing Arnba coming to see her from the terrace.
The episode ends.
Precap: Shweta plans to break Shiva and Raavi's relationship by giving Raavi medicine to control the period and putting the blame on Dhara. Shweta makes Raavi have the period control medicine by making her believe that it's a headache tablet.
Click to read