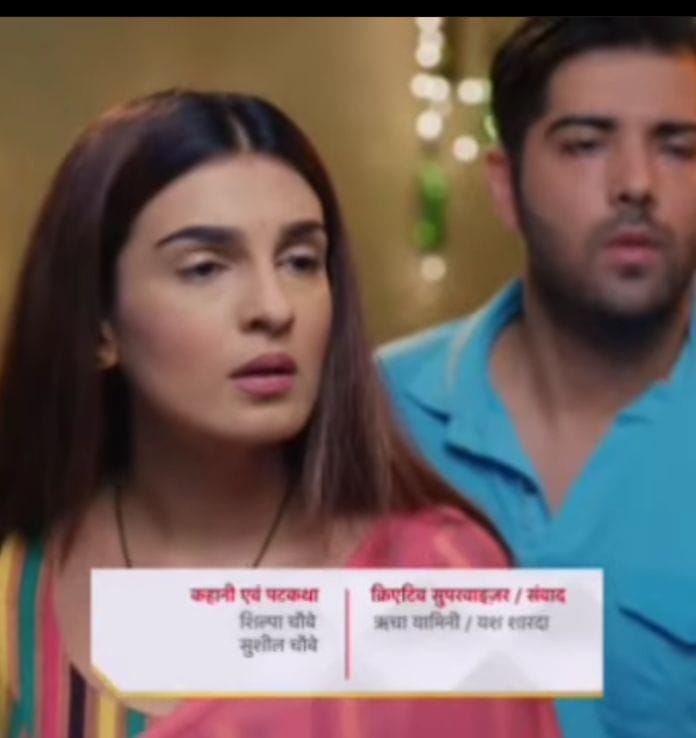 Pandya Store 7th February 2022 Written Update on TellyExpress.com
The episode starts with the losing balance and hitting the tree. Dhara and Gautam ask if they are fine. Rishita cries on seeing the damaged car and taunts Suman for asking Dev to drive. Dev assures to get the car repaired. Gautam wants to stay with Dev, but he insist Gautam to take all home. Dhara says to Rishita that Dev will bring the car, but Rishita decides to stay with Dev. Gautam, Dhara and Suman leave by walk. Rishita blames Dev of intentionally damaging her car. Suman says that she should show their horoscope to some priestpriest as they all are facing trouble. She says that Dev should have driven carefully.
Gautam says to Suman that Dev was worried about the shop and asks to let it go. Suman blames Dhara for accepting to fulfill Rishita's. Dhara says that whenever it's about Rishita's problem, they are in some problem. She says that if they keep breaking her heart, Rishita will go away from them. Gautam says that they need to adjust to maintain peace in the family. Other side Shiva asks Raavi where she hid the cameras. Raavi says that she only hid her feelings which he failed to see. Shiva scolds Raavi. Raavi says that she won't give up and asks him to look into her eyes. Shiva leaves that he wishes to not even see her face and walks away.
Rishita and Dev are at the mechanic's garage. Dev apologizes to Rishita and says that he got diverted when she coughed. Rishita says Dev to not blame her for his mistake. The mechanic asks for the car's insurance papers. Rishita says that she asked for them. She worries what Sagar will think of her. Dev asks if her office peon will also judge him. Rishita says that Sagar is her boss. Dev apologizes to Rishita again.
Suman, Gautam and Dhara come back home. They get surprised on seeing the house floor wet. Suman questions Shiva how it rained only in their house. Shiva lies that he spilled oil and cleaned by pouring water. Suman asks how his clothes got wet. Shiva says to Suman ask Raavi and leaves. Suman scolds Raavi, but Raavi smlies and leaves from there. Dhara and Gautam smile realising what had happened.
Rishita introduces Dev to Sagar as her husband and apologizes to him. Dev says that it's his mistake. Sagar says that it's fine and goes apart to receive a call. Dev notices that Sagar name is in the insurance papers and asks why Sagar name is in the insurance when Rishita said the car is gifted by her company. Rishita says that it doesn't matter as the company is Sagar's. Later Dev and Rishita are on their in the autoricshaw. Rishita says that Dev should have talked in that way with her boss. Dev says that it's not small matter, there is difference between company car and personal car. Rishita complains that Dev finds fault instead of being happy for her success. She receives Raavi's call. She assures that she will help her as much she can. She taunts about Dev's driving.
Suman is in her room. She recalls Raavi's words. She says that she won't get Raavi to become her daughter in law again and trouble Shiva. She says that she's even ready to take Prafulla's help for that. She says that she will make Raavi leave the house so that Shiva can return home. Raavi does Rishita's make up. Rishita doubts whether Raavi's idea will work and hesitates to do it. Raavi is confident that it will work. She requests Rishita to go and scare Shiva. Rishita goes to Shiva covering herself in a blanket and holding a lighted candle. Rishita tries to scare Shiva, but she gets scared and revealed her face when Shiva tries to hit her with a stick. Shiva notices Raavi and realises it's Raavi's idea to scare him. Rishita apologizes to Shiva for listening to Raavi.
Shiva is brushing his teeth sitting outside the house and Krish is with him. Raavi acts of sneezing to get Shiva's attention. Raavi sends him flying kisses. Shiva glares at her. Shiva changes his shirt. A passerby mocks Shiva for staying out of the house. Suman asks Shiva to come in. Shiva refuses and says that he won't come in until Raavi stays there. He says that he won't bow down this time.
Suman says Shiva to stay in her room. But Shiva refuses. So Suman decides to stay outside of the house with Shiva. Dhara tries to say something. Suman taunts her saying that she wanted Raavi to stay in this now, she and her son will stay outside. Shiva stops Suman and agrees to stay in the house. Raavi gets happy and vows to make Shiva to come back to their room leaving Suman's room.
The episode ends.
Precap: Gautam says that the news that their rations got spoiled is spreaded in the market, so the customers aren't coming to their shop. Dhara assures Gautam to arrange for the customers. Pandyas stands outside the shop and requests the people.
Click to read