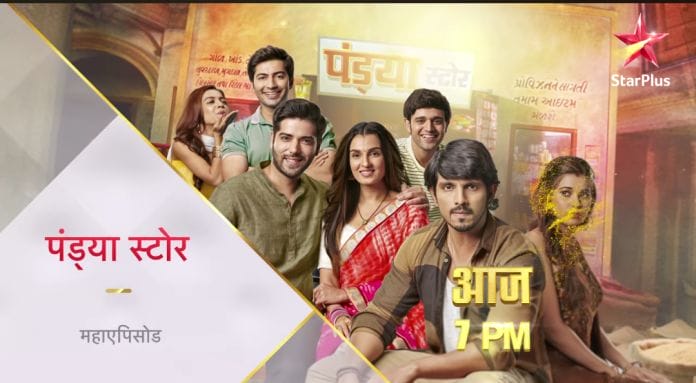 Pandya Store 7th January 2023 Written Update on TellyExpress.com
The episode starts with Dhara being shocked after overhearing Shiva and Raavi's conversation. Dhara says that Shiva who used to be her strength also left her alone. She decides to give up on her dream to get Pandya Store back for a while, but refuses to give on her dream to unite Pandya family. Dhara gives the one lakh that left remaining after paying the insurance of Pandya ladies to Dev pay Chutki's hospital bill. Dev is surprised that Dhara gives her money though Rishita insulted her. Dhara says that Rishita didn't real mean whatever she said. He admits her mistake and says that nothing important to her than their happiness even not Pandya store. They share a group hug.
The next morning, Shiva sees Dhara putting food stall in front of the house and selling dosa and idli outside Pandya house. The rest of the family also arrive there. Suman praises Dhara's initiative. Just then, Dev arrives. Dhara imquires him about Chiku's heath and asks him to rest. Dev refuses as Rishita needs him. He regrets not getting insurance of Chiku also done as he needs 50,000 for Chiku. He wonders how to arrange for money. Raavi asks Dev to take her money which is in her account. Dev says that doctor said that Chiku should stay in the hospital for two more days and is scared of hospital expenses.
In the hospital Rishita asks the doctor how a baby can get mental issue. Rishita is shocked when doctor advices Rishita to keep the house atmosphere good else Chutki's heath problem can become long term personality disorder. Here, Shiva gets call from the boxing club. He agrees to fight. Pandyas are shocked to hear this. Raavi asks Shiva not to fight. But Shiva refuses to listen to Raavi. He says that if Dhara can sell food on the street, he can fight. Raavi is about to give Shiva her swear, but Shiva stops her as he doesn't want to hurt her by going against it. Raavi asks Dhara to convince Shiva not to fight. Dhara refuses to interfere between Shiva and Raavi. She asks Raavi to stop Shiva by herself as he won't listen to her (Dhara).
Raavi tries to talk Shiva. But he asks her to understand. Raavi says to Dhara that she isn't supporting as she didn't support her. He leaves. Dhara says that Raavi has problem if she talks between their matter and now she has problem even when she refuses. She asks Raavi to tell her clearly what she wants. Raavi leaves. Krish wants to help Dhara. But Dhara asks Krish to leave for his job. She asks Gautam to leave to find job. Gautam apologizes to Dhara for scolding her. Dhara says that Gautam only showed him a right path. She asks Suman to go inside and have breakfast. Suman decides to eat in the shop. Dhara gets happy when she gets lot of customers.
In the hospital, Rishita tells to Dev what doctor said. She asks Dev to promise to leave the house when Chutki gets well. Just then, the nurse arrives and asks them to pay 50,000 more for Chutki's injection. Here, Shweta goes in car by the side of Pandya house. She is Dhara selling dosa. She mocks Dhara. She orders dosa. Dhara recalls all Shweta's wrongdoings and makes a spicy dosa. A furious Shweta throws the chutney on Dhara's cloth. She pays money for Dosa. Dhara stops Shweta and takes extra money for staining her clothes. Shweta says that Dhara's arrogance will get over in few days. She says that she got buyer for her shop which shocks Dhara. Shweta says to Dhara that she will sell the shop in two days and will leave. She mocks Dhara then drives off.
Dhara goes inside and tells Gautam that Shweta just said that she is going to sell the shop in two days. Just then, Shiva arrives and says that he heard that Shweta got a buyer. Dev arrives home and says that he needs another 50,000 for Chutki's treatment.
The episode ends.
Precap: Shiva decides to fight. Shiva gets severely injured during the fight and faint.
Click to read