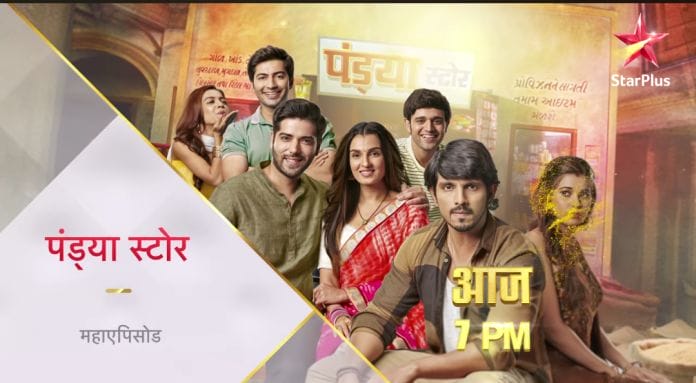 Pandya Store 7th November 2022 Written Update on TellyExpress.com
The episode starts with Shweta saying that Shiva was lighting Diya on the terrace when Arnab came to meet Raavi. The latter says that Arnab has come. She called him inside to meet them, but he left as he had some work. She asks what the connection is with that. Shweta says that Shiva also saw Arnab. She noticed him and he was enraged and threw a diya which fell on her lehenga.
But thankfully she was saved. Shweta says that Shiva must have burned the shirt out of anger. Dhara refuses to believe Shiva can do this. She adds that if he really did this, there should be some big reason which he hides from them. Shweta says that Shiva doubts Raavi, which angers Krish. Krish shuts Shweta up. He says that Shiva can't doubt Raavi. Rishita asks Shweta if she saw the shirt burning while going to the washroom.
Shweta says that she would have doused the fire if she had seen it burning. Gautam says that Shweta can't have the right to talk about Shiva when she doesn't know him. Shweta apologizes. Suman says that Shweta is making a conspiracy. Shweta starts shedding crocodile tears and says that they will blame her for whatever happens in this house. She asks the Pandyas to focus on Shiv and Raavi. She says whether they want to accept it or not, Shiva doubts Raavi.
Dhara says that there's nothing like that. Suman scolds Shweta to keep her mouth shut. Suman says to Raavi to tell her boss not to come home as he creates problems. She asks why he met only Raavi and not them. Gautam says to Suman to let it go. He will talk to Shiva. Raavi says that she has to prove herself right on the day of Diwali. She says that they won't understand her. She walks from there feeling hurt.
Raavi is in her room. She cries, remembering her talk with Shiva then Shweta's words. She cries, hugging Shiva's shirt tightly. Kise poochun hai plays in the BG. On the other hand, Shiva drinks alcohol, remembering Arnab meeting Raavi and Raavi's words. He laments. He says that Raavi gifted him a shirt which is less costly than Arnab's and says that it's his type of shirt. He angrily breaks the bottle. Raavi phones Shiva. He disconnects the call. Raavi cries hard.
Rishita gets coffee and asks Suman if everything will be fine. Suman assures Rishita that it will. She says that she never saw such a bad Diwali, not even when she was bedridden. She leaves from there. Shweta hears this and vows to make the Pandyas day and night darker. The Pandya brothers find Shiva drunken. Gautam understands that something is disturbing Shiva and is determined to find it out. At the Pandya house, Raavi laments, crying. She says that she tries to make their relationship better, but Shiva made her a culprit in front of the family. She asks what she should do to improve their relationship. She cries hard.
Rishita asks Dhara to call the Pandya brothers to know if they have found Shiva. Dhara calls Krish and asks the same. Krish says that Shiva is here with them and they're partying, which shocks Dhara. Dev takes the phone from Krisg and says that Shiva is with them and they're treating Shiva's pain. He hangs the call. Dhara complains to Rishita that the Pandya brothers are partying. Raavi hears this. There, Dev scolds Krish for spilling to Dhara that they're partying. Krish and Dev argue. Gautam stops them and scolds them. Gautam says to Shiva that working women have to talk with men, but it's not that they're wrong and their husbands should doubt them. Shiva says that she doesn't doubt Raavi.
Gautam asks then why he has so many questions about Arnab. He says that Shiva demeaned Raavi with his thoughts. Here, Raavi says that Shiva doesn't care about it. She is worried about him and keeps calling him. But he turned off his phone. She says that she doesn't want to stay with Shiva. There, Gautam says to Shiva that Raavi never doubted Shiva. He says that they have known Raavi from childhood and they all know that she can't do anything wrong. Gautam says that the problem is Shiva's insecurity, which is wrong. Shiva denies it. Gautam asks then what is the reason for their fights. He asks Shiva to tell him. He says to Shiva either to get united with Raavi or to get separated from her.
The episode ends.
Precap: Shweta says that Dhara will become the reason for Shiva and Raavi's separation. She gives Dhara the period control tablet, making her believe that it's a headache tablet.
Click to read