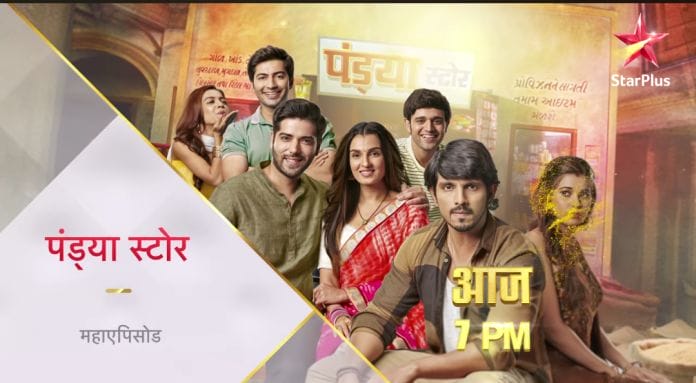 Pandya Store 8th January 2023 Written Update on TellyExpress.com
The episode starts with Dev saying to Dhara that he needs fifty thousand for Chutki's treatment and wondering how to arrange it. Dhara assures Dev to arrange money together. Raavi says that she has money in her account, but can't withdraw it from the bank as it is a holiday that day and net banking isn't working. She asks Dev to wait until the next day. Dev says that he can't wait till the next. He says that it's urgent, so he has came home. Dhara searches in the kitchen and collects the money she kept in different boxes. She gives twelve thousand to Dev and assures him to arrange for the remaining money.
Dev thanks Dhara and leaves. Gautam also left to raise money. Shiva decides to fight to earn money. Raavi tries to convince him not to fight and do any job like Krish and Dev. But Shiva stays firm in his decision. Krish asks for ten thousand in advance from his boss, but he gives only two thousand. Krish thanks him and leaves. On the other hand, Gautam works hard and earns five thousand.
Dhara decides to give the money she earned from the food shop to Dev and Rishita for Chutki's money. Suman asks Dhara not to give her her first earnings from the shop. She asks Dhara to pray to God by placing the money in front of him. Dhara obliges. She prays to God for help.
In the boxing club. Shiva learns that he has to fight a Tony, a very dangerous boxer, who can forget boxing rules if he knows that he is going to lose. So, Shiva demands fifty thousand to fight with him. The boxing club owner agrees. Raavi phones Shiva and the latter mistakenly receives the call. Raavi overhears everything and grows worried about Shiva.
Raavi goes to Dhara. She bumps into Dhara. The puja plate in Dhara's hand mistakenly falls. Dhara says that it's a bad omen. Raavi says that she heard Shiva's conversation. She says that he is going to fight a dangerous boxer and asks Dhara to convince Shiva not to fight. She tries to phone Shiva. Just then, Dev returns home and asks Dhara if she has arranged money. Dhara says that she doesn't have any money apart the money she gave him morning. She goes to get something.
There, Shiva fights with Tonyand gets beaten by him. Here, Dhara gives Dev some money. Dev says that it's not enough. Rishita phones Dev and urges him to get the money fast. Dhara calls Krish and asks him to reach the hospital with the money he managed to arrange and says to Krish to tell the same to Gautam. Dev asks Dhara to accompany him to the hospital and convinces the doctor to treat Chutki. Raavi asks Dhara to stop Shiva fighting. Dhara gets in a dilemma. However, she decides to go to the hospital and hopes Raavi will understand her. She leaves with Dev. Raavi thinks that no one in the family cares about her and Shiva and they treat them like strangers. Raavi decides to stop Shiva by herself.
Raavi reaches the boxing club. She's stopped by guards from entering despite her begging them to let her go inside. Raavi sees Shiva fighting with Tony. The crowd cheers for Shiva as he is dominating the fight. Meanwhile, Pandyas pay the money they collected at the hospital. There, Shiva wins the boxing match. Tony attacks Shiva from behind. He beats Shiva. The latter gets badly injured and collapses. Tony runs out. Raavi goes inside and is shocked to find a severely injured Shiva lying unconscious in the boxing ring.
The episode ends.
Precap: Pandyas are shocked when Raavi rushes an unconscious injured Shiva to the hospital where Chutki is admitted. Shweta learns about Pandyas selling Pandya Nivas and becomes happy to see the Pandyas losing everything.
Click to read