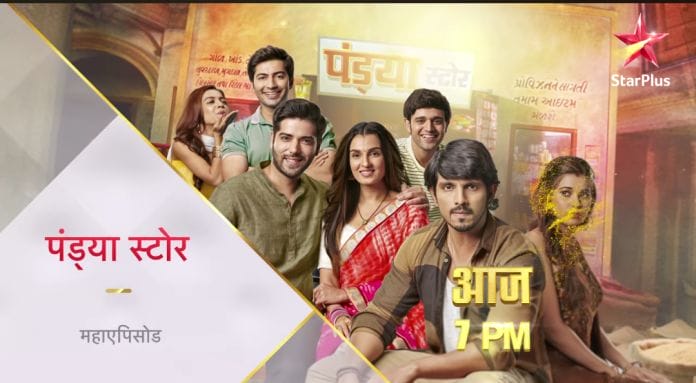 Pandya Store 8th November 2022 Written Update on TellyExpress.com
The episode starts with Gautam asking Shiva to either reconcile with Raavi or get separated from her. Dev and Krish also advise Shiva. The latter becomes angry and asks Krish to handle his married life first. Krish says that he handles his married life better than Shah. They argue. Krish asks Shiva to focus on his relationship with Raavi instead of his. He says that his relationship with Raavi can break by the time he is sitting there. Shiva becomes furious and chases Krish.
On the other hand, Raavi says to Dhara that Shiva doesn't care all about her. She says that she just hates him. Rishita advises Raavi to give a tight slap to Shiva and asks him to behave well if he wants to stay, else asks him to get lost. Dhara scolds Rishita for giving wrong advice to Raavi. Rishita says that Shiva did wrong by burning Raavi's gift and asks Dhara not to forgive him this so easily.
Shweta takes out the period control medicine from her bag. She smirks, looking at it. She says that Dhara will become the reason for Shiva and Raavi's relationship to end. She says that for that she needs to give this medicine, that Dhara prohibited Raavi from taking it. There, Shiva catches Krish. Gautam and Dev stop Shiva from hitting Krish. Gautam says to Shiva that his stupidity will ruin his and Raavi's relationship. Shiva says that he can't think what he saw is a lie. He complains that Raavi doesn't share anything with him and they don't talk anymore with each other as she doesn't respond properly.
Here, Raavi is sitting in the room holding her head. Shweta goes to Raavi. She gives the period control medicine to Raavi, saying it's a headache tablet. Shweta says that she would have saved the shirt if she had seen this burning before. She pretends to regret telling that Shiva burned the shirt.
There, Shiva says that the relationship becomes beautiful when the couple learn about each other everything. Dev says that it can also spoil the relationship. He says that Rishita created a scene after finding out about the Goa trip. Shiva gives the example of Gautam hiding a matter from Dhara which made Dhara doubt him. He asks if Dhara can doubt Gautam, why he can't. He scolds Krish for speaking too much and angrily leaves. Dev asks Gautam to stop Shiva from ending up doing anything wrong. Gautam says that he can do anything when he can understand what his problem is.
Shweta apologizes to Raavi. The latter says that she would have got to know about the shirt as Shiva can't keep anything to himself. They would have fought sooner or later. Shweta says that Shiva loves Raavi despite Shiva being a short temper. She asks Raavi to have the medicine so that her headache cures and she can think properly. Raavi has the medicine.
The next morning, Raavi is packing her bag. Shiva arrives there and sees this. He thinks that Raavi didn't tell him where she is going when she is returning. Raavi thinks that there's no point in talking with Shiva after the shirt incident. She will miss her flight due to her fight with Shiva. Shiva takes out Raavi's remaining clothes from the cupboard. He asks if Arnab will come to collect it. He asks her to take them too.
Raavi says that this is her house, so her clothes will be there only. She says that she's not leaving the house and asks Shiva to leave if he wants to get rid of her. Raavi says that she's going to Mumbai for official work. Shiva asks her to go where she wants. Gautam and Dhara hear Shiva and Raavi's argument. Gautam stops Dhara from interfering between Shiva and Raavi. Dhara asks Gautam to make them understand and argue with him. Gautam asks Dhara not to vent someone's anger at him. Dhara becomes emotional. Raavi leaves after taking Dhara's blessing.
Shweta searches for snacks in the kitchen. Krish arrives there. Shweta argues with Krish. Shweta thinks that Krish is so stupid and thinks of taking him on her side to break up the Pandya family easily. She puts on an emotional act. She says that she also needs a friend to share her feelings, as no one in the family talks to her properly. She asks Krish to become her friend. Krish laughs. He says that he can't digest that she wants him to befriend. He leaves to find Dhara. Shweta says that sooner or later he will fall into her trap.
Krish gives Dhara the dry fruits he got from the shop. Dhara plans to make dry fruits halwa with it. Rishita hears this and get happy. In Mumbai, Arnab wears the shirt that Raavi gifted and shows to Raavi. The latter sees the shirt and realizes that it's the costly shirt that she bought for Shiva. She understand that the shirts got exchanged and wonders whether Shiva got angry seeing the price tag of the shirt.
The episode ends.
Precap: Raavi says to Dhara that her periods got delayed by a week She says that she can't be pregnant as it's been a month that nothing happened between her and Shiva. Shweta hears this. Dhara warns Shweta not to tell this matter to the family before them else she will throw her out of the house.
Click to read