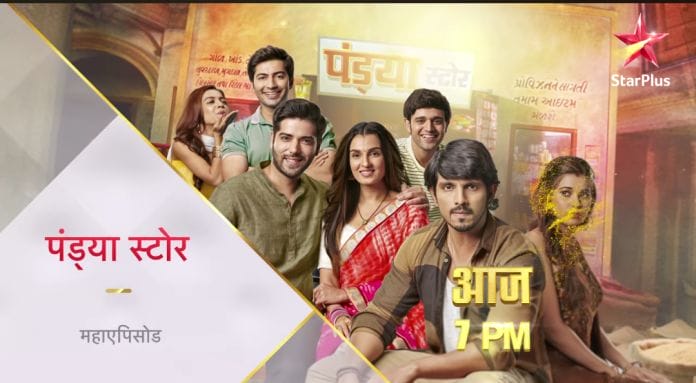 Pandya Store 9th January 2023 Written Update on TellyExpress.com
The episode starts with Raavi getting shocked finding badly injured Shiva unconscious. She asks the boxing club owner what happened. He says that the opponent badly beat Shiva when he won.Raavi cries and tries him to wake him up. She shouts Shiva. Shiva gains consciousness. Raavi expresses how much she got scared finding him unconscious. Raavi asks to go to the hospital to get him treated,but Shiva wants to take the money he won boxing to Chutki for her treatment. Raavi says that everyone is there for Chutki in the hospital. He convinces Shiva to go to the hospital.
In the hospital, Dhara says that as Chiku's treatment started, they should go and stop Shiva from fighting. Just then, Shiva is brought in the stretcher there along with Raavi. Pandyas are shocked to see Shiva's condition. Shiva gives the money to Rishita. Rishita looks at Shiva with teary eyes. She takes the money. Raavi shouts doctor. The doctor takes Shiva inside. Dhara asks Raavi why she didn't stop Shiva. Raavi says Dhara why she brothers about it as she refused to stop him. She says that only money mattered for her and she should be happy now. Raavi says that no one stopped Shiva and now shedding tears. Dhara ays that they were all busy in raising money for Chutki's treatment and her mind stopped working.
Dhara feels dejected that Raavi always blame her. Raavi says that she explained to Dhara how dangerous Shiva's opponent is and asked her to stop Shiva, but she didn't. She says that she felt lonely and thought that she lost Shiva when she found him soaked in blood. Raavi says that Dhara stood by Shiva only till Shiva stood by her side. Dhara explains to Raavi why she chose to came to the hospital. Dhara assures Raavi that Shiva will get well and moves to hug her. Raavi walks to Rishita ignoring her. Raavi cries, hugging Rishita.
The doctor says to the Pandyas that Chutki started respond. Pandyas get happy. Rishita hugs Dev. Dhara hopes that Shiva also gets well. Pandyas are shocked when the doctor says that Shiva has internal injuries in his head and it needs to be operated immediately. The doctor says that the operation willcost 7-8 lakh. He further says that the operation should be done immediately, but Shiva refuses to get operated. Raavi says that she will convince Shiva. Raavi goes to talk to Shiva.
Rishita wonders how they're going to arrange 8 lakh. Dhara says that they have to do somehow as Shiva's life is at sake. They Raavi screaming Shiva. They go check and doesn't find Shiva in the room. Raavi says that Shiva must have left after hearing doctor's talk as he doesn't want to become burden for the family. Pandyas are sure that Shiva must have gone to home.
Raavi finds Shiva sitting in the room. She scolds him for running from the hospital. Pandyas also arrives. Shiva refuses to get treated as 8 lakh is a big amount. Dev, Gautam and Dhara assure Shiva to arrange money somehow. Raavi suggests mortgaging Pandya Nivas. She says that they will get Shiva treated with that money and will start a new work with the remaining money. Rishita agrees with Raavi. Krish laughs. Raavi scolds Krish and blames him for their condition. She says that they wouldn't have been in this situation, if he hadn't married Shweta. Krish says that he laughed about Rishita's hypocrisy. He says that they weren't ready to support Dhara when she wanted to spread rumour about selling the house to get back the shop, but they're are ready to mortgage the house when they're in problem.
Dhara asks Krish not to talk to anyone on her favor. She reminds Krish that everyone is elder than him. She says that she would have done the same in her position. She agreed to mortgage the house, but she wants to give a try to her plan as if it gets successful they will get back their shop and money. She's sure that her plan will be successful. Pandyas agree to support Dhara. Later, Krish is photocopy shop. He meets Mansukh and is shocked to learn that Shweta selling Pandya Store to him. Krish informs Dhara and Gautam about the same.
The episode ends.
Precap: Chiku writes letter for Dev-Rishita, Shiva-Raavi and Krish asking them to return home as Suman is unwell.
Click to read