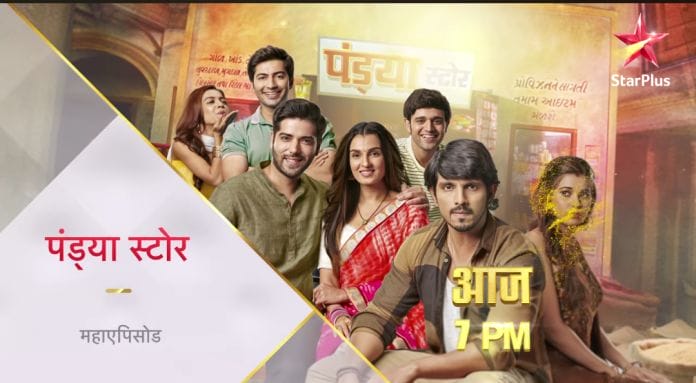 Pandya Store 9th November 2022 Written Update on TellyExpress.com
The episode starts with Raavi realizing that Shiva's shirt was exchanged with Arnab's. Shiva got angry seeing the price tag for getting the cheapest shirt. She says that Shiva loves her so much and she also loves her, so she is trying to improve their relationship, but due to her foolishness, it's not happening. Arnab promises Raavi to unite her and Shiva.
At Pandya's house, Dhara is making dry fruit Halwa for Chiku and Chutki. She takes some Halwa for Chutki and asks to give the remaining Halwa to Chutki when it's cooled down. Shweta eats the rest of Halwa. Rishita says to Chutki that she will eat the dry fruit Halwa. She says that she also likes dry fruits Halwa. In the kitchen, Shweta panics, realizing that she ate all the Halwa.
Shweta is scared of the reaction of Rishita if she finds out. She runs from there. She goes out of the house from the backside and thinks of finding a solution to hide a mistake. She sees a cat and thinks of taking it to the kitchen and lies that it ate Chutki's Halwa. She tries to catch the cat. Suman sees this and wonders what she's doing. Shweta manages to catch the cat.
Rishita wonders why Dhara hasn't brought Chutki's Halwa yet. She goes to the kitchen to check. Shweta pretends to chase the cat. Shweta says that she was waiting for the Halwa to cool down to take it to Chutki. But the cat ate it when she went out of the kitchen for a while. Rishita touches the vessel and finds it still hot. Rishita makes Shweta touch the hot vessel and says that she ate Chutki's Halwa. Just then, Dhara arrives there. Shweta complains to Dhara that Rishita accused her of eating Chutki's Halwa while the cat ate it.
Rishita shouts that Shweta is lying. She says that Shweta wants all the best things Chiku gets while Chiku yearns for all the good things. Dhara shouts, asking Rishita to stop. She scolds her for always comparing Chiku and Chutki. Rishita asks Dhara to scold Shweta, who has eaten Chutki's Halwa. Krish says that Rishita wasn't wrong. He says that Shweta was starving and looking for snacks to eat when he came here just a moment before. Shweta does drama denying Rishita's accusation.
Dhara stops them and asks Krish to bring dry fruits from the market to make the Halwa again. She asks Rishita to give Chutki Chiku's Halwa till that, since he didn't eat fully. Rishita gets angry and says that Chutki won't eat Chiku's leftover food. Krish blames Shweta for eating Chiku's Halwa and creating a problem. Dhara scolds Krish for fighting with Shweta. The latter complains that Krish refused to befriend her. Krish says admit it. He says that she is complicated and he didn't want to get involved with a complicated girl. Dhara asks everyone to get out of there. They all leave. Dhara says that someone casted an evil eye on her family, so there's a fight every day.
In the night, Dhara apologizes to Gautam for losing her temper in the morning. She asks if he thought about Shiva and Raavi's relationship, which is ruining. Gautam says that he is fed up explaining to Shiva. He refuses to understand. Meanwhile, Shiva sees Raavi's live video on the social media. Raavi excitedly says that she's boarding on a light for the first time in her life. She says that she will share her experience later. Shiva becomes angry that Raavi shares everything with her followers, but not with him. Here Dhara says that there's some problem between Krish and Shweta too. They aren't even friends. Krish can't forget what Shweta did.
There, Krish goes to his room and finds the room decorated. He remembers how Shweta insulted him on their wedding night. He tears up the heart-shaped card Shweta made. He says that he doesn't want to become friends with her as he doesn't trust her anymore. Shweta holds Krish's hand, determined to befriend him at any cost. Here, Dhara and Gautam worry about Raavi-Shiva and Shweta-Krish and wonder how to improve their relationship. Shiva and Raavi are sad, remembering each other. Shweta asks Krish to give her a chance, but he walks away. Shweta thinks of keeping trying to befriend Krish at any cost.
The next morning, Rishita argues with Dhara for trusting Shweta over her. Shweta hears this and thinks that she will continue to create problems in this house till Dhara trusts her. She waits for Raavi's return to create a new problem. Just then, Raavi returns home. She feels dizzy. Rishita hugs Raavi and says that she missed her so much. Raavi faints, which shocks Dhara and Rishita. They are worried about Raavi.
The episode ends.
Precap: Raavi says to Dhara that her period is delayed by a week and adds that Shiva and her haven't come close for a month, so she can't be pregnant. Shweta overhears this. Dhara warns Shweta not to tell the family about this before them, else she will throw her out of the house.
Click to read