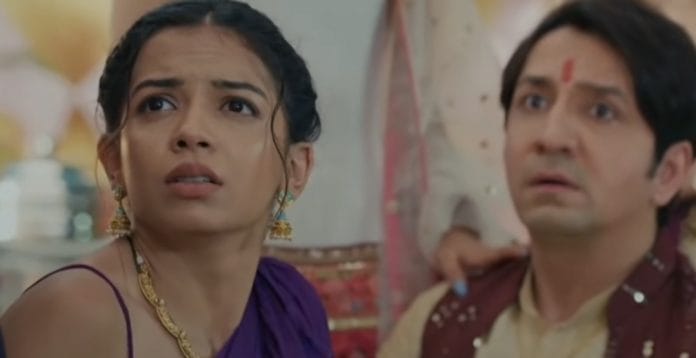 Pandya Store Spoilers, Upcoming Story, Latest Gossip , Future Story, Latest News and Upcoming Twist on tellyexpress.com
Star Plus' popular show Pandya Store is gearing up for more drama with Kamini accusing Dhara of trying to kill Rishita's child.
In the current story it's seen that Kamini blamed Dhara for trying to harm Rishita's child. She says that Rishita was right that Dhara is jealous of her child. Dhara refuses to give any justification as this is the test for Rishita's trust on her. She asks Rishita to think from her heart and say that she can do this. Rishita trusts Dhara and questions Kamini. She demands her to show proof for her accusation on Dhara. Kamini repeats Dhara did. Kalyani intervenes and says that Kamini is lying, she did despite she asking her to not do. Dhara reveals that Kamini stole her mother's necklace. She says that she already doubted her, but last day her doubt confirmed on seeing her with the necklace. She stole it after Kamini left. Kamini asks to prove that she did this. Kalyani says that she saw her tying the thread. Shiva and Gautam get the two men Kamini hired to steal Rishita's necklace. They tell that Kamini told them to steal the necklace. Rishita and Dev are shocked knowing the truth. Rishita and Dev decide to return home. Janardan requests them to stay back and says that he isn't involved in Kamini's plotting. However Dev and Rishita leave with Pandya store. Suman gets elated on seeing Dev and Rishita back home while they're shocked knowing about Suman's health condition.
In the upcoming episode it will be seen that Pandya brothers will be in the store. A burned board is about to fall over Krish, but Gautam will save him in time. In this process Gautam will get hurt. Shiva will aid him. Gautam will say that they have to renovate their store soon. Dev will remind Gautam that they still have money shortage.
What will happen next? Will Pandyas be able to come out of their financial problems ?
Keep checking this space for latest update of your favorite shows.