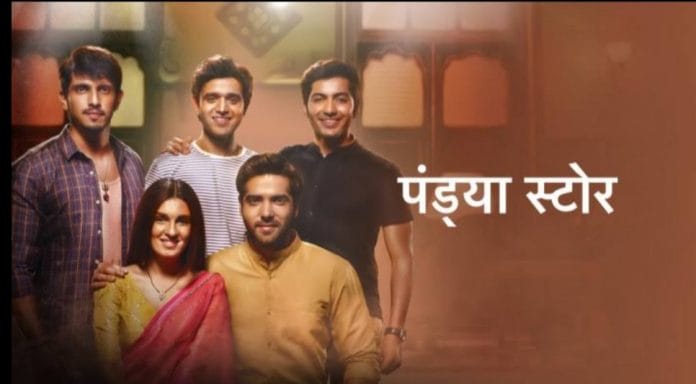 Pandya Store Spoilers, Upcoming Story, Latest Gossip , Future Story, Latest News and Upcoming Twist on tellyexpress.com
The last week began with Pandyas getting worried about Shiva when the latter didn't return home. Gautam phoned Shiva and found his phone was switched off. Raavi got restless wondering why Shiva wasn't answering the calls. Gautam told Raavi that he might have stuck somewhere due to bad weather. He said her to rest. However Raavi wasn't convinced. Krish wanted to go and bring back Shiva. Dhara prohibited him to leave the house. The TV turned on accidentally. Gautam, Dhara, Dev and Krish got shocked seeing the news about the bus accident. Dhara broke into tears. She asked Gautam to bring Shiva home safe and sound. Gautam said to Dhara to hide this news from Raavi as she would blame her luck again for this. Dev turned off the TV when Raavi came there. Gautam and Krish left saying they were going to bring Shiva back.
On seeing Dhara and Dev's weird behavior Raavi doubted that they're hiding something related to Shiva from her. She questioned them about the same. Dhara denied it. Dhara and Dev got shocked when Raavi wanted to watch TV. They first broke the remote then the TV to prevent her from learning about the accident news. Dhara broke into tears hugging Raavi which confused the latter. Dhara lied that she talked to Shiva over phone and he was fine when Suman questioned her about Shiva. Meanwhile Gautam and Krish reached the accident spot. They got devastated when they found Shiva's name on the list of the passengers who traveled in the bus.
Gautam and Krish found Shiva's wallet among the belongings of the victims of the accident. Gautam received calls from his family, but he doesn't receive them. Later they concluded that Shiva was no more on seeing a dead body wearing Shiva's shoes. Gautam and Krish broke into tears. Meanwhile Prafulla told Raavi about the bus accident. She said that she spotted Gautam and Krish on the TV, they are in the accident spot. Raavi was taken aback on hearing this. Dhara assured Raavi that Shiva would be fine, Gautam and Krish would bring him home safely. Raavi realised that Dhara and the brothers saw the news, but hid it from her. She shouted at Dhara for the same.
Raavi got ready to go and find Shiva. Just then Gautam and Krish arrived. Raavi asked Gautam where Shiva was. Gautam didn't answer her and remained silent. So Raavi went out to see Shiva thinking that he was hiding himself to tease her. Dhara and Rishita questioned Gautam about Shiva. Gautam silently walked to Suman and broke down. Raavi came to Krish and demanded to tell where Shiva was. Krish gave her anklets to her. Raavi slapped Krish. Krish noded his head negatively signaling that Shiva was no more. Gautam said that Shiva left them, he failed to save him shocking the family. They all cried for Shiva. However Raavi refused to believe that Shiva left her. She locked herself in.
Gautam told Dhara that Shiva's ashes came. Dhara brought the ashes pot inside the house. Raavi came and saw the ashes pot and all crying. Raavi asked why they all were crying when that ashes wasn't Shiva. She asked Suman how being a mother she could give up and accepted this was Shiva. She shoutes that this wasn't Shiva and asked to remove it from her sight. Kanta asked Raavi to remove her mangalsutra as Shiva was no more. Raavi refused as Shiva was alive. Dhara supported Raavi and questioned why a woman have to sacrifice everything when her husband dies whereas a man doesn't sacrifice anything after his wife's death. Suman and Rishita supported Dhara. Meanwhile few villagers found Shiva in an unconscious state on the river side. They rescue him and took him to their house.
Prafulla decided to take Raavi to her house as she thought that Raavi doesn't have her place there after Shiva's death. Suman said that Raavi is her daughter in law and after marrying Shiva this family and this house became hers, so her daughter wouldn't go anywhere. Some officers came to the Pandya store. They told Gautam that Government was giving compensation of 10 lakhs to the family of those who have died in the bus accident. They had come for verification. They asked for Shiva's ID proof. Gautam gave it. Gautam said to give the cheque on Raavi's name when they asked. Prafulla learned about the same. She thought that Raavi and Gautam would take that money for their use and got determined to get Raavi her rights. Raavi had an emotional breakdown after receiving the cheque. Meanwhile Shiva gained his consciousness. He gave the family Gautam's number and said them to contact his family and informed them about him. Raavi gave the cheque to Gautam and asked to use it for the store's renovation.
In the upcoming week it will be seen that the family, who saved Shiva, will decide to get Shiva to their daughter. So they will decide to not inform Shiva's family about Shiva being alive. Meanwhile Pandyas will get worried about Raavi when they will realise that she's not at home.
Stay to tuned to this space for exclusive update of your favorite shows.