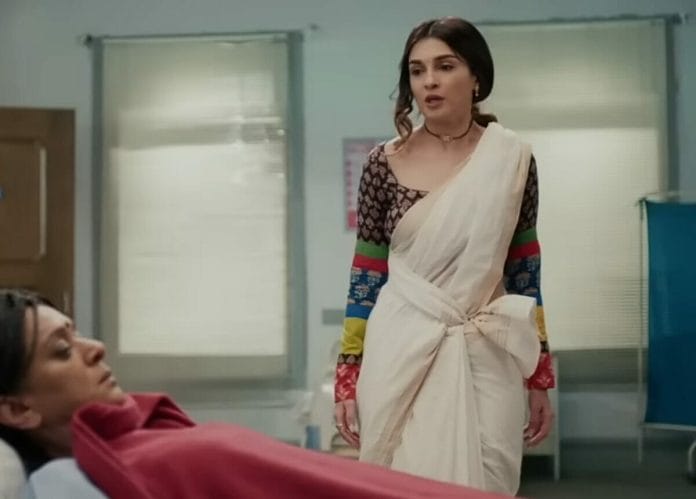 Pandya Store Spoilers, Upcoming Story, Latest Gossip , Future Story, Latest News and Upcoming Twist on tellyexpress.com

Star Plus' popular show Pandya Store is gearing up for more drama with the Pandyas returning home after knowing about Suman's condition.
In the current story, it's shown that Suman scolds her sons for not coming to see her all these years. She becomes overwhelmed when she meets her grandsons Shesh and Mithu. Suman starts to act as she's not well and urges them to take her home. Dhara also agrees to it. Shiva asks Dhara how she can agree to take Suman home when she's not well.
Dhara becomes happy that Shiva talks to her and makes a step towards him. But Raavi stands in front of Shiva and prevents Dhara from talking to Shiva. She asks her to concentrate on Suman. Dhara says that Suman's last wish is to return home, so they should fulfill it.
She goes to pay the hospital charges to get Suman's discharged. She grows anxious when Krish and Dev enquire doctor about Suman's condition. Meanwhile Shiva panics when he doesn't remember anything that happened in the last seven years. Suman asks Raavi about Shiva's weird behavior.
In the upcoming episode, it will be seen that Dhara will want to bring the breakfast and tea for the Pandyas. Rishita will remind Dhara that they have to come see Suman and not eat her breakfast. Dhara will say that till Suman gets well.. Raavi will. interrupt her and will ask if she wants them to dance to her tune till that. She says that there's no point in watering the dead relationship.
Rishita says that Suman is the last link that connects them to this family. She will say that they don't care about anybody after she leaves. Raavi will ask Dhara to give them their share after selling Pandya Store and Pandya Nivas, which shocks Dhara.
What will happen next? How will Dhara react to Raavi's demand? Can Chiku and Dhara reunite the Pandya family again?
Stay tuned to this space for the latest and exclusive updates of your favorite Hindi shows.