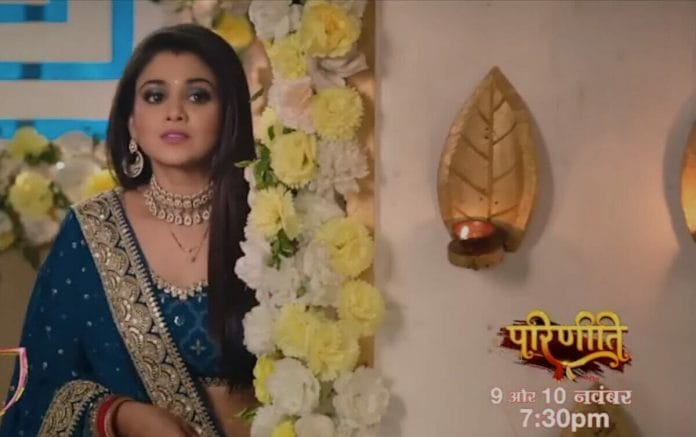 Parineetii Spoilers, Upcoming Story, Latest Gossip , Future Story, Latest News and Upcoming Twist on tellyexpress.com
Parineeti is Colors TV's popular show. This show never fails to entertain its audience with a unique story line. Now, the series focuses on Neeti feels something fishy
In the recent episode we see; Neeti introducing Sanju to Gurpreet as her husband. It's her in-laws' house. Gurpreet shares with Neeti that he isn't Sanju but Rajeev, her son-in-law. Rajeev asks Neeti to go inside. Gurpreet demands her to stay there. She asks Parineet to confess the truth. Gurinder says to Parineet that she shouldn't hide anything from her.
Parineet mentions him as Neeti's husband, Sanju. Neeti adds that she misunderstood something. She received the Necklace from her in-laws today. She is very happy here. Gurpreet says that both Sanju and Rajeev are the same, it seems. Neeti tells her that she is giving respect to her.
That is why she didn't say anything to her. Gurpreet says that she trusts him a lot. Just see his true color. She throws his wedding picture with Parineet. Neeti gets a shock of her life. Parineet assures her that Sanju loves her. She won't come in between them. She will give him divorce asap.
Neeti asks Rajeev how could he betray his best friend to live with her? Rajeev tells her that he doesn't love Parineet. It's a mistake. Gurpreet slaps him in anger and complains that his mom asked Rajeev for her hands. Gurinder and Gurpreet argues over this issue. Neeti supports Parineet going against Gurinder. She lashes out at Rajeev.
In the upcoming episode viewers will see; Neeti will dance on the stage. Rajeev will take Gurpreet's blessing. Gurpreet will give money to Rajeev and Parineet and bless them. Neeti will notice them. Later, Neeti will ask Rajeev. Don't they usually bless couples like that?
Grandma will visit the house. She will ask Parineet to give heir to her asap. Neeti will think that she is Sanju's wife but Grandma blessing Parineet
What will happen next? When will Parineet reveal the truth to Neeti? Will Parineet sacrifice her life for Neeti?
The upcoming episode will answer all our questions and stay in tune with our space for more updates.