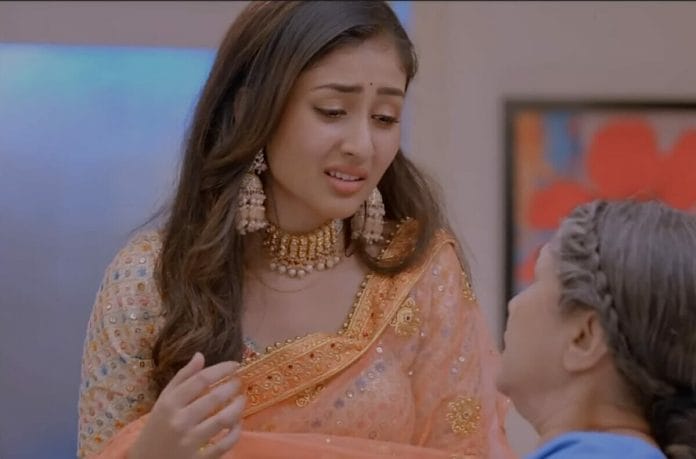 Parineetii Spoilers, Upcoming Story, Latest Gossip , Future Story, Latest News and Upcoming Twist on tellyexpress.com

Parineeti is Colors TV's popular show. This show never fails to entertain its audience with a unique story line. Now, the series focuses on Biji demand Parineet to perform the pooja
In the recent episode we see; Biji asking Parineet what happened to her? Parineet wishes to hides the matter from her. She lies to her that she just fainted in home. She doesn't eat anything from morning. Biji asks her why will she refuse to eat when Parineet cook delicious food for her? She asks her won't she cook for her? Parineet nods with her and doubts why she is asking her to cook after learnt Rajeev's truth.
Rajeev comes there and express her happiness to Biji after she gains conscious. Rajeev tells her that he wouldn't have forgive her if she failed to recover. He pleads with her to stay with him life long. Biji says to him that she won't leave anywhere leaving her grandson. She will roam around with him and eats healthy food.
She doesn't need his fast food. Rajeev misunderstands that Biji forgave him. Later, Family members learns that Biji forgot the last night incident. Rajeev requests Neeti to don't reveal the truth to Biji
In the upcoming episode viewers will see; Biji will ask Parineet to perform the Grahashanti Pooja. Neeti will hear that. Later, Pandit will question Biji Does Neeti her new daughter in law? Biji will introduce Parineet as her daughter in law
What will happen next? When will Parineet reveal the truth to Neeti? Will Parineet sacrifice her life for Neeti?
The upcoming episode will answer all our questions and stay in tune with our space for more updates.