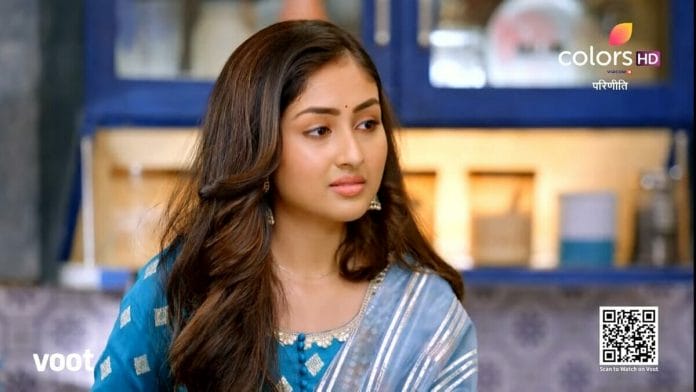 Parineetii Spoilers, Upcoming Story, Latest Gossip , Future Story, Latest News and Upcoming Twist on tellyexpress.com
Parineeti is Colors TV's popular show. This show never fails to entertain its audience with a unique story line. Now, the series focuses on Neeti to see Parineet with Sanju
In the recent episode we see; Babli talking with someone in phone. She shares with that person that she gave fitting reply to that Monty. If he tries to mess with her again she will break his nose. Monty comes there and thinks that he wouldn't have come here if he don't need her help. Babli cuts the call seeing him. Both starts arguing with each other. Monty asks Babli to help him. He narrates the situation to her.
Babli asks him where will Neeti go? Monty asks her to stop Neeti from attending the pooja. Babli complaints that already Neeti troubling Parineet a lot. She won't help her. Monty tells that Neeti shouldn't learn the truth. If he want to save her then he shouldn't have married twice. Monty pleads with her but she refused to help him.
Babli remembered Parineeti's words and assures to help him. Monty asks her to lock Neeti somewhere. She asks him how will she kidnap her? He asks her to just stop her that's enough. She demands him to stay with her to stop her.
Later, Babli calls Neeti and demands her to share her details to verify her airline resume. Meanwhile, Parineet attends the pooja with Rajeev. Parminder gets happy to see them together.
In the upcoming episode viewers will see; Gurinder will plan something in secret to ruin Parineet name in front of Biji. Rajeev and Parineet will sit together in the Grahshanthi pooja, Neeti will be in rush to attend the pooja. Panditji will bless Rajeev and Parineet. Neeti will get shock to find Biji blessing them as a couple.
What will happen next? When will Parineet reveal the truth to Neeti? Will Parineet sacrifice her life for Neeti?
The upcoming episode will answer all our questions and stay in tune with our space for more updates.