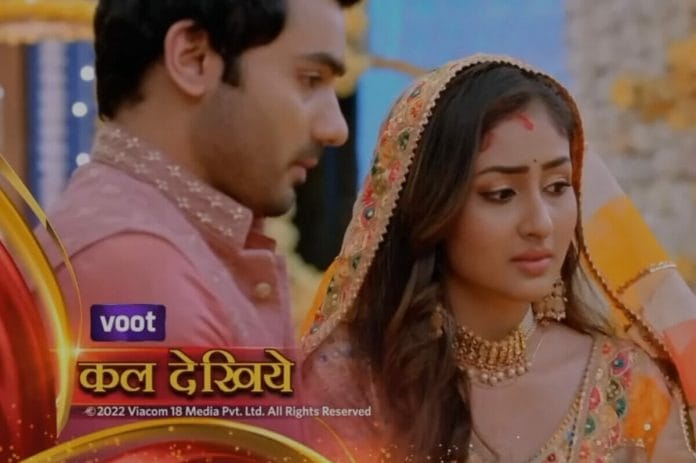 Parineetii Spoilers, Upcoming Story, Latest Gossip , Future Story, Latest News and Upcoming Twist on tellyexpress.com

Parineeti is Colors TV's popular show. This show never fails to entertain its audience with a unique story line. Now, the series focuses on Neet starts feeling insecure
In the recent episode we see; Monty inviting Simi to dance on stage. She says to him that she isn't interested in dancing on the stage. Chandrika asks her to go and dance. She asks Chandrika to dance if she is interested. She insults her by saying she only knows how to dance the Bangali dance. Monty plays songs for her. She performed on the stage.
Everyone claps for her. Meanwhile, Sanju says to Neeti that she is in 2022 but she is still thinking like an old woman. Why is she taking these small things with her? Neeti tells him that Gurpreet gives more importance to such things than her. Sanju asks her to stop creating issues over this.
Sanju tries to be romantic with her and asks her to plan for a second baby. She denied it. Meanwhile, Gurpreet thinks that Monty is inviting everyone to perform on stage except Parineet. Who is this house's daughter-in-law? She gives Parineet's name to Monty.
Monty thinks that he got stuck in between them. He thinks that Rajeev will get caught today. Parineet says to Gurpreet that she doesn't like to dance. Gurpreet tells her that she wants to dance today because she is the daughter-in-law of this house.
She asks Chandrika to take Rajeev inside. Later, Rajeev and Parineet dance together. Neeti confronts him about it.
In the upcoming episode viewers will see; Neeti and Rajeev will take Arathi to God. Neeti will faint down while talking arathi. Parineet will take hold of the arathi and take it along with Rajeev. Neeti will be shocked by seeing it.
What will happen next? When will Parineet reveal the truth to Neeti? Will Parineet sacrifice her life for Neeti?
The upcoming episode will answer all our questions and stay in tune with our space for more updates.