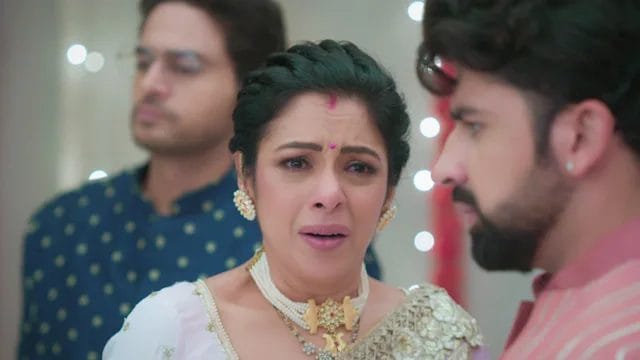 Anupama Upcoming Story, Spoilers, Latest Gossip , Future Story, Latest News and Upcoming Twist on TellyExpress.com
Drama to galore in Anupama with Kinjal shifting to Kapadia house.
In today's episode, Anupama cries and says to Anuj that his fighter is tired of fighting. She adds she is finding it difficult to handle everything. Anupama feels sad that Paritosh targeted her upbringing. She add she sometimes want to get locked in the room and stay away from world. Anupama says she wants to spend time with Anu and Anuj but she is unable to look after them too. She breaks down. Anupama realises Anuj is hungry. She decides to prepare breakfast for Anuj and Anu. Anupama realizes she has to attend meeting at Anu's school. Anuj feels glad despite everything Anupama never backs off from her responsibility.
Kinjal wakes up. Kavya, Vanraj and Dolly stand at Kinjal's side. Dolly says Arya was hungry but they feed her milk. Leela asks Kinjal to think about Arya and move on. Vanraj asks Leela to shut her mouth as this is not the right time to talk with Kinjal. Kinjal asks for Anupama. Kavya tell to Kinjal that Anupama went back. Kinjal gets upset.
Later, Shahs stun learning that Kinjal wants to go to Anupama's house. Kavya asks Kinjal to understand that Anupama already has a pressure of Anu and Anuj. Kinjal says she understand thus she is moving to Anupama's house so that latter don't have to keep switching from one house to other
In upcoming episode, Vanraj and Kavya will drop Kinjal to Anupama's house. Paritosh will share with Samar that Anupama will instigate Kinjal to give him divorce. Will Anupama be able to fix Kinjal and Paritosh's relationship? What will be Kinjal's decision? Keep watching the show for interesting twist and turn.