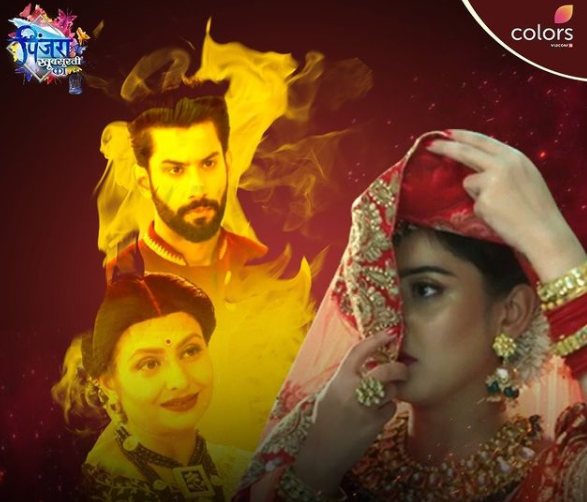 Pinjara 14th January 2021 Written Update on TellyExpress.com
The episode starts with Ashwaria standing on road and thinking what all she need to go through, Mayura and Nisha comes there and mistakenly Mayura pushes Ashwaria. When she falls down she sees Mayura's reflection in her sunglasses and gets shocked. She gets up and shouts Mayura but by then Mayura leaves with Nisha.
Nisha shows her reflection in mirror and her hairline filled with sindoor. Mayura recalls her moment with Omkar in temple. Omkar is looking around for Mayura. Even Ashutosh and Sulekha are trying to find Mayura. One lady says Omkar she had seen Mayura there a while ago.
On other hand, Mayura keeps feeling uneasy and thinks what's happening. Omkar is standing with her dupatta. Nisha sees the dupatta flying from other end and shows it's to Mayura. Mayura recalls her past memories seeing it. Ashwaria thinks she need to confirm if that was Mayura.

Omkar asks the shopkeeper about Mayura. He says he had seen her a while ago and she already left for Indore in bus. Omkar asks more about it. The man says she had participated in competition on behalf of Indore against his son. He says Omkar can confirm about it from the headquarters of organizers. Omkar asks him for the address. The man gives it to Omkar. Omkar gets very happy. After Omkar leaves, Ashutosh comes and thanks the man for lying for him. Man says its completely fine as that man was disturbing Mayura. Ashutosh says this time he won't let Sangemarmar Sartaj win.

Ashwaria picks up a stone and is about to hit someone who is in same orange dress like Mayura. That girl calls her friends and scolds Ashwaria. Ashwaria calls Omkar and tries to act lovingly with him and ask him to say those girls that she is his wife. Omkar says her to enjoy her luxurious life and stop with the drama. He has only wife that's Mayura.

Manjiri thinks where did Omkar and Miss beautiful go. She goes to find them. Balli informs Manjiri that he and Omkar are going to Indore. Manjiri thinks what's happening. Ashwaria comes there and Manjiri starts scolding her. But instead Ashwaria blasts on her saying her son has gone mad and cannot see alive beautiful wife and is running behind dead one.
At home Mayura asks for forgiveness. Ashutosh asks her why she does childish activities like this. Ashutosh gets shocked seeing sindoor in Mayura's hairline. Mayura says color fell on her when she collided with a stranger. Mayura says she is very sorry and now dadi told her the whole truth. She says dadi told her that there were some boys at event who were staring at her that's why Ashutosh brought her back home. Ashutosh says they will do a party and asks Mayura to invite her doctor and Nisha. She gets very happy.

In car Omkar thinks that the way Mayura looked at him, it gave some different feeling and he couldn't speak anything. Mayura also thinks about Omkar and thinks why she felt some connection with him. Mayura thinks once she meets him she will ask him the answers to her questions. Mayura is standing on stool to fix balloons and falls but Neel comes and saves her in time. Mayura and Neel have friendly banter. Neel gives Mayura a necklace set as gift for winning the competition. She accepts the bracelet from the set and Neel makes her wear it. He stares at her lovingly. Mayura's family plays musical games.
Precap Ashutosh tells Mayura they will leave bhopal. Omkar thinks what he will say when he meets Mayura.
Click to read: