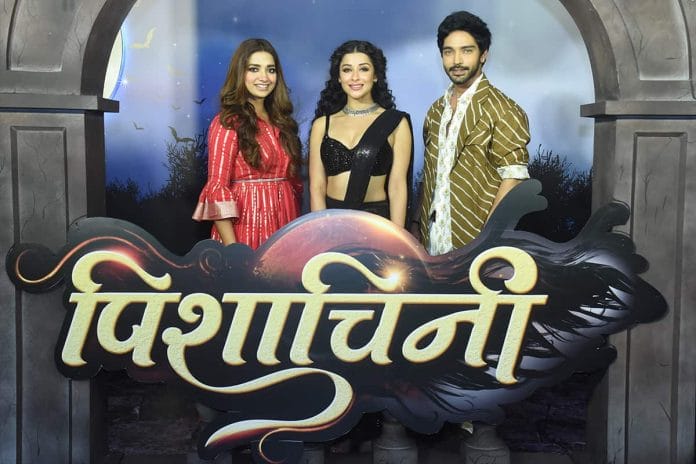 Pishachini 10th January 2023 Written Update on TellyExpress.com
The episode starts with Pavitra saying to the Rajputs that she will leave the house so that Rani spares them. She says that Rani has become paralaya pishachini now, so she can kill them all at a time. She says that she lost Dadaji and refuses to lose any one else from her family. The Rajputs refuse to let Pavitra leave and want to fight together against Rani and avenge those who were already killed by Rani.
The Rajputs are busy tightening the security of each entrance of the house so that Rani won't be able to come inside, so that they can buy time to plan their strategy to attack Rani. Vidya gets a plan which can stop Rani from entering the house and shows the rest of the family how to use it. Bubli gets teary eyes on seeing a scratch on Vidya's palm. The Rajputs decide to stay together and be on Pavitra's side to support her. Pavitra watches this from the balcony and thinks that they are all working together to stop Rani for her and thinks of doing the work on her part too.
In the night, Shikha opens the entrance door and checks if the barrier they created is intact. Pishachini arrives after Shikha leaves. She destroys everything. Later, Pavitra sees this and understands that it was done by Rani and she has become more powerful now. She recalls all the people killed by Rani and decides to face Rani alone so that she can put an end to this battle without losing anyone's from the family.
Pavitra and Rocky are sitting on the bed. Pavitra wonders how to tell Rocky that no one can stop Rani from entering the house now. Pavitra feels dizzy. Rocky notices this and offers water to her. Rocky asks Pavitra to rest. Pavitra says that she's not sleepy. Pavitra thinks that she can't do her work till Rocky is awake. Rocky acts as doctor and checks and asks her to sleep. Pavitra says that Rocky also needs to rest. She makes Rocky lie on her lap and caresses his hair. After Rocky falls asleep, Pavitra says that Rocky won't understand her decision, but this is the demand of the time. She has to leave. She feels emotional that she has to break the promise she gave to Rocky and leave him. She says that she is compelled to do it as it's her battle and refuses to sacrifice her husband and Rocky for her. She wishes to return to Rocky after killing Rani and spending her remaining life with him. But she doesn't know what the end result will be. She says that they will meet in their next lives if she doesn't return. She expresses her love for Rocky.
Rani has guessed Pavitra would want to face her alone and waits outside the Rajputs' house for her. Pavitra looks at the Rajputs' photo and says that she can't forget the love they gave her. She says that she will be proud to die fighting against Rani for them. Pavitra leaves, taking the photos of her family in a bag. Pavitra comes out of the house. Rani goes to Pavitra and laughs. Pavitra says to Rani that it seems she's waiting for her. She says to let put an to this. She says that they should have their final battle with her alone far from her family. She says that tonight she will make sure Rani doesn't harm her family again. Rani says that she will show what's do or die battle is.
The episode ends.
Click to read