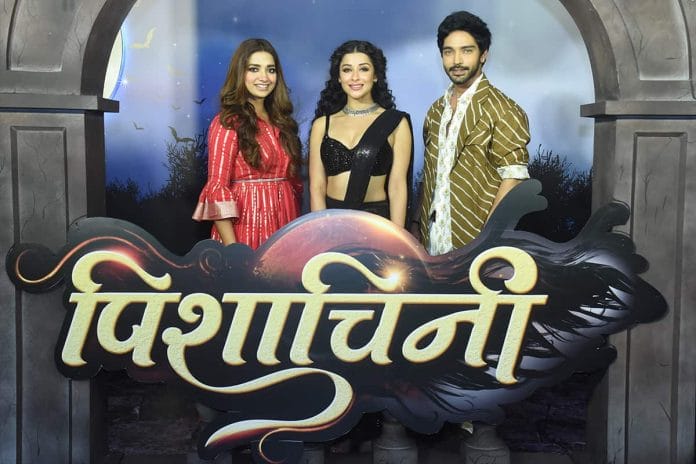 Pishachini 11th January 2023 Written Update on TellyExpress.com
The episode starts with Pavitra following Rani into the woods. A cat watches this and goes inside the house. Rocky wakes up from sleep and is shocked not finding Chiku next to him. Here, Pavitra asks Rani where she's taking her. Rani asks Pavitra not to be in a hurry to meet her death and asks her to wait. Rani a storm. Pavitra misses her bag in that storm. Rani wonders what Pavitra has in her bag. Pavitra understands that the storm is Rani's trick. There Rocky grows worried about Pavitra. Here Rani takes Pavitra to the Pishach devta who had opened for her the Pishach's portal. Rani summons Pishach devta by saying that he wanted Pavitra with divine symbol in exchange of opening the Pishach's portal for her. She asks Pishach devta to accept her offering. The Pishach devta appears. Pavitra is shocked to see the Pishach devta.
In the Rajput's mansion, Rocky says to the family that the barrier they created to prevent Rani from entering the house had been destroyed and Pavitra is missing. Sapna wonders where Shikha who was watching the entrance. Bubli says that even Vidya is missing. They all go to find them. Here, Pishach devta is surprised that Rani remembers her promise even after becoming Pralaya Pishachini. Rani says that unlike humans, Pishachs respect their given promise. She says that she has to fullfil her promise to him somehow and she did it today. Rani says to Pavitra that she won't be killed by her hands but by Pishach devta and she will be only a spectator. Rani asks Pishach devta to start. Pishach devta says to Pavitra that she can't escape from here and asks her to get ready to die.
The Rajputs wake up Shikha who is in deep sleep by sprinkling holy water on her. Rocky asks Shikha what happened. Shikha says that she got hypnotized while watching the door and she is certain it was done by Rani. Rocky wonders why Rani didn't hypnotize the rest of the family members and understands that Pavitra left to face Rani alone so that anyone else in the family dies.
Here, Pishach devta spites fire. Rani says that Pishach devta likes cooked food. He will first cook her and then swallow her. Pavitra looks at the OM divine symbol in her hand that she brought to use against Rani if nothing works and thinks of using it and destroy Pishach devta as soon as he swallows her. She says to Pishach Devta that she's ready. On the other hand, Vidya tries to enter the Pishach devta's place, but she's unable as a barrier prevents her. She wonders how to help Pavitra now.
Rajputs realize that Vidya isn't at home and think that Vidya went along with Pavitra. Rocky says that Pavitra would never take Vidya alone if she wants to sacrifice herself. He says that Vidya could have followed Pavitra seeing Pavitra going along with Rani. They wonder why Rani took Pavitra somewhere else. Rocky remembers seeing a eye symbol on Rani's hand while they faced her in the temple. He says that he didn't see it on her hand before. He is sure that he already saw it somewhere.
Rani mocks Pavitra for giving up. Pavitra thinks that she won't regret sacrificing herself for her family, but she feels something inside her stopping. Rani says that she perform tandav over Pavitra's body and laughs. Rani just notices that she hears two heartbeat and thinks that one is Pavitra's and wonders whose heart the other one as Pishachs' heart don't beat. Rani says that she finally discovered why Pishach Dev wanted Pavitra in exchange of hjs favor. She stops Pishach devta and says that she wants to talk to him.
Meanwhile, Rocky remembers that he saw that symbol on Pavitra's grandfather's diary while Pavitra was reading it. The Rajputs search for that diary and don't find it. They notice that even some rare photos from Pavitra's childhood are missing. Rocky understands that Pavitra took those photos and the diary along with her. Shikha asks Rocky if he remembers what is written on that diary along with that symbol. Rocky tries to recall it. He remembers that that symbol's meaning is having debt towards Pishach devta. He further says that such debts are returned by sacrificing lives and doubts that Rani had a deal with Pishach devta over sacrificing Pavitra.
Rani asks Pishach devta to remove the eye symbol from her as she fulfilled her promise. Pishach devta removes the eye symbol Pavitra's hand. There, Rocky wants to go to save Pavitra. The family stops him. They say how he will find Pavitra when he doesn't know where Pishach devta is. Rocky remembers Kanika asking them to seek Hanumanji's help when they face trouble. Vidya prays to God to do a miracle. Pavitra bids adieu to Rocky in her mind. The Pishach devta approaches near Pavitra. Rani looks on smiling.
The episode ends.
Click to read