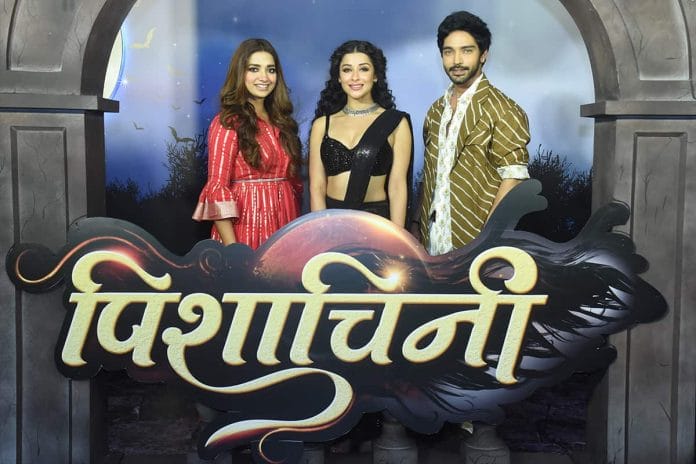 Pishachini 11th November 2022 Written Update on TellyExpress.com
The episode starts with Rani remembering about Dadaji and sending her black cloud to him. Dadaji sees the smoke and says that he won't obey Rani no matter what she does, as he knows exactly what to do. On the other hand, Veer is with the family. He is ready to go and asks where Pavitra is. Just then, Pavitra comes with a basket. She says that she kept the baby in the basket so that it will be easy to take him. Sudhakar blesses her. There, Rani says that she did a favor to Dadaji by making a pishach and wonders why he didn't come to repay her favor. The black cloud comes back to Rani. Maddy says that Dadaji also rejected her order and refused to help her.
Vidya hears a voice coming from Dadaji. She tries to hear clearly what Dadaji is saying. Dadaji says that Maha Pishach will become more powerful and his victory is Rani's defeat. Vidya wonders what he is saying as she can't hear it clearly. She leaves, as her brother calls her. Pavitra meets the other family members. Sanchit and Shikha wish Pavitra luck. Veer says to Rocky that from here he and Pavitra will go alone. He asks Rocky to trust him. Vidya says that they have complete trust him. Rocky and Pavitra hold each other's hands and say an emotional good bye. Pavitra and Veer leave.
Vidya says to Rocky that Dadaji was blabbering about Maha Pishach and Rani. Vidya then tells about Rani, mentioning Maha Pishach and asking her to release her. Vidya says that maybe Rani and Maha Pishach aren't friends. Rocky asks if Maha Pishach hasn't come here to help Rani, then what his real motive is.
Veer and Pavitra are walking on the jungle roads. Pavitra asks how long they have to walk. Veer says some more distance. He thinks that Pavitra's end will come when the green star comes near them. In the mansion, Rocky gets ready to leave to find Pavitra. Vidya and Sanchit stop Rocky, saying that Veer doesn't want anyone else to go with them. Rocky says that he didn't say that no one could follow them. He refuses to leave Pavitra alone with Veer. Sanchit asks how he will know where Pavitra is. Rocky says that he hung a glitter powder in Pavitra's duppata so that where Pavitra goes the glitter powder will fall and mark the way. Sanchit and Vidya want to accompany Rocky. But Rocky refuses. Sanchit says that nothing will happen to Rocky and Pavitra as Nashak is with them.
Veer stops at a place. Pavitra asks if they're going to call Maha Pishach here and trap him. Veer says that the Maha Pishach is already here. The sun disappears and the sky becomes dark. There, Rani sees that the green star isn't moving and understands that Maha Pishach has started to execute his plan. He will become more powerful now. She tries to free herself. Here, Veer says some mantra, looking at the green star. Green-colored water drops start to move downward. Pavitra asks what it's, whether it will help them to catch Maha Pishach. Veer denies that and says that it will make Maha Pishach more powerful. He says after the water drops fall on him, one more work is left. That is her murder. He takes his Maha Pishach avatar. Pavitra is shocked to see this. There, Rani is shocked to realize that she is being slowly pulled inside the tree. On the other hand, Rocky follows the glitter powder to track Pavitra.
Here, Veer says to Pavitra that the symbol on her palm is very special and he was looking for someone with the divine symbol. He understood she was that person when Rani told him that she had destroyed Maha Pishachini's crown. He says that he will consume Pavitra alive along with her power after the green water drops fall over Pavitra. In the mansion, the Rajputs notice that Rani's child is still in the house and Pavitra took an empty basket with her. Shikha says that Pavitra shouldn't have disobeyed Veer. Sanchit says that maybe Pavitra knows something they don't know. There, Pavitra takes out the liquid bottles from the basket and attacks Maha Pishach by pouring the liquid over him. Pavitra says that she can also set a trap for him and asks him to get ready for his destruction.
The episode ends.
Click to read