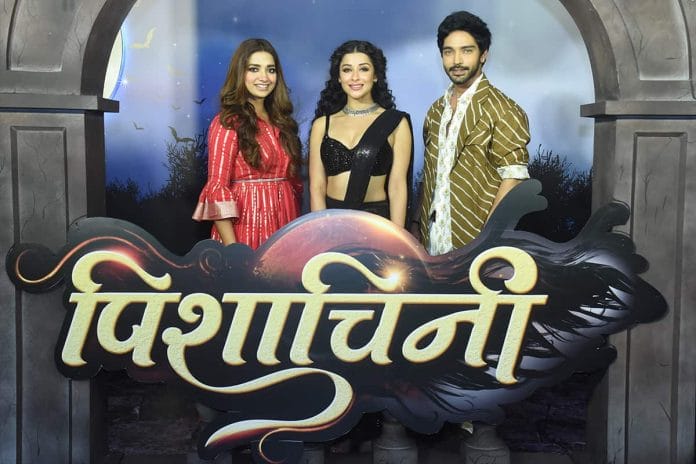 Pishachini 12th January 2023 Written Update on TellyExpress.com
The episode starts with Pishach Devta approaching Pavitra to kill her. To Pavitra's surprise, Rani kills Pishach Devta, taking her ten-headed avatar. Pavitra asks Rani why she saved her life. Rani says that she saved her so that she could kill her. She says that at first she didn't understand why Pishach Devta wanted to sacrifice her, but she just discovered it. She says that Pishach Devta will become more powerful than her if he kills Pavitra, as he will not kill only Pavitra, who has the divine symbol, but also her child, which is growing in her womb. Pavitra gets emotional realizing that she's pregnant.
Meanwhile, the Rajputs pray to Hanumanji to show them a way to save Pavitra. Rocky places his palm over the burning diya. Magically, paper appears in Rocky's hand. Here, Pavitra says that she killed the Pishach Devta as she doesn't want anyone else to become more powerful than her. Rani laughs and says that she will Pavitra. Pavitra gets up and firmly says that she won't let Rani kill her child. There, Sapna asks what the paper is. Rocky says that this is the return ticket to bring Pavitra and Vidya. He says that using this divya Yantra, they can bring Pavitra and Vidya here from any world in which they're. Sapna asks him to use it immediately. Rocky says that Pavitra should have something in her possession through which they can connect with her so that this works. Shikha says that they can communicate this to Vidya. She recalls and tells a way through which they can talk to Vidya from anywhere.
Here, Rani mocks Pavitra by saying that she's weak, so she can't fight with her. Pavitra says that she is more powerful as she is a mother now. There, the Rajputs unite and communicate with Vidya and instruct her what to do. Vidya thinks that if she can't enter Pishach Devta's place in a human form, she can try to enter it in any animal's appearance. Here, Pavitra attacks Rani. She uses her divine symbol and gets weapons. She attacks Rani by throwing them towards her. But Rani spits fire and burns the weapons.
There, Rocky stands in the middle of the divine yantra that has appeared on the floor. He is feeling pain. Sapna asks why he is standing inside it. Shikha reads the instructions. She says that those who practice this method may face any side effects. Sapna says that it means Rocky is standing inside the divine yantra so that Pavitra doesn't get hurt. Rocky says that this is the least he can do for Pavitra who risked her life for them.
Here, Vidya goes inside by taking the form of cat. She sees Pavitra continuously attacking Rani. Rani pushes Pavitra down using her power. She asks Pavitra to get ready to die along with her child. Rani is about to spit fire on Pavitra. Vidya is shocked to see this and throws the family photos that Pavitra brought along with her and which Vidya found to Pavitra. Pavitra holds it. Meanwhile, Rocky uses the divine Yantra. Here Pavitra disappears. Rani screams in rage, not finding Pavitra. Pavitra appears in the arms of Rocky.The Rajputs are happy to see Pavitra and Vidya fine. They praise Vidya for helping to save Pavitra. Pavitra notices some marks on Rocky's back and grows anxious.
The episode ends.
Precap: Rani attacks Pavitra. Rocky runs to save Pavitra. Suddenly, wings appear on Rocky's back. Rocky flies, taking Pavitra. Rocky and Pavitra attack Rani and capture her in a box.
Click to read