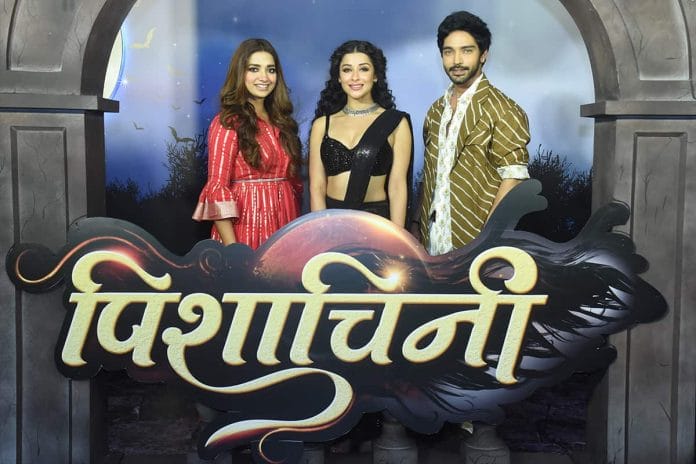 Pishachini 15th October 2022 Written Update on TellyExpress.com
The episode starts with Rocky shooting arrows around Veer. The latter is surprised to see that Rocky has that weapon. Just then, a deer came there. Veer asks who it is. Rocky says that this is the real Nashak. The deer transforms into a human. Pavitra is shocked to see her aunt as Nashak. She says Maasi. Pavitra's aunt, Nashak, apologizes to Pavitra for hiding her identity from her. She says that she wanted to keep Pavitra from the magical world as she knows that the evil powers will be behind her because of the divine symbol on her palm and tries to make her their target. Veer says that he was successful at getting his target and refuses to let her go after getting closer to his target. He says that they can't save Pavitra from him and their weapon can't kill him.
A new weapon appears in Nashak's hand which has lightning effects which can kill Pishach. Veer says that it can kill normal Pishach, but not Maha Pishach. Nashak says that maybe he was never attacked by someone with a divine symbol in his/her palm with this weapon. Nashak throws the weapon to Pavitra. Pavitra catches it. She's about to kill Maha Pishach using that weapon. Veer blows a dark smock which throws Pavitra, Rocky and Nashak away. Pavitra gets unconscious. Rocky and Nashak try to recover from Veer's attack. Veer drags an unconscious Pavitra holding her hand to the place where green rainfall is happening.
At the mansion, the Rajputs are praying to God. Sapna does God's aarti. They get worried about their children when the diya is about to blow off. Sapna and Bubli cover the diya with their hands, preventing it from blowing off. They pray for their children's safety. In the jungle, Rocky and Nashak go to find Pavitra. Veer lets Pavitra get drenched in the green rainfall and waits to kill her when she becomes powerless. Pavitra recalls her grandfather's last words before dying and Rocky giving her a Hanumanji locket. She holds the locket. She says Jai Bajrang Bali. She gains strength to wake up and stabs Veer with the weapon given by Nashak.
Rocky and Nashak arrive there and witness this. The green rainfall stops when Veer dies and the green star also disappears. Rani sees this and becomes happy. She laughs and shouts, asking someone to release her. In the mansion, Dadaji also understands that Maha Pishach has been killed.
Nashak pours some liquid over the dead body of Veer. Rocky says to Pavitra that Maha Pishach was killed and Rani was captured, so there's no threat to them hereafter. Pavitra says that Rocky had come after her and found her when she refused him to do so. Rocky reminds her that he also said that he wouldn't leave her alone. Pavitra says that the locket that Rocky gave her saved her and helped her to kill Veer. Pavitra hugs Nashak. She says that she didn't have any idea that she could be Nashak.
Nashak says that she had to hide her identity to make sure what was happening. She went to find the weapon which could kill Maha Pishach as soon as she learned that Veer was Maha Pishach. She apologizes to Pavitra. Pavitra says that they should thank her instead. Nashak says that she has been fighting the evil power all her life and their ancestors had been doing this for generations. She says that Pavitra is very special, so she's gifted with divine powers with which she was able to kill Maha Pishach.
Rocky takes Nashak's blessings. Shikha arrives there and cries, seeing Veer's dead body. The body disappears after exploding into many particles. Pavitra and Rocky try to handle a shattered Shikha. Pavitra feels that there is still some threat to their family and wonders who is going to attack them hiding.
The episode ends.
Click to read