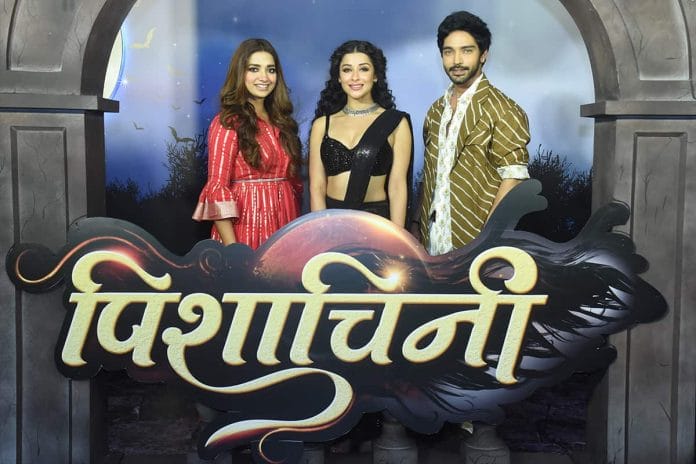 Pishachini 20th December 2022 Written Update on TellyExpress.com
The episode starts with Pavitra diverting Rani from seeing the diya hidden under her wedding dress. Rani asks Pavitra why she is looking for Rocky and asks her to tell her if she has any message for him. Pavitra blabbers and at the same, she passes the diya to Shikha and Bubli, who hide them. Pavitra says to Rani that she will herself tell Rocky about it and leaves. Rani grows suspicious.
Vidya hangs a lantern on the tree's branch. Pavitra says that she will lighten the lantern using her divine power as soon as Rocky falls asleep. Kanika says that she instructed everyone through the letter to lighten the diya when they see the lantern is lightened. Pavitra says that then she should inject the magical dose into Rocky's heart. Kanika reassures Pavitra, who is worried and says that this is the only way to change Rocky into a human. Pavitra says that this could also kill Rocky and grows worried.
Rocky goes to Pavitra. He says that Rani told him that she was looking for him and asks her what the matter is. Pavitra thinks of executing her plan and keeping Rocky the whole night with her. Pavitra gets closer to Rocky and tells him a few romantic lines. Rocky thinks of not melting soon and begins to leave. Pavitra recalls Kanika's words that Pavitra should keep a close watch on Rocky the whole night to inject the dose when he falls asleep, as they can't get another chance again. Pavitra thinks of stopping Rocky anyhow. Rocky also hopes that Pavitra will stop him. Pavitra dances sensually to the song Raat Ke Saaye Tale in order to stop Rocky. Rani hears the song and wonders who is playing this song. She goes to check. Kanika and Vidya see Rani and they play music to prevent Rani going to Pavitra and Rocky's room. Rani scolds Kanika and Vidya for playing loud music. Vidya and Kanika say that they read an article which states that music helps the baby to sleep well. They add that Rani's baby sleeps peacefully listening to music. Rani is about to leave, but Vidya stops Rani and asks her to see the baby's reaction while changing the song. But Rani asks Vidya to check as she's assigned to take care of the baby. Rani leaves. Rani hears the song and realizes that it's coming from Pavitra's room and goes to check. Kanika and Vidya are shocked to see this.
Rocky tries to romance Pavitra and ends up falling asleep. Pavitra thinks of executing her plan now. Kanika says to Vidya that Rocky must have fallen asleep, so the music has stopped. Vidya says that in that case the lantern can get lightened at anytime.
The rajputs stand ready to lighten the diya as soon as Pavitra lights the lantern. They hope that after lighting it, Rocky will transform into a human again and Rani will leave their house after that and there will be peace in their house again. Pavitra gets ready to lighten the lantern using her divine power, but she's shocked when Rani arrives in front of her. Pavitra says to Rani that it's mannerless to enter a married couple's room like that. Rani reminds Pavitra that Rocky is going to marry her and cut all ties with Pavitra. Rani says that she can enter anyone's room anytime and especially Pavitra's room, as she can plot against her. Pavitra asks Rani to leave as she sees that she's not doing anything. Rani asks what she's doing in front of the window. Pavitra refuses to answer Rani. Pavitra attacks Rani using her divine power when Rani stops her from leaving. Rani circles her long hair around Vidya's leg to prevent her from leaving. Rani and Pavitra get into a physical fight. The Rajputs hear the sound and go to check what's happening. Rani takes a lantern to throw at Pavitra. She slips and the lantern is about to fall on sleeping Rocky, but Pavitra holds it. Pavitra's palm gets injured while doing so and it bleeds. The blood drops fall on Rocky mouth and he wakes up.
The episode ends.
The episode starts with Shikha and Bubli trying to communicate with Sapna, who is trapped inside the wall. Rani arrives there and scolds them for not doing the work assigned to them and threatens them to trap them in the wall too. Bubli is scared and says no. She says that they didn't have food from the previous day. Rani says that she will share her food with them and shows them a scorpion. Bubli and Shikha are scared and run away.
Kanika shows Pavitra and Vidya the magical dose which can change Rocky into human again. They wonder how to give it to Rocky, as it should be put into a syringe and directly injected into Rocky's heart. Pavitra says that they should do it carefully as Rocky could die if they inject the dose mistakenly into any other parts of the body instead of the heart. She should go closer to Rocky and execute it slowly. Vidya asks whether Rocky will let her get closer to him. Rocky says that even if she gets closer to him, he won't let her inject it if he sees it. Kanika says that they should inject Rocky with the magical doss while sleeping. Pavitra says that she never saw him sleeping. Kankika says that it's because he is the most powerful zombie. She further says that, however, he will definitely need to sleep at least for awhile. Pavitra says that maybe he will sleep before sunrise and they should inject him at that time. Vidya asks who will do it. Pavitra says that she will do it.
Click to read