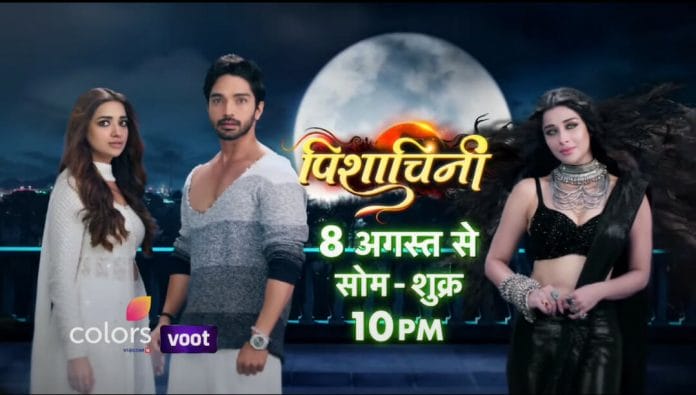 Pishachini 20th September 2022 Written Update on TellyExpress.com
The episode starts with Rocky drinking the juice that was spelled by Rani. Rani thinks that Rocky will forget Pavitra forever after drinking it. Vidya comes to talk to Rocky and accidentally she makes the juice glass fall. Her dress gets stained with juice. She apologizes to Rocky and goes to clean her dress. Rani thinks that her spell's effect is incomplete. However, Rocky comes under Rani's spell's effects and forgets about Pavitra. Rani is happy about the same and wonders for how long her spell's effect will work on Arjun.
Bubly gets suspicious seeing Rani bonding well with Pratik and Amrita as she knows them from longtime. She expresses her doubts with her husband, but he doesn't pay attention to it. On the other hand, Pavitra is praying to God to help her to find a way to save the Rajputs from Pishachini. Meanwhile, Rocky is shown dancing. He stops when there's a sudden heavy wind. He says that this wind can't stop Rocky and Rani's storm. Here, Pavitra prays to God to show her a way. The pages of Pavitra's grandfather's diary get flipped by the winds. The diary falls from the table. There Rocky and Rani are dancing. Here, the diary catches fire.
Pavitra notices this. The fire takes the form of Hanuman. Pavitra folds her hands. The fire takes the form of a key then. The diary disappears. Pavitra then sees the diary in front of God's photo frame. Pavitra understands that she needs to find the key to stop Rani. She goes to find it. Pavitra's symbol on her palm starts to shine when she goes near Vidya's room. Pavitra wonders whether the key isn't in this room. She goes into that room. As soon as Pavitra opens the room door, the symbol on her palm acts as magnet and pulls the key towards her hand. Pavitra takes the key and leaves from there.
While Rocky and Rani are dancing, Pavitra reaches there with the key. She wonders how to use that key. Just then, the key transforms into a knife. Pavitra walks towards Rani taking that knife. She recalls Rani's words and all the recent happenings. Pavitra reaches near Rani. She stabs Rani. Rocky and the family stand shocked. Rani faints. Rocky asks Pavitra what she did. He says that she injured Rani. Pavitra says that Rani is a Pishachini. She says that she got this knife to end Pishachini. Rocky says that Pavitra killed Rani, not Pishachini.
Pavitra says that Rani can't die as she was never alive. She says that it's only a black shadow which will turn into ashes in front of them and, before that, she will take her Pishachini form. Pavitra further says that if Rani is a human being, then blood should ooze out of her body. Just then, Rocky, Pavitra and the family see blood coming from Rani's body. Rocky asks to call an ambulance. He takes Rani from there.
Meanwhile, Pavitra drops the knife and sits down on her knees crying. Rocky rushes Rani to the hospital. Rani, along with Dadadaji, Pratik and Armita appear in front of Pavitra and mocks Pavitra for being defeated by her. Pavitra asks if Rani is there, who was in the ambulance. Rani says that she's always a step ahead of her enemies. Pavitra wonders whom she stabbed then.
The episode ends.
Click to read