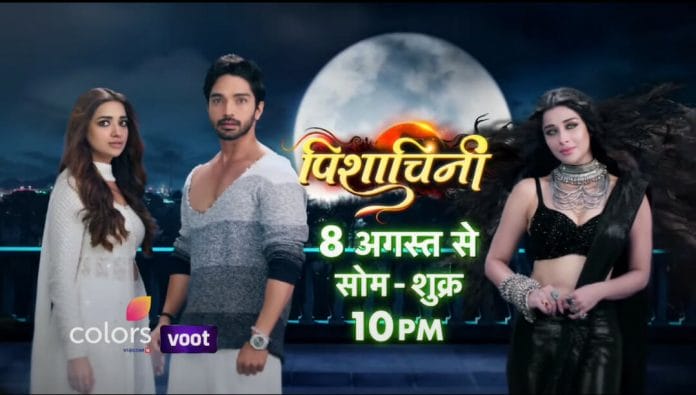 Pishachini 22nd September 2022 Written Update on TellyExpress.com
The episode starts with Pavitra opening her room door and not finding anyone. Just then, she hears Rani's laugh and turns around. Pavitra finds Rani sitting in her bed. Rani sarcastically says that she has come to bid her adieu. Pavitra says that soon Rani will have to bid adieu to this house. Rani reminds Pavitra that she killed her whole family, which angers Pavitra. Meanwhile, Partik takes Rocky to a room where Amrita is already present. They give Rocky tickets for Switzerland as honeymoon gifts for Rocky and Rani. Just then, Rocky sees green light emitting from the tree. Pratik thinks that the tree is making the girl's dead body disappear. Rocky tells Pratik and Amrita about the green light. But they pretend not to see any green light and try to convince Rocky that it's his hallucination as he is tired. Just then Dadaji arrives there. Rocky asks Dadaji if he can see the green light. Dadaji also lies that he doesn't see any green light. Rocky says that it can't be possible that only he can see it. He says that he saw the same green light before the sangeet. He wonders if Pavitra wasn't right.
In Pavitra's room, Pavitra says that she promised grandfather to kill Pishachini. Rani moves fast around Pavitra. She asks Pavitra to tell her grandfather that her dream can never be realized when he will meet him in another world. She hits Pavitra in her head with a shovel. Pavitra faints while Rani laughs, boasting about becoming Pishachini after killing 200 human beings.
Rocky wants to talk to Pavitra, but Amrita stops him. Amrita says that Pavitra brainwashed him, so he started to hallucinate things. Pratik asks him to sleep and assures him that everything will be fine in the morning. Pratik and Amrita give juice to Rocky and urge him to drink it. As soon as he drinks the juice, he forgets Pavitra, the green light, and gets excited about marrying Rani the next day. Partik asks Rocky to rest. Rocky obliges. Pratik says that Rocky will be under Rani's spell till midnight, but till that, Rocky and Rani will be married. Dadaji asks about Pavitra. Pratik says that Rani will handle her. Meanwhile, Rani takes an unconscious Pavitra inside the well and captures her there so that she can marry Rocky and achieve her goal. She laughs maniacally.
Later, Pavitra gains consciousness and shouts for help. Meanwhile, Rocky and Rani Haldi ceremony is going on. Rani, the Pishachs and Rocky hear Pavitra's shout. Rani notices Rocky feeling restless and confirms with Amrita if he drank the spelled juice. Sapna applies galti on Shikha's cheek, wishing that she also should get married soon. Shikha asks if they can find a perfect match for her. As they're talking and having fun, Bubly asks how Rani maintains her figure. Sapna says that Rani doesn't eat as she never saw her eating anything. Rani glares at Shikha. The latter lies that they had pizza before the Sangeet ceremony. Sudhakar says that pizza is his favorite and asks if they can order a pizza. Rocky says that he makes the best pizza in Bareli. Vidya cleans the haldi in Rani's hand. She remembers seeing a rose tattoo on Rani's hand when she was unconscious after Pavitra stabbed Rani. She notices that Rani doesn't have that tattoo and becomes suspicious.
Meanwhile, Pavitra sees that the names of the human beings killed by Rani are scripted inside the well. Maddy appears in front of Pavitra and shows a name and says that this is the person who killed Rani. He says that the secret of Rani marrying Rocky is linked to that name. Pavitra recalls Pratik and Amrita's words and asks Maddy to tell her that secret. Maddy says that Rani learned this secret when she was in Chail. A FB shows. Pishachini tells Pishach that she wants to become Maha Pishachini to get more power. The pishach says that she has to marry a person from the family who killed her and give birth to a child who is half Pishach and half human to get the status of Maha Pishachini FB ends. Pavitra realizes Rani's real intention and is determined to stop the wedding.
The episode ends.
Click to read