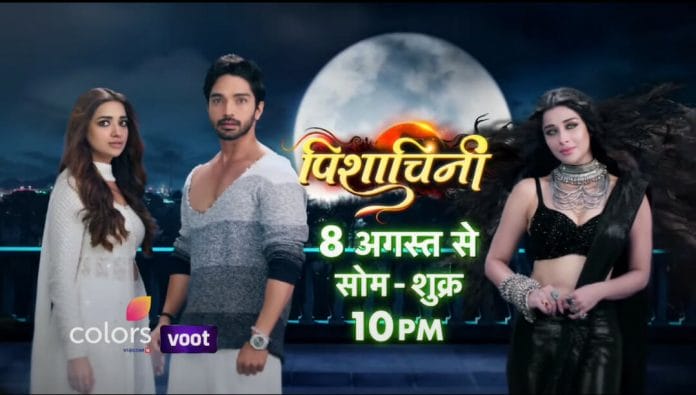 Pishachini 26th September 2022 Written Update on TellyExpress.com
The episode starts with Rocky coming out of Rani's spell and realizing that he is getting married. Pavitra calls out to Rocky. She falls unconscious and goes under the water. Rocky starts to feel restless. Vidya notices this and wonders why Rocky seems changed after the holy water drops fell on him. On the other hand, Pavitra gets saved by God's grace. The monkeys form a chain and pull Pavitra up out of the well. Here Rocky stops taking the holy rounds, sensing something is wrong. His parents ask why he stopped. The priest says that the wedding will be incomplete without them taking the seventh holy round.
Rani asks Rocky to take the seventh round. Rocky sees a monkey. He removes the garland and the gathbandhan. He runs from there. The family and Rani go after him. Rocky goes to the old mansion by following that monkey. He is shocked to find Pavitra unconscious near the well. He lifts Pavitra and takes her aside. He tries to wake her up. The family and Rani arrive there. Rocky says that Pavitra isn't breathing. Rani hopes that Pavitra is dead. Just then, Rocky and the family see the monkey who guided Rocky here. The monkey throws a branch which has some herbal leaves to Rocky.
Vidya mentions Hanumanji lifting a mountain to get magical herbal medicine and says that it seems Hanumanji helps Pavitra through the monkey. Rocky crushes the leaves. Some juice of the leaves drops on Pavitra's lips. While doing so, Rocky's blood drops fall on Pavitra's forehead. Pavitra gains consciousness. Bubly asks what Pavitra is doing here without going to London. Rocky asks Pavitra for the truth about what happened. Pavitra asks if he will believe her. Rani intervenes and says that, thankfully Pavitra was saved. Rani says to Rocky to let them complete their seventh holy round.
Pavitra recalls Maddy's words about Rani's real intention to marry Rocky. The family also urges Rocky to complete the wedding ritual. Sapna says to Pavitra that Sanchit and Vidya will help her to reach the airport. Pavitra says to Rocky to understand what she is going to do and trust her if he believes that an unknown source keeps uniting them. Sapna reminds Rocky that Pavitra tried to kill Rani. Rocky holds Rocky's hand and walks from there while Sanam Teri Kasam's song plays in the BG. Pavitra looks at Rocky with tearful eyes.
Rocky and Rani come to the wedding mandap. Rocky wonders why he keeps thinking about Pavitra when he didn't even confess his love to her. The priest tells them to redo the seven holy round ritual again as it got interrupted previously. Rocky and Rani complete taking seven holy rounds. Rocky thinks that he had to marry Rani as he agreed to marry her. He ties the nuptial chain around Rani's neck. Rani is asked to remove her veil so that Rocky can fill her hairline with the vermillion. She obliges and removes her veil. Rocky and everyone are shocked to see Pavitra in the place of Rani.
The episode ends.
Click to read